Lama Zopa Rinpoche Bodhichitta Fund
Supporting Lama Zopa Rinpoche's Compassionate Service to Others
With bodhichitta you become so precious – like gold, like diamonds. You become the most perfect object in the world, beyond compare with any material things.
News • Charter • Photos • Donate Now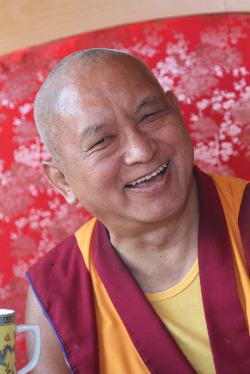 Lama Zopa Rinpoche's endless capacity for benefiting others is evidenced by the many charitable projects he has initiated. Year after year, Rinpoche generously offers support to a variety of Dharma activities. From covering the cost of thousands of extensive light and water offerings at Rinpoche's residences; to donating funds toward the creation of holy objects around the world; to sponsoring young tulkus, high lamas and Sangha in India, Nepal, Tibet and the West; to offering support to FPMT centers, projects and services; to sponsoring Dharma retreats and events; to funding animal liberations and blessings; among many other priorities, the Lama Zopa Rinpoche Bodhichitta Fund enables Rinpoche's compassionate service to others to flourish.
---
Videos & Teachings on Bodhichitta
Lama Zopa Rinpoche has taught extensively on the subject of "bodhichitta" (the wish to become a Buddha in order to benefit others perfectly). Please enjoy this page dedicated to this most precious topic.
---
Latest News for the Various Activities of the Lama Zopa Rinpoche Bodhichitta Fund!
Extensive Offerings for the FPMT Organization
Actualizing Holy Objects
Lama and Sangha Support

Animal Liberations & Blessings and Other Charitable Activity
FPMT Organization Support

Dharma Retreats and Events
Due to Rinpoche's bodhichitta, even if people cannot practice, they can have an introduction to or some kind of experience of Dharma. In order to fulfill the ultimate goal of enlightenment of all beings, Rinpoche is working tirelessly, creating opportunities for all people by building holy objects here and there and by establishing centers. All this so that students and others can accumulate merit through contact with holy objects and the Buddha's teachings.

The vastness of Lama Zopa Rinpoche's bodhisattva mind cannot be fathomed by a person like me. These are just some of the surfaces that I can see of it. Due to all these vast actions that Lama Zopa Rinpoche has done, I felt a special connection with Rinpoche and decided that whatever I can do to served Rinpoche, in whatever capacity, I'm happy to do it. Even though from my side, I don't know much and might not be able to help a lot.
The annual cost for this fund is approximately US$85,000. All additional funds are used for priorities at the discretion of Lama Zopa Rinpoche.
Lama Zopa Rinpoche does not keep any personal money for himself, he utilizes everything that is offered for these beneficial projects, plus many more.
All of this is made possible because of so many kind donors, who contribute generously to help actualize Lama Zopa Rinpoche's incredible bodhichitta.
To keep up on how your donation is being used and to rejoice in the activities of this beneficial project, please follow the Lama Zopa Rinpoche Bodhichitta Fund News blog.
---
Latest News

22nd April 2014

The sheer volume of compassionate activity undertaken by Lama Zopa Rinpoche every year, day in and day out, is astounding. The Lama Zopa Rinpoche Bodhichitta Fund was established to enable Rinpoche's kindness and generosity to flourish around the world. You … Read full article
---
How Can I Make a Donation?
To make a tax-deductible donation:
Or simply send your check in US dollars payable to FPMT, Inc. and write "Lama Zopa Rinpoche Bodhichitta Fund" on the memo line.
FPMT, Inc.
1632 SE 11th Avenue
Portland, OR 97214-4702
USA
Lama Zopa Rinpoche Bodhichitta Fund is a project of FPMT, Inc. and is administered by FPMT International Office located in Portland, Oregon, United States. All donations made to this fund are tax-deductible within the United States in accordance with IRS Code article 501(c)(3) to the extent allowed by law.
For more information please contact: Holly Ansett, Charitable Projects Coordinator
Statements of Appreciation
A few days ago I completed a year of retreats…at two FPMT centres (though I have visited and am very familiar with several others).  The staff of the two centres could not have been kinder and more supportive.  It is especially through appreciating their cultures of care and support for retreatants that I have renewed my admiration for the FPMT, and thereby for your [Lama Zopa Rinpoche's] extraordinary holy activity for sentient beings…
– Andy Wistreich, August 2008
Contact Info
1632 SE 11th Avenue
Portland, OR 97214-4702 USA
Tel (503) 808-1588 | Fax (503) 232-0557
About FPMT
FPMT is an organization devoted to the transmission of the Mahayana Buddhist tradition and values worldwide through teaching, meditation and community service.
more...
About Buddhism
If you're new to Buddhism, please read our
Buddhism FAQ
. A place to learn about Buddhism in general, FPMT, and our Discovering Buddhism at Home series.