News • Photos • Videos • Talks • Big Love Fund • Facebook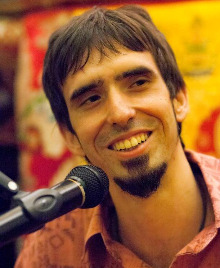 Ösel at Amitabha Buddhist Center in Singapore Nov 2012. Photo by Tan Seow Kheng and Stephen Chin
Further Information About
Tenzin Ösel Hita
•
News About Ösel
•
Photos of Ösel
• 
Videos of Ösel
• 
Talks with Ösel
• Ösel in Mandala- all Articles

•
Books and Articles about Ösel
• The Big Love Fund: A fund to support the creative and educational projects of Tenzin
Ösel Hita
•
Ösel on Facebook
Dear Friends,
I am very happy to share a letter from Ösel which he has written to the FPMT family.
Lama Zopa Rinpoche has advised Osel to continue his studies at Sera Je Monastery for a few months each year under the guidance of his teacher Geshe Gendun Chompel, as well as to do retreat. Rinpoche  is very happy with Ösel  giving general advice to centers, projects and services when he has time. Ösel is a member of the FPMT Inc. Board.
Love,
roger
(Ven Roger Kunsang is CEO of FPMT)
November 2012
Dear Family,
First of all I would like to say hello to everybody working so hard every day for the benefit of sentient beings through the organization of FPMT. I understand that many of you have extra jobs in order to maintain your family and basic needs in life. Also many of you work as volunteers part time, apart from all the other work you have to cope with. It is very hard, and inspiring. I truly admire every one and each of you for all the effort, dedication and consistency that keeps the organization going.
Around a month ago, I attended an FPMT board meeting in California. This is the fourth Board meeting I have attended in the last three or four years. Each time of participation, I gain a deeper insight and understanding of the incredible scope of activity that FPMT is undertaking around the world every day.
In the last few days I have had the privilege to attend the highly professional and inspiring FDCW (Foundation for the Development of Compassion and Wisdom) meeting in Kuala Lumpur. FDCW's mission is to help children, youth and adults of all cultures and traditions to develop their innate capacity to be kind and wise, and contribute to peace in the world.
As I learn more about FPMT from these perspectives, my respect, and profound appreciation for Lama Zopa Rinpoche and the whole community grows exponentially.
What has taken place since Lama Yeshe's passing in 1984 in my view is completely miraculous and inspiring.
I have nothing but the greatest admiration and gratitude for everyone that has taken part in this wonderful and positive development.
It will take me some time to really grasp everything that Rinpoche accomplishes with the tireless support of Venerable Roger who works to handle all the tasks 24/7/365 days a year every year supported by Venerable Holly, and the amazing International Office staff.
Continue here to read Ösel's entire letter to the FPMT Family
Vous pouvez lire cette lettre en français ici.
Usted puede leer esta carta en español aquí.
---
 For additional current information please also see;
Statements of Appreciation
I'm really glad that I decided to do the (Basic Program) exam and retreat, as it has given me renewed enthusiasm towards more study and meditation, and humility realizing that whatever I think I know is only like a drop in the the ocean of Dharma. …Thank you, and the FPMT office, for all you have done in putting this program together and administering it.
– Janet, USA
Contact Info
1632 SE 11th Avenue
Portland, OR 97214-4702 USA
Tel (503) 808-1588 | Fax (503) 232-0557
About FPMT
FPMT is an organization devoted to the transmission of the Mahayana Buddhist tradition and values worldwide through teaching, meditation and community service.
more...
About Buddhism
If you're new to Buddhism, please read our
Buddhism FAQ
. A place to learn about Buddhism in general, FPMT, and our Discovering Buddhism at Home series.