The Foundation for the Preservation of the Mahayana Tradition (FPMT) is an organization devoted to preserving and spreading Mahayana Buddhism worldwide by creating opportunities to listen, reflect, meditate, practice and actualize the unmistaken teachings of the Buddha and based on that experience spreading the Dharma to sentient beings.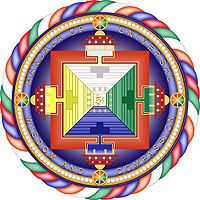 We provide integrated education through which people's minds and hearts can be transformed into their highest potential for the benefit of others, inspired by an attitude of universal responsibility and service. We are committed to creating harmonious environments and helping all beings develop their full potential of infinite wisdom and compassion.
Our organization is based on the Buddhist tradition of Lama Tsongkhapa of Tibet as taught to us by our founder, Lama Thubten Yeshe and our spiritual director, Lama Thubten Zopa Rinpoche.
Karma is your experiences of body and mind. The word itself is Sanskrit; it means cause and effect. Your experiences of mental and physical happiness are the effects of certain causes, but those effects themselves become the cause of future results. One action produces a reaction; that is karma.
Lama Thubten Yeshe
Contact Info
1632 SE 11th Avenue
Portland, OR 97214-4702 USA
Tel (503) 808-1588 | Fax (503) 232-0557
About FPMT
FPMT is an organization devoted to the transmission of the Mahayana Buddhist tradition and values worldwide through teaching, meditation and community service.
more...
About Buddhism
If you're new to Buddhism, please read our
Buddhism FAQ
. A place to learn about Buddhism in general, FPMT, and our Discovering Buddhism at Home series.