When we study Buddhism, we are studying ourselves, the nature of our own minds. Instead of focusing on some supreme being, Buddhism emphasizes more practical matters such as how to lead our lives, how to integrate our minds, and how to keep our everyday lives peaceful and healthy. In other words, Buddhism always accentuates experiential knowledge-wisdom rather than some dogmatic view.
 
The places on this earth where you can receive education in Lama Tsongkhapa's pure teaching are very few. Therefore, this is considered extremely precious.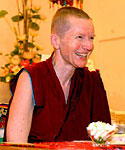 We offer a vast range of study programs, fulfilling the needs of beginners to advanced practitioners. From introductory meditation programs to beginning courses, from lam-rim to the five great philosophical texts, FPMT centers and Homestudy Programs provide everything needed to learn, practice, and fully realize the Buddha's teachings. All FPMT study programs embody FPMT Wisdom Culture.
New to Buddhism?



Meditation 101 is an introductory course on basic Buddhist meditation techniques for complete beginners. It teaches basic Buddhist meditations that can be used by anyone to create more peace and happiness in daily life. Meditation 101 is offered in many FPMT centers worldwide.
Buddhism in a Nutshell is an introductory course on Buddhism for complete beginners. It presents basic Buddhist philosophy and principles within the Tibetan Mahayana context, and provides simple meditation instruction. Buddhism in a Nutshell is offered in many FPMT centers worldwide and as a homestudy program.
Advice for Death and Dying is a 5 session program that provides a clear understanding of how to help oneself and others at the time of death.
 
 




Setting the Foundation



Discovering Buddhism


Awakening all limitless potential of your mind, achieving all peace and happiness

Discovering Buddhism gives students a solid footing in the practice of Tibetan Mahayana Buddhism. This two-year course offers students an experiential taste of the Buddha's teachings, retreat and practice experience, and the skills needed to make life most meaningful. Discovering Buddhism is offered in many FPMT centers worldwide, and is also available as a Homestudy Program or as an Online Course.
Foundation of Buddhist Thought is a two-year course taught by FPMT Geshe Tashi Tsering from Jamyang Buddhist Centre in London. An in-depth course applying Buddhist thought to our daily lives, it is offered at Jamyang Buddhist Centre and is available as a correspondence course.



Living in the Path, FPMT's newest program featuring the teachings of both Lama Zopa Rinpoche and Lama Yeshe is under development. New materials will regularly be made available online starting in 2010.
 
 



 




Buddhism In Depth



The Basic Program is designed by Lama Zopa Rinpoche as an integrated program of Buddhist studies suitable for a contemporary setting. It is a  comprehensive, practice-oriented transmission of the Buddhadharma for committed students who wish to progress beyond introductory level study and practice. The Basic Program is offered in a variety of formats, residential and non-residential, in FPMT centers worldwide and is also available as Homestudy and as Basic Program Online. Lama Tzong Khapa Institute currently offers a university accredited Basic Program, residential and online.




The Masters Program, an intensive, full-time, residential  program of Buddhist studies of sutra and tantra, is based on the unique vision of Lama Thubten Yeshe, developed with the help of Geshe Jampa Gyatso. Inspired by the geshe studies in traditional Gelug monastic universities, it provides serious students of Lama Tsongkhapa's tradition greater depth of study and the opportunity to become qualified FPMT teachers. The program consists of six years of study of five great texts, with integrated training and service components, and one year of retreat. The Masters Program is currently offered at Lama Tzong Khapa Institute, Nalanda Monastery (starting September 2013), and Chenrezig Institute ( Middle Way at Masters Program level, from September 2012 onward)




Looking to the Future: Buddhist Universities



Maitripa College's Advanced Buddhist Studies Program is a four-year masters level program covering the major texts and commentaries taught in the monastic curriculum, as well as Tibetan language, meditation practice, and social service. The curriculum was designed by Yangsi Rinpoche with the support of Lama Zopa Rinpoche, and serves as the foundation for establishing a fully accredited Buddhist university. This program is offered at Maitripa College .




Interpreting the Dharma



The Lotsawa Rinchen Zangpo Translator Program is a 4-year Tibetan language training program aimed at providing native speaker interpreters in FPMT centers worldwide. The program consists of two years of intensive classroom study in Dharamsala, India, followed by two years training in a Dharma center as an interpreter for a Tibetan Geshe.
If you are wondering about the next step to take on your spiritual journey, please refer to the Treasure Map to your Enlightenment Through FPMT. This map has been prepared to give you a complete overview of FPMT education curriculum and all that is available to you in FPMT standard programs.
Statements of Appreciation
I have received the greatest benefit of anything I can imagine from my studies (a peaceful accommodation with my family, job, health, life and something meaningful to do with this life). I cannot imagine any possible way to truly express my thanks for having that now and what I have to look forward to every day.
– Sac, USA
Contact Info
1632 SE 11th Avenue
Portland, OR 97214-4702 USA
Tel (503) 808-1588 | Fax (503) 232-0557
About FPMT
FPMT is an organization devoted to the transmission of the Mahayana Buddhist tradition and values worldwide through teaching, meditation and community service.
more...
About Buddhism
If you're new to Buddhism, please read our
Buddhism FAQ
. A place to learn about Buddhism in general, FPMT, and our Discovering Buddhism at Home series.