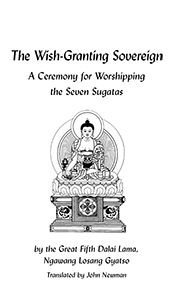 Composed in 1673 by the Fifth Dalai Lama, Ngawang Losang Gyatso (1617-1682), this text is an extensive rite for the worship of the Seven Medicine Buddhas, Buddha Shakyamuni, and an assembly of bodhisattvas and guardian deities.
The worship of the Seven Medicine Buddhas is a spiritual method to alleviate sickness, poverty, conflict and all the other miseries that inevitably afflict beings living in the world. Despite the almost miraculous recent advances in medicine and other technologies, the basic realities of human existence are as true today as they were 2,500 years ago, when the Buddha recommended that we face up to them.
This puja (the longest of all the Medicine Buddha pujas) was translated at the request of Lama Zopa Rinpoche by Professor John Newman.
We are happy to now make this puja available as a PDF download for your Kindle, iPad or other digital device.
Practice with the bodhisattva attitude every day. People can't see your mind; what people see is a manifestation of your attitude in your actions of body and speech. So pay attention to your attitude all the time. Guard it as if you are the police, or like a parent cares for a child, like a bodyguard, or as if you are the guru and your mind is your disciple.
Lama Zopa Rinpoche
Contact Info
1632 SE 11th Avenue
Portland, OR 97214-4702 USA
Tel (503) 808-1588 | Fax (503) 232-0557
About FPMT
FPMT is an organization devoted to the transmission of the Mahayana Buddhist tradition and values worldwide through teaching, meditation and community service.
more...
About Buddhism
If you're new to Buddhism, please read our
Buddhism FAQ
. A place to learn about Buddhism in general, FPMT, and our Discovering Buddhism at Home series.