Maitripa College board member and entrepreneur Mark Waller shares some Buddhist business lessons he's acquired over several decades:
"I first found myself sitting in front of Chogyam Trungpa 45 years ago at one of his early seminars in New York. With that began five years of retreats; cleaning his house in Boulder, Colorado, U.S.; living in and around the Naropa community there; attending seminars of many descriptions and sitting and more sitting. And, occasionally cracking a text.
"Fairly quickly, the need to pay rent and put some food on the table had to strike a balance with my new bodhisattva path. Several years of sporadic entrepreneurial adventures intermingled with intense legal work as I developed a conscientious objector petition at the most intense period of the Vietnam War. When my CO status was granted (just about simultaneously with my receiving a high draft lottery number), I was out of excuses and needed to work on right livelihood while continuing to dance with the Dharma.
"… But life since then has taught me some business lessons that I want share:
"Lesson 1: If you're really stuck, go sit until you are inspired or the phone rings.
"It was clearly time for a reboot and so I just sat and waited. Eventually a college acquaintance came along who was getting ready to complete a natural resource IPO in Canada. And then a year or so later, I was the president. (Over the next three decades, I'd be president of numerous other public companies and private ventures.)
"Lesson 2: It's not always critical, wise or profitable to be early in an emerging field. Fast followers, however, often live to fight another day or become the heroes. Find a hot trend and become better at it. …"
From Mandala July-September 2013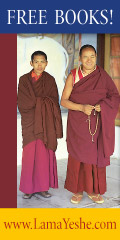 I encourage people not to express their anger, not to let it out. Instead, I have people try to understand why they get angry, what causes it and how it arises. When you realize these things, instead of manifesting externally, your anger digests itself. In the West, some people believe that you get rid of your anger by expressing it, that you finish it by letting it out. Actually, in this case what happens is that you leave an imprint in your mind to get angry again.
Lama Thubten Yeshe
Contact Info
1632 SE 11th Avenue
Portland, OR 97214-4702 USA
Tel (503) 808-1588 | Fax (503) 232-0557
About FPMT
FPMT is an organization devoted to the transmission of the Mahayana Buddhist tradition and values worldwide through teaching, meditation and community service.
more...
About Buddhism
If you're new to Buddhism, please read our
Buddhism FAQ
. A place to learn about Buddhism in general, FPMT, and our Discovering Buddhism at Home series.