Lama Zopa Rinpoche visited Mongolia for the first time in 1999 at the invitation of Bakula Rinpoche, who had already been working for 10 years to reestablish Buddhism in the country, and a small group of Mongolians that included a young journalist named Batbold Baast. Baast explained to Ripoche how important it was for high lamas to come to Mongolia and teach because many Mongolians were being converted by Christian missionaries and losing their Buddhist heritage. Due to Lama Zopa Rinpoche's wish to help, FPMT Mongolia became a registered Mongolian religious organization in 1999 and a few dedicated FPMT students moved to Ulaanbaatar to begin work. Over the last 13 years, more than 40 Westerners and hundreds of Mongolians have developed an organization that provides Dharma education and Sangha support in addition to social services for some of Mongolia's needy.
Ueli Minder, who first arrived in Mongolia in 2001, and Ven. Sarah Thresher, who began work in Mongolia in 2004, shared a few of their photos as part of Mandala's January-March 2014 online content to illustrate some of the activities that FPMT Mongolia has been involved with over the years.

From Mandala January-March 2014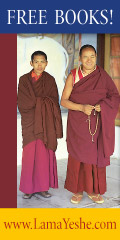 We are not compelled to meditate by some outside agent, by other people, or by God. Rather, just as we are responsible for our own suffering, so are we solely responsible for our own cure. We have created the situation in which we find ourselves, and it is up to us to create the circumstances for our release. Therefore, as suffering permeates our life, we have to do something in addition to our regular daily routine. This "something" is spiritual practice or, in other words, meditation.
The Purpose of Meditation
Lama Yeshe Wisdom Archive
Lama Zopa Rinpoche
Contact Info
1632 SE 11th Avenue
Portland, OR 97214-4702 USA
Tel (503) 808-1588 | Fax (503) 232-0557
About FPMT
FPMT is an organization devoted to the transmission of the Mahayana Buddhist tradition and values worldwide through teaching, meditation and community service.
more...
About Buddhism
If you're new to Buddhism, please read our
Buddhism FAQ
. A place to learn about Buddhism in general, FPMT, and our Discovering Buddhism at Home series.