From Mandala June-August 2002, San Francisco writer Steven Moss shares the story of how silence can sometimes allow for long-overdue communication:
"I haven't spoken to her in twenty-two years, and I don't intend to start now," my mother proclaimed, scrubbing at the already clean counter to emphasize her point.
"But Mom, it's a silent retreat. You won't be talking to her. In fact, you'll be encouraged not to," I said to the back of her head. I noticed her hair was still mostly black, with only a few specks of grey.
"Yes, well, as long as she doesn't try to talk to me. I'm not having any of that."
I'd made the mistake of telling my mother about a retreat I was going on with Aunt Gen. Knowing of my budding interest in Buddhism, Gen had found a course for me to take at Spirit Rock, a local meditation center. She offered to pay the fee, and, after we talked about it, asked if she could come along. I was delighted to spend time with my aunt, who'd taken up Spanish at 60, and tap dance lessons at 65.
After I told my mother, she insisted on joining us. Not because of any interest in Buddhism, but to make sure her older sister didn't spend any more time with me then she did. Still, she wanted to make it clear that while she was going to the retreat, she would not be speaking to my aunt. …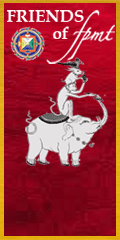 I encourage people not to express their anger, not to let it out. Instead, I have people try to understand why they get angry, what causes it and how it arises. When you realize these things, instead of manifesting externally, your anger digests itself. In the West, some people believe that you get rid of your anger by expressing it, that you finish it by letting it out. Actually, in this case what happens is that you leave an imprint in your mind to get angry again.
Lama Thubten Yeshe
Contact Info
1632 SE 11th Avenue
Portland, OR 97214-4702 USA
Tel (503) 808-1588 | Fax (503) 232-0557
About FPMT
FPMT is an organization devoted to the transmission of the Mahayana Buddhist tradition and values worldwide through teaching, meditation and community service.
more...
About Buddhism
If you're new to Buddhism, please read our
Buddhism FAQ
. A place to learn about Buddhism in general, FPMT, and our Discovering Buddhism at Home series.