FPMT News Around the World
In mid-January, His Holiness the Dalai Lama visited His Eminence Ling Rinpoche, who had been injured in a deadly car accident in late-November 2012. His Holiness spent more than a half-hour visiting Ling Rinpoche, giving advice and showing affection.
According to an update received by FPMT CEO Ven. Roger Kunsang, Ling Rinpoche is recovering well from the accident, which killed Rinpoche's driver and injured two others. Rinpoche suffered fractured femurs and a dislocated hip in the accident. His recovery is expected to take about six months. 
Ling Rinpoche is the main organizer of the Jangchup Lamrim teachings with His Holiness the Dalai Lama. The car accident happened as Ling Rinpoche was traveling to meet His Holiness in Goa, India, the day before the teaching series began. 
In December, Lama Zopa Rinpoche visited Ling Rinpoche while he was still in the hospital. Dagri Rinpoche, Serkong Tsenshab Rinpoche and Khadro-la [Rangjung Neljorma Khadro Namsel Drolma] also were part of the visit. 
With more than 160 centers, projects and services around the globe, there is always news on FPMT activities, teachers and events. Mandala hopes to share as many of these timely stories as possible. If you have news you would like to share, please let us know.
If you like what you read on Mandala, consider becoming a Friend of FPMT

, which supports our work.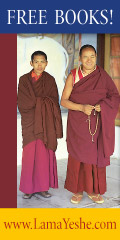 To put an end to our samsaric suffering, we must do two things: One is to purify the negative actions we've done every day of our lives and in our infinite previous lives as well. We also have to change our minds and actions and abstain from creating further negativities.
Lama Zopa Rinpoche
Contact Info
1632 SE 11th Avenue
Portland, OR 97214-4702 USA
Tel (503) 808-1588 | Fax (503) 232-0557
About FPMT
FPMT is an organization devoted to the transmission of the Mahayana Buddhist tradition and values worldwide through teaching, meditation and community service.
more...
About Buddhism
If you're new to Buddhism, please read our
Buddhism FAQ
. A place to learn about Buddhism in general, FPMT, and our Discovering Buddhism at Home series.