Posts Tagged "atisha centre&quot
There are 3 results found
While leading a month-long retreat in Australia in March 2011 and just prior to manifesting a stroke, Lama Zopa Rinpoche received a card from a student attending the retreat. Rinpoche requested that the card be shared by Mandala so that others can rejoice:
Dearest Lama Zopa Rinpoche,
I just want to say how happy I am (all of us here, really), to have had the karma to spend time with you.
Your kindness and skill has inspired me to go back to the drawing board and totally change the life.
May I work tirelessly (as yourself) to fulfill the wishes of every sentient being and always Rinpoche abide in my heart.
Thank you for all the understanding, teachings and purification. I have not fulfilled all my commitments to you, but I will!
You can read more about the retreat, hosted by Atisha Centre, The Great Stupa of Universal Compassion and Thubten Shedrup Ling Monastery near Bendigo, Victoria, in the article "The Retreat of a Lifetime: Guru Devotion in Australia with Lama Zopa Rinpoche" from Mandala July-September 2011. In the same issue, Mandala covered Rinpoche's stroke in "When the Guru Manifests a Stroke: Ordinary Appearances and Extraordinary Teachings from Lama Zopa Rinpoche."
If you like what you read on Mandala, consider becoming a Friend of FPMT, which supports our work. Friends of FPMT at the Basic level and higher receive the print magazine Mandala, delivered quarterly to their homes.
FPMT News Around the World
From Cherry Rattue, Director of Atisha Centre
In April 2012, over a dozen students participated in the extraordinary and beneficial nine-day Lam-rim Retreat led by Thubten Gyatso. Thubten Gyatso traditionally leads an annual retreat at Atisha Centre and details of his next retreat will be posted on the website. Julie Sloan shares this experience from the retreat:
With Lama Zopa Rinpoche's increased emphasis on retreat and practice, I was so fortunate to participate in the Lam-rim Retreat to work towards meeting Rinpoche's wishes right here in Bendigo at Atisha Centre, our very own retreat, meditation and education center. Thubten Gyatso's loving kindness, peerless retreat guidance and stainless teachings on the Graduated Path to Enlightenment had a profound impact on my mind, deepened my understanding of Buddha Shakyamuni's teachings and helped clarify life's direction. To be on retreat with a group of like-minded people, supported by a precious team of staff and volunteers is like finding a treasure of jewels and gold in a field of mud, a rare event indeed. Thank you everyone. May I create vast benefit for all beings by any virtue I have accumulated on this beautiful, precious and glorious retreat.
Retreats like these happen frequently at various FPMT centers around the world. In addition to the retreat schedule available on fpmt.org, contacting your local FPMT center is a great way to see what other courses are available. 
Find dozens of articles related to retreats on Mandala's "Subduing the Mind, Actualizing the Path" Retreat Resource Area.
With 158 centers, projects and services around the globe, there is always news on FPMT activities, teachers and events. Mandala hopes to share as many of these timely stories as possible. If you have news you would like to share, please let us know.
By Ven. Chönyi Taylor
It was a very subdued atmosphere in retreat at Atisha Centre. Suddenly our various expectations of being rescued from our unwanted situations have gone. Our guru, Kyabje Lama Zopa Rinpoche is in the hospital, his right side paralyzed, unable to speak. The weakness of the human body, even that of the guru, is alarmingly apparent. We cannot talk to him or tell him our concerns or ask for blessings. Or to be more precise, we cannot do these things with his current emanation.
The rest of the world continues: a light, cool breeze, sunshine, scurrying ants and a bush renewed by recent rains. In the distance, cars pass on their Easter holiday activities. From the gompa come the sounds of prayers: Medicine Buddha, light offerings, mantras. These are dedicated to our guru's long life, but they cannot alter this one fact that at some stage this present body of his will die. What will we do then? We discover that we had assumed that our guru would last forever. Indeed he will, but not in this current body that we know and love.
It is hard to imagine FPMT with neither Lama Yeshe nor Lama Zopa, yet the time will come when this will happen. More than ever we need to understand guru devotion.
First there is the listening, his instructions so softly whispered at times that we strain to hear. Listening is not easy. It is in our silences that the guru can speak to us, when we plant his feet firmly at the corolla of lotus petals in our hearts and wait. In silence and openness we can become aware. We wait. "Lama, think of me" we say, but we do not always stop to listen to what he says. Listening means waiting. Listening means the guru is always present.
Having listened, then we act. There is a particular way of carrying out the guru's instructions. It is called humility. Atisha Centre, so little for so many years, has suddenly flowered after the drought. How did so few members bring the vision of Lama Yeshe into reality? They listened and then when the time was ripe, they acted.
We all agree that harmony in our centers is important in extending the lives of our teachers. Harmony comes from humility. Humility is a simple recognition firstly of our limitations and secondly that our strengths come through benefits given to us by others. Humility does not push to the front seat, or beg desperately for the guru's time. Humility does not see my offerings as best or my prayer sessions more powerful or my devotion as stronger than anyone else. Humility recognizes that sometimes other people can be right and I can be wrong. Humility gives the victory to others. Humility acknowledges that I can choose to create disharmony or harmony.
If we really understand the teachings, if we really have an inkling of the power of mind, then we know that we do not need the physical presence of the guru to be blessed by him. It is our restricted mind that grieves when the guru's current body dies. We forget that we have placed him on our hearts. We forget that the mental continuum is not confined to the physical body. We forget about the clairvoyant powers of a highly developed mind. We forget the enormous number of emanations that a bodhisattva can produce. Above all we forget that in pure guru devotion, the guru is a buddha, fully enlightened, capable of knowing all, deeply compassionate.
"The amount of Dharma you know, the number of realizations you have, depends on how much devotion you have for your guru. The greater your devotion, the greater your Dharma understanding and realizations. It all depends on your guru devotion." – From "Advice on Guru Practice" by Gomchen Khampala
We have been so profoundly blessed. Lama Zopa, as our guru, teaches us the essence of humility, of compassion and of wisdom. He shows us the qualities we will develop on our individual paths to enlightenment. This will always be true as he remains in his current body, and when the time comes for him to leave it.
Lama Yeshe is still here at Atisha Centre. Lama Zopa is also here among the gum trees and dusty soil and the new statues and gardens and the Great Stupa rising with its steel beams glistening.
For a complete story on the April Australia retreat at which Lama Zopa Rinpoche manifested symptoms of a stroke please refer to page 12 of the July-September 2011 issue of Mandala.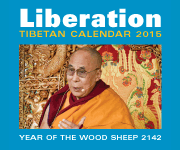 If you know the psychological nature of your own mind, depression is spontaneously dispelled; instead of being enemies and strangers, all living beings become your friends. The narrow mind rejects; wisdom accepts. Check your own mind to see whether or not this is true.
Lama Thubten Yeshe
Contact Info
1632 SE 11th Avenue
Portland, OR 97214-4702 USA
Tel (503) 808-1588 | Fax (503) 232-0557
About FPMT
FPMT is an organization devoted to the transmission of the Mahayana Buddhist tradition and values worldwide through teaching, meditation and community service.
more...
About Buddhism
If you're new to Buddhism, please read our
Buddhism FAQ
. A place to learn about Buddhism in general, FPMT, and our Discovering Buddhism at Home series.