FPMT News Around the World
The 26th Mind and Life conference recently wrapped up at Drepung Monastery in Mundgod, South India. His Holiness the Dalai Lama convened the six-day meeting, titled "Mind, Brain and Matter: Critical Conversations Between Buddhist Thought and Science." Video of the proceedings can be watched online.
The conference brought 20 well-known and respected scientists and philosophers together with His Holiness and other senior Tibetan scholars. Several thousand monks and nuns from numerous Tibetan monastic centers of learning also were able to watch the meeting, which explored questions concerning the fundamental nature of the physical world, consciousness and scientific research of contemplative practice. In addition, monastic students attended an educational session on the historical development of science and the influence that scientific thought has on how we understand the world.
The Mind and Life Institute, which organized the conference, supports ongoing dialogue and research to better understand the benefits of contemplative practice. The Institute grew out of His Holiness the Dalai Lama's interest in modern science and his desire to discuss the nature of reality with scientists.
With more than 160 centers, projects and services around the globe, there is always news on FPMT activities, teachers and events. Mandala hopes to share as many of these timely stories as possible. If you have news you would like to share, please let us know.
If you like what you read on Mandala, consider becoming a Friend of FPMT, which supports our work.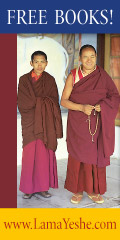 I encourage people not to express their anger, not to let it out. Instead, I have people try to understand why they get angry, what causes it and how it arises. When you realize these things, instead of manifesting externally, your anger digests itself. In the West, some people believe that you get rid of your anger by expressing it, that you finish it by letting it out. Actually, in this case what happens is that you leave an imprint in your mind to get angry again.
Lama Thubten Yeshe
Contact Info
1632 SE 11th Avenue
Portland, OR 97214-4702 USA
Tel (503) 808-1588 | Fax (503) 232-0557
About FPMT
FPMT is an organization devoted to the transmission of the Mahayana Buddhist tradition and values worldwide through teaching, meditation and community service.
more...
About Buddhism
If you're new to Buddhism, please read our
Buddhism FAQ
. A place to learn about Buddhism in general, FPMT, and our Discovering Buddhism at Home series.