Posts Tagged "relics&quot
There are 3 results found
HOLY OBJECTS
December 2002-February 2003
Kirti Tsenshab Rinpoche:
The benefits of seeing relics are great. Relics have the nature of primordial awareness comprehending emptiness and the aspect of pills, bones, and so forth. They are established by enlightened beings with great compassion.
It is said that the body of the Buddha is vast like the ocean but that ordinary beings cannot perceive it. For their sake, the buddhas manifest relics. The enlightened beings with high realizations establish relics as a means for passing on blessings of their body, speech and mind. Due to the power of realization and compassion of these beings, anyone who sees, hears of, touches or even thinks of relics receives their blessing. Relics might appear as ordinary bones t those with untrained, ordinary minds but in reality the relics are not ordinary at all. …
Lama Zopa Rinpoche:
In the past, when Buddha was residing in India, many people saw his actual body. Nowadays, due to impure karma and lack of merit, we cannot see the body of Buddha nor hear his speech. We only have the fortune to see Buddha's relics. Therefore, kind and compassionate Guru Shakyamuni Buddha emanated thousands of relics as an object of devotion for very many sentient beings.
Buddhas appear to arya bodhisattvas in the aspect of the sambhogakaya, to ordinary bodhisattvas in the aspect of emanation bodies, and to those with karmic impurities in the aspect of ordinary beings possessing a body of flesh and blood. Similarly, in the case of His Holiness the Dalai Lama, whom we are able to see directly and who is in fact actual Chenrezig, most ordinary beings can only see him in the aspect of a gelong [fully ordained monk] who is still subject to sickness, who grows old, and so forth. In the same way, those who have reached very high levels of tantric realization – for example, like the late Geshe Lama Konchog who passed away in October 2001 [pictured opposite] – leave behind relics for the sake of sentient beings who are tortured by suffering. This happens because they have developed high realizations within their mental continuum originating from the root of great compassion. Geshe Lama Konchog inspired and introduced so many foreigners to the Dharma and planted the seeds of good imprints in their minds. …
FPMT News Around the World
The Maitreya Heart Shrine Relic Tour has a new website, featuring quick links to the tour's schedule and media coverage.
The Heart Shrine Relic Tour displays dozens of relics from Buddhist masters, from Shakyamuni Buddha and his disciples up to 20th-century accomplished masters familiar to FPMT students. According to the tour's website, "The purpose of the Relic Tour is to inspire people of all spiritual traditions and paths to come together to experience the blessings of the relics."
On Friday, October 5, the North American tour visits Plymouth, New Hampshire, for three days while the European Tour is in Manchester, UK, for three days. The relics recently visited Israel for the first time, making stops in three cities. They were also on view earlier this year in Australia and Mexico as well as several other locations in the Western and Midwestern United States.
The relics have been touring the world since 2001 and have been seen by 1.6 million people. You can see photos from recent event's on the Relic Tour's Facebook page.
With 158 centers, projects and services around the globe, there is always news on FPMT activities, teachers and events. Mandala hopes to share as many of these timely stories as possible. If you have news you would like to share, please let us know.
If you like what you read on Mandala, please consider becoming a Friend of FPMT, which supports our work.
October-December 2011
On September 18, 2011, the cremation site for the recently passed Khensur Rinpoche Lama Lhundrup was dismantled and carefully examined for the presence of relics and indications of the location of Lama Lhundrup's future reincarnation. In this video, you'll see Lama Zopa Rinpoche, who is making significant strides in his recovery after manifesting a stroke in April; Khenrinpoche Geshe Thubten Chonyi, Kopan Monastery's newest abbot; and the young Tenzin Phuntsok Rinpoche, the reincarnation of Geshe Lama Konchog, with attendant Geshe Tenzin Zopa. Tenzin Phuntsok Rinpoche is the first person to open the cremation site and remove the first relic.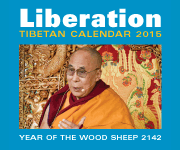 The purpose of meditation is not to reach nirvana and then disappear. If that was the case, it would better that you manifested as a flower!
Lama Thubten Yeshe
Contact Info
1632 SE 11th Avenue
Portland, OR 97214-4702 USA
Tel (503) 808-1588 | Fax (503) 232-0557
About FPMT
FPMT is an organization devoted to the transmission of the Mahayana Buddhist tradition and values worldwide through teaching, meditation and community service.
more...
About Buddhism
If you're new to Buddhism, please read our
Buddhism FAQ
. A place to learn about Buddhism in general, FPMT, and our Discovering Buddhism at Home series.