Reincarnation of Ribur Rinpoche

 The incarnation of Ribur Rinpoche – whose personal name is Tenzin Pasang Rinpoche – is already living and studying at Sera Mey Monastery.  He was recognized as the incarnation of Ribur Rinpoche by His Holiness the Dalai Lama and was initially enthroned as the incarnation in Bodhgaya in 2010 by Kyabje Lama Zopa Rinpoche and Woser Rinpoche, and formally enthroned at Sera Mey Monastery in May 2013.  
The young incarnation when he was only six years old (see photo below) noted that His Holiness the Dalai Lama had given him the advice: "Study hard and you can become like the previous Rinpoche."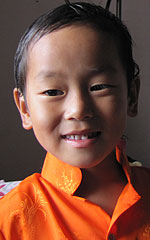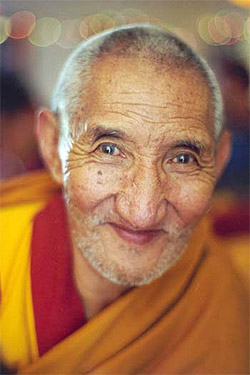 Ribur Rinpoche was born in the Kham region of Tibet in 1923, and was recognized by the Thirteenth Dalai Lama as the reincarnation of the head lama of Ribur Monastery. After studying at Sera Me monastery, where he received numerous teachings from his root guru, Pabongka Rinpoche, Rinpoche received his geshe degree in 1948. Rinpoche was then confined in Lhasa from 1959 until 1976, during which time he experienced relentless interrogation and torture during thirty-five of the infamous struggle sessions. "If I told you what happened on a regular basis, you would find it hard to believe."
At the end of the Cultural Revolution in 1976, Ribur Rinpoche spent more than 10 years in Chinese labor camps and was given a job with the Religious Affairs Office in Tibet. On one of his trips to China, he worked with the Panchen Lama and recovered holy objects – including the famous Shakyamuni Buddha statue in the Ramoche temple – that had been dismantled and shipped to China. He also re-established the destroyed stupa of Lama Tsongkhapa, which contained some of Lama Tsongkhapa's bodily relics.
Since his exile to India in 1985, Ribur Rinpoche wrote numerous biographies of great lamas such as the Thirteenth Dalai Lama and an extensive history of Tibet, which includes his autobiography. Ribur Rinpoche spent many years living in northern California where he gave teachings and led retreats, before returning to India, where he passed away in 2006.
The most happy thing in my life, most fulfilling thing is to work for and to benefit sentient beings. Even just the mere thought to cause happiness to sentient beings, to benefit them, to free them from suffering is the BEST offering to all the buddhas and bodhisattvas. This is the best offering, the best puja; this is what pleases their holy mind most.
Lama Zopa Rinpoche
Contact Info
1632 SE 11th Avenue
Portland, OR 97214-4702 USA
Tel (503) 808-1588 | Fax (503) 232-0557
About FPMT
FPMT is an organization devoted to the transmission of the Mahayana Buddhist tradition and values worldwide through teaching, meditation and community service.
more...
About Buddhism
If you're new to Buddhism, please read our
Buddhism FAQ
. A place to learn about Buddhism in general, FPMT, and our Discovering Buddhism at Home series.