FPMT Centers, Projects and Services in France
Telephone Code for International Calls: 33
Corrections to your center listing can be made by contacting
Center Services
.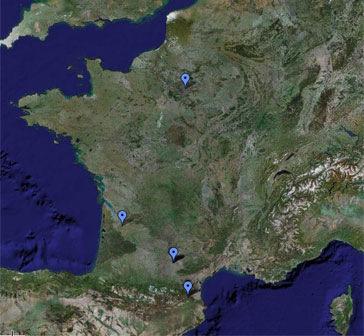 Editions Vajra Yogini
Marzens, 81500 Lavaur
Tel: (05) 6358 1722
Fax: (05) 6358 0348
www.vajra-yogini.com
contacts@vajra-yogini.com
Director Francois Lecointre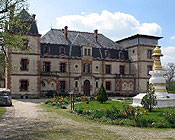 Institut Vajra Yogini
Chateau d'en Clausade
Marzens
81500 Lavaur
Tel: (05) 6358 1722
Fax: (05) 6358 0348
www.institutvajrayogini.fr
institut.vajra.yogini@wanadoo.fr
Director François Lecointre
Kalachakra Centre
5 passage Delessert
75010 Paris
Tel/Fax: (01) 4005 0222
www.centre-kalachakra.com
info@centre-kalachakra.com
Director Ven. Elisabeth Drukier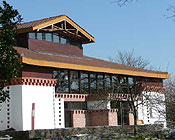 Nalanda Monastery
Château Rouzegas
Labastide St. Georges
81500 Lavaur
Tel: (05) 6358 0225
Fax: (05) 6358 1987
www.nalanda-monastery.eu
info@nalanda-monastery.eu
Abbot Geshe Losang Jamphel
Director Ven Gyaltsen
Thakpa Kachoe Retreat Land
Villetale
06470 Guillaumes
Tel: (33) 6 12 91 89 49
www.thakpakachoe.com
danielmestre@magiconline.fr
Co-Coordinators Daniel Mestre and Sylvaine Litaud
If you help others with sincere motivation and sincere concern, that will bring you more fortune, more friends, more smiles, and more success. If you forget about others' rights and neglect others' welfare, ultimately you will be very lonely.
His Holiness the Dalai Lama
Contact Info
1632 SE 11th Avenue
Portland, OR 97214-4702 USA
Tel (503) 808-1588 | Fax (503) 232-0557
About FPMT
FPMT is an organization devoted to the transmission of the Mahayana Buddhist tradition and values worldwide through teaching, meditation and community service.
more...
About Buddhism
If you're new to Buddhism, please read our
Buddhism FAQ
. A place to learn about Buddhism in general, FPMT, and our Discovering Buddhism at Home series.