FPMT Centers, Projects and Services in Nepal
Telephone Code for International Calls: 977
Corrections to your center listing can be made by contacting
Center Services
.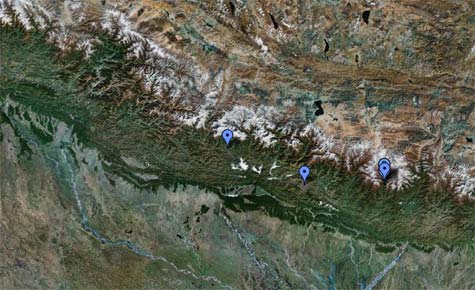 Ganden Yiga Chözin Buddhist Meditation Centre
PO Box 285
Pokhara
Tel: 61 522923
www.pokharabuddhistcentre.com
pokharacentre@yahoo.com
Director Sonam Tamang
Himalayan Buddhist Meditation Centre
Thamel
Kathmandu
Tel: 980 325 4704
www.fpmt-hbmc.org
hbmc.programs@gmail.com
Director Pawan Tuladhar
Khachoe Ghakyil Nunnery
GPO Box 817, Kathmandu
Tel: (1) 481 236
Fax: (1) 481 267
www.kopannunnery.org
khacho@mail.com.np
Manager Ven. Jangsem
Project of Khachoe Ghakyil Nunnery:
Tara Pure Land Nunnery and Educational Centre
Sarnath, India

Kopan Monastery
GPO Box 817, Kathmandu
Tel: (1) 4821268
Fax: (1) 4821267
www.kopanmonastery.com
kopan@mail.com.np
Director and Abbot Khenrinpoche Geshe Chonyi

Projects of Kopan Monastery:

Animal Liberation Sanctuary

Thubten Shedrup Ling Monastery
Tibetan Camp, PO Box 2
Chaisala, Salleri, Solu Khumbu

Tsum: Mu Monastery and Rachen Nunnery
Lawudo Retreat Centre
GPO Box 817, Kathmandu
Tel: (1) 221 875
Fax: (1) 251 409
www.lawudo.com
Lawudogompa@yahoo.com
Director Sangay Chhotar Sherpa
Statements of Appreciation
I am writing today to let you know how much I appreciate FPMT and all that you do with people all over the world. I am constantly amazed when I receive each mandala magazine and see all that is being done under your kind guidance.
– Jeffrey Thomson Salem, OR
Contact Info
1632 SE 11th Avenue
Portland, OR 97214-4702 USA
Tel (503) 808-1588 | Fax (503) 232-0557
About FPMT
FPMT is an organization devoted to the transmission of the Mahayana Buddhist tradition and values worldwide through teaching, meditation and community service.
more...
About Buddhism
If you're new to Buddhism, please read our
Buddhism FAQ
. A place to learn about Buddhism in general, FPMT, and our Discovering Buddhism at Home series.