In June 2013, His Holiness the Dalai Lama visited New Zealand before making his way to Australia for his ninth visit to the country. As part of the Mandala October-December 2013 online content, we offer three stories on the visit.
FPMT co-director of Chandrakirti Centre in Richmond, New Zealand, Phillipa Rutherford, shared with Mandala a short summary of the "very intimate" visit by His Holiness plus a couple of photos of His Holiness meeting with devoted students in Dunedin.
Sally Dudgeon, who was involved with His Holiness' most recent visit to Australia, shared a report on the four-city tour themed "Beyond Religion, the 14th Dalai Lama on the Benefits of Living Ethically." The organization Dalai Lama in Australia (DLIA) managed the tour as well as most of the previous tours by His Holiness' to Australia. DLIA is a non-profit company formed in 2001 by George Farley and Alan Molloy, both students of Lama Zopa Rinpoche.
The June tour included a stop in Melbourne to teach the Heart Sutra and the Eight Verses of Mind Training at Quang Minh Temple, a Vietnamese Buddhist temple in the suburb of Braybrook. Cynthia Karena captured the perspective and feelings of some of the volunteers at the "happy and joyous" event.
If you like what you read on Mandala, consider becoming a Friend of FPMT, which supports our work.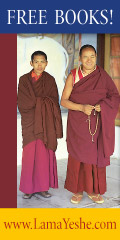 The most happy thing in my life, most fulfilling thing is to work for and to benefit sentient beings. Even just the mere thought to cause happiness to sentient beings, to benefit them, to free them from suffering is the BEST offering to all the buddhas and bodhisattvas. This is the best offering, the best puja; this is what pleases their holy mind most.
Lama Zopa Rinpoche
Contact Info
1632 SE 11th Avenue
Portland, OR 97214-4702 USA
Tel (503) 808-1588 | Fax (503) 232-0557
About FPMT
FPMT is an organization devoted to the transmission of the Mahayana Buddhist tradition and values worldwide through teaching, meditation and community service.
more...
About Buddhism
If you're new to Buddhism, please read our
Buddhism FAQ
. A place to learn about Buddhism in general, FPMT, and our Discovering Buddhism at Home series.