Will Abram, director of De-Tong Ling Retreat Centre on Kangaroo Island, Australia, shared some exciting news with Mandala for the October-December 2013 issue.
Australia's De-Tong Ling Retreat Centre is located on Kangaroo Island, a 20-minute flight or a 40-minute ferry ride from Adelaide, a city of 1.2 million people and capital of South Australia. The island is unique in many ways, being one of the most recently settled places on the planet. It is estimated that even the aboriginal habitation of the island ceased between five to ten thousand years ago. Home to the second largest numbers of unique flora and fauna on planet earth, the island has benefited from the lack of invasive animals that have damaged much of the mainland's natural habitat.
De-Tong Ling, nestled into the northwestern part of the "conservation heartland" of the island, was originally established for people to do solitary retreats. So far five retreat cabins have been built with plans for another seven. Group retreats have also been conducted on the island annually for the last 10 years. These group retreats have been held on the adjoining property owned by Kimball Cuddihy, who helped found and direct De-Tong Ling from 1988 until 2012.
This year, the first group retreat was held at the center in the room underneath the newly completed Enlightenment Stupa. Including the gompa underneath, it is the largest completed stupa in Australia, standing some 14 meters [46 feet]. …
From Mandala October-December 2013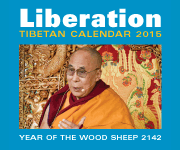 I encourage people not to express their anger, not to let it out. Instead, I have people try to understand why they get angry, what causes it and how it arises. When you realize these things, instead of manifesting externally, your anger digests itself. In the West, some people believe that you get rid of your anger by expressing it, that you finish it by letting it out. Actually, in this case what happens is that you leave an imprint in your mind to get angry again.
Lama Thubten Yeshe
Contact Info
1632 SE 11th Avenue
Portland, OR 97214-4702 USA
Tel (503) 808-1588 | Fax (503) 232-0557
About FPMT
FPMT is an organization devoted to the transmission of the Mahayana Buddhist tradition and values worldwide through teaching, meditation and community service.
more...
About Buddhism
If you're new to Buddhism, please read our
Buddhism FAQ
. A place to learn about Buddhism in general, FPMT, and our Discovering Buddhism at Home series.