Posts Tagged "discovering buddhism&quot
There are 7 results found
What Centers Need to Know
As teacher registration is dependent upon having received a completion certificate in one of the following: Discovering Buddhism, Foundation of Buddhist Thought, Basic Program, Maitripa College, or the Masters Program, centers need to ensure these programs are hosted correctly and in their entirety so students can receive their completion certificates.
As such, Center Directors and Spiritual Program Coordinators need to understand the specific components and requirements of these programs and ensure their teachers are also aware.
Components of the 14 Module Discovering Buddhism (DB) Program
Teachings on the module topic
Meditations for each topic
"DB Readings" (A collection of excerpts from Lama Yeshe, Lama Zopa Rinpoche and His Holiness the Dalai Lama provided with the program; as well as readings from Liberation in the Palm of the Hand, Wish Fulfilling Golden Sun and a few other required books.)
Integration Practices, which, aside from the meditations often include a 1-2 day retreat for each module
An assessment or public exam
For anyone wishing to receive a completion certificate, Module 14 is also a requirement of the program.
Module 14, Special Integration Practices, consists of:
100,000 prostrations
100,000 Vajrasattva mantras
2 week Lamrim retreat
Nyung Na
Click here for a document which explains the various ways to complete these Module 14 requirements.
The DB for centers package is available on the FPMT Centers Only page of the Foundation Store. The program consists of four binders of materials: Center, Student, Teacher and the text Wish Fulfilling Golden Sun.
Important resources within the Teacher Binder include:
A Subject Area Summary Sheet for every module which lists the specific teachings, readings, and integration practice requirements for completion certificate students. Click here to view the"SASS" for DB's 14 modules.
A Sample Course Outline prepared by a senior FPMT teacher which outlines in detail the topics to cover in each session of the module
The required meditations are not provided within the DB binders and can be found on the DB Updates page in the Members Area of the FPMT website.
An assessment or public exam must also be administered at the conclusion of each module for students to receive a completion certificate. Teachers can write their own assessment questions or they can use the questions provided on the DB Updates page. These questions were made for students following the DB at Home program and are, as such, in line with how the DB at Home teacher presented the module. Some modules also have alternate "public exam" questions on the Updates page that have been provided by centers hosting DB.     
Certificate Students
Centers will need to keep track of their DB students following the program for a certificate. The easiest way to do this is to provide a Completion Card to each student and have the teacher sign the card when a module is completed. Hard copies of these completion cards in English, Spanish, French and Italian can be sent to you from FPMT Education Services or downloaded from the DB Updates page.
When a student has completed all 14 modules the completion card can be sent into FPMT Education Services or the centers can simply inform Education Services and the student will then receive their DB completion certificate signed by Lama Zopa Rinpoche. The certificate is one criteria needed to become a registered teacher.
In conclusion, any center hosting DB should have:
The DB for Centers package of 4 binders (Teacher, Student, Center, Wish Fulfilling Golden Sun)    
Familiarity with the DB Updates page which provides a wealth of additional resource material including meditations, assessment questions & answer keys, promotional materials, transcripts of the DB at Home teachings (an excellent resource for new teachers who can use some help preparing their lectures), etc.
A DB teacher who is fully aware of the vision and resources of the program as well as encouraging of students to follow the program for a certificate. If the teacher is new, please encourage them be in touch with Education Services for more information.
The Discovering Buddhism DVD which includes ½ hour shows on each DB topic. The DB DVD is subtitled in English, French, German, and Spanish and is available on the Foundation Store.
For a brief explanation of the differences between the DB program, the DB DVD, and the at Home and Online options for following DB, click here. 
Further questions can be addressed to Tom Truty, Education Services Coordinator: Tom@fpmt.org
A Subject Area Summary Sheet for every module which lists the specific teachings, readings, and integration practice requirements for completion certificate students. Click here to view the "SASS" for DB's 14 modules.


The Discovering Buddhism DVD Series was created for anyone wish­ing to get a taste of the vast and profound subjects of the stages of the path to enlightenment, as presented in a Tibetan Buddhist context. This series also serves as supplementary material for anyone follow­ing the Discovering Buddhism at Home program, each 30-minute DVD exploring the essence of one of the thirteen subjects that com­prise this study program. Every subject is introduced by Richard Gere or Keanu Reeves.
The series features His Holiness the Dalai Lama, Ribur Rinpoche, Lama Zopa Rinpoche, Lama Thubten Yeshe, Kirti Tsenshab Rinpoche, and other Tibetan lamas. Western teachers in the series include Ven. Robina Courtin, Ven. Sangye Khadro, Ven. Thubten Chodron, Jan Willis, and others. On these thirteen DVDs, each subject is introduced by both a Tibetan and a Western teacher; these explanations are then followed by an informal conversation with a Western student who talks about how the practice and contemplation of that subject has affected their life.
The thirteen subjects in this DVD series are as follows:
Mind and Its Potential
How to Meditate
Presenting the Path
The Spiritual Teacher
Death and Rebirth
All About Karma
Refuge in the Three Jewels
Establishing a Daily Practice
Samsara and Nirvana
How to Develop Bodhichitta
Transforming Problems
Wisdom of Emptiness
Introduction to Tantra
Click here to view a short streaming video of Discovering Buddhism: http://fpmt.org/media/streaming/#dbv
Click here to read more about the Discovering Buddhism at Home program: http://fpmt.org/education/programs/discovering-buddhism/
Click here to order a module of the Discovering Buddhism at Home program: http://shop.fpmt.org/Discovering-Buddhism-at-Home_c_165.html

As I submit my assessment for the last DB module, it will not be the last time I review this material or reap benefit from this process. What an incredible joy this process has been for me! I sincerely thank my assessor and the education department for all of your time and energy, I have begun a process that will be invaluable to myself (and eventually to all other sentient beings).
Every module seems to allow me to tie in the previous modules and get even more out of the courses. What a fantastic program!
With floods and cyclones (in my area) I am more determined to want to complete and fulfill all the requirements (of this program) but if my present conditions make it just too difficult I am still extremely happy to have reached this stage (mod 13)- the teaching have already transformed my life and mind in so many wonderful ways and I definitely want the process to continue.
We feel we are indebted to FPMT for all the benefits we have reaped from taking this tremendously worthwhile course.  It has transformed our lives.
I am so grateful for all the work that you all put in so that I can learn the path.  True rejoicing!  I am enjoying the path so very much.  I can't imagine my life without it.  Every moment is filled with dharma - in all aspects of my life.  I even have dharma dreams now!  Maybe some purification is going on.  Such a long way to go but …step by step.
With respect to my benefiting from the program; simply put, it is exceeding my wildest expectations! Even though I have just begun – I have had many wonderful experiences, launched from the material in the programme.
I have had Discovering Buddhism DVD for at least a year.  It drew me from Soto Zen to Tibetan Buddhism and then to FPMT.  I have lost count of the number of times I have watched it.  Thank you very much for directing me to the home study program.  I will go to the Foundation store as soon as I send this.
First of all, congratulations on the successful launch of the DB Online programme, its fantastic!!! Second, I've long meant to comment on how amazed I am by all resources of the FPMT Education Department, and the breadth of the Education Program worldwide (and accessibility) from DB to the Masters Program. Its all first-rate, from the teachings, the resources and materials, all the booklets, audio and video FPMT offers are quite fantastic, and such an important support for anyones practice at any level. The love that's gone into all of it is abundant and obvious.
This is such a wonderful program and the benefits will be with us forever. This program opens up a whole new world. I am so grateful for this opportunity and appreciate all the help given us on our journey.
I found Thubten Yeshe to be a very kind and compassionate teacher.  Her efforts in this program are greatly appreciated.  The content of module one was great.  It was meaningful and insightful.  The guided meditations helped me to start a regular meditation program whereas before I felt lost.
From my first DB at Home module, I recognized the program as something special, but the more I use the materials, the more highly I regard it and the greater I appreciate the solid foundation it provides for future study.
Thank you to everyone on this DB@H group for helping each other and all Sentient Beings to learn and grow in the Dharma, and for seeking Enlightenment to Benefit all Sentient Beings. And finally I thank all Sentient Beings for all the kindness I've been shown through countless lives. I'm forever in all of your debt!
As for the benefit I am receiving from the program: I wish I could express it in words. I keep asking myself what can I do to express my appreciation and gratitude. For now, all I can do is keep practicing and hope one day I will Honor the foundation the way Lama Thubten Yeshe, Lama Zopa Rinpoche and everyone else at the foundation have Honored Lord Buddha.
I've been following along the DBAH discussion board for the past months and trying to practice as best I can informally, BUT I'm just re-commiting myself to formal study of the course, beginning with refreshing my study of modules 3-6.  I hope to be passing along assessments promptly for those modules, and I'm very excited that TY is still available to mentor those of us who started back in the beginning stages. The main reason I wanted to write today, though, is because I've just received Modules 7 and 8 in the mail.  Wow, am I impressed with the new 2006 format!  It's really wonderful.  I was just delighted.  The course has always been wonderful; now it is even more portable.
finding the program of great benefit.  It took me a while with the assessment as initially I put it in the too hard basket.  Finally went over the module more thoroughly to gain a deeper understanding.   Plus of course it takes time to think about and apply what is learnt.  Doing the assessment questions takes the learning to another level doesn't it?
One of the good features of  DB@H is that it "keeps my feet to the fire" with regard to my developing study and practice.  I have read plenty over the last 40 years but DB@H is helping me bring the dharma together in a very real way in my life versus assuming I understand.
I would also like to take this opportunity to extend my deep appreciation for having made this course available to students in a distance-learning format.  Discovering Buddhism is well laid out and very easy to follow, which makes it a real joy to study!  Thank you!
I am not sure how else to show my appreciation for everything you have done for me.  This is an incredibly wonderful gift—-your organization, the Buddhist teachings, and the teachers who transmit the wisdom.
I am truly enjoying the second module and I look forward to immersing myself in the others. This course is a wonderful mix of structure and freedom. Often I tend to feel the need to perfect my understanding before I am willing to move on. I recently made the determination to discipline myself, accept that I will make mistakes (which is what discussion and guidance are there to remedy) and actually work through the modules.
Oh yes, I am definately benefitting from my studies. These teachings are just too amazing. The one benefit, which I think I can already at this point mention, is a certain change of my general outlook towards life and my position in it. And I am curious to find out what more may happen …. But I will keep it as they say in South Africa: 
Slowly, slowly catch the monkey.
The reason I am writing is simply to convey to you that I have never regretted for one second finding FPMT and joining in this wonderful community and course of study, reflection, and now dialogue vis a vis the message list.

The FPMT also provides things like lectures and talks, even mantras and other recordings, available on the Internet at the main web sites which really help me out … since we live in a very isolated forest up on a mountainside with very few people, and no other dharma sangha resources that I could find anway.

There is a fantastic, wonderful, and incredible introduction in the form of the Discovering Buddhism at home CD course and then there is the Homestudy course itself, which is a separate program.

All that said … how wonderful to discover people from all over the world here, on this relatively new elist and in this engaging, helpful, and insightful e-sangha.
What a joy to be part of this fantastic study group. Ted and I have only just commenced the FPMT BP Homestudy and must admit it was a few months ago that our folder arrived prompting our attention, however, the feeling of isolation and the old excuse of "I'll do it later, too busy now", plagued us both. Amazingly, just this little bit of e-contact has given us so much inspiration.

Isolated and wanting to continue our Buddhist studies, I found the FPMT website, another step forward in our quest to realization.
I'm rather new to Buddhism and obtained a copy of the FPMT Basic Program Homestudy on the Heart Sutra. I selected this since I understand it is one of the most fundamental concepts of Buddhism.

I know that it would be best to receive teachings directly from a master in person but that is not practical in my situation. I'm hoping this group will close some of the gaps (perhaps open new ones to be traversed) in my search. If all goes well, I'd like to expand my training into more formal instruction.
I began studying the BP Homestudy program (BPHP) approximately 18 months ago. I.see it as an essential vehicle, especially now that I have no immediate Sangha.

I look forward to being part of this sangha and I am deeply grateful to everyone, especially the teacher, for being here and making available the wisdom of the sangha and the teachings.
This course continues to amaze me!
Thubten Yeshe, teacher of module 1, Mind and its Potential
In 1974 Thubten Yeshe (T.Y.) met her teachers Lama Thubten Yeshe and Lama Thubten Zopa Rinpoche. For five years she studied in Nepal and India, during which time she was ordained as a Buddhist nun. She remained a nun for nine years. T.Y. has received teachings over the years from many lamas, including Serkong Tsenshab Rinpoche, Geshe Ngawang Dargyey, Kyabje Song Rinpoche, Ribur Rinpoche, Kirti Tsenshab Rinpoche and His Holiness the Dalai Lama. Since those early days, she has lived and worked in FPMT centers around the world. In 1985 she moved to Australia, where she teaches, lead retreats and engages in other work within the FPMT.
Ven Sangye Khadro, teacher of Module 2, How to Meditate
Ven. Sangye Khadro was born in California in 1952 and took her first courses in Buddhism in Dharamsala, India, in 1973. She was ordained as a Buddhist nun in Kopan Monastery, Nepal, in 1974. She has studied Buddhism with various teachers, such as Lama Zopa Rinpoche, Lama Thubten Yeshe, His Holiness the Dalai Lama, Geshe Ngawang Dhargyey, and Geshe Jampa Tekchog, and in various countries such as India, Nepal, England, France, and Australia. At the request of her teachers, Ven. Sangye Khadro began teaching in 1979, while living in England, and since then has taught in many countries around the world, most recently at Amitabha Buddhist Centre in Singapore, for eleven years. In 1988, Sangye Khadro took the full ordination or gelongma vows.
Ven Robina Courtin, teacher of module 3, Presenting the Path
Venerable Robina Courtin has been a nun for over 20 years in the Tibetan Buddhist tradition. Ven. Robina spent 10 years editing for Wisdom Publications followed by over 5 years as the main editor of Mandala, the international Buddhist newsmagazine of the FPMT. Ven. Robina travels the world teaching Buddhism to students of all ages and levels. Ven. Robina's prison work was recently profiled in an award-winning documentary, Chasing Buddha.
Ven Constance Miller, teacher of module 4, The Spiritual Teacher
Venerable Constance Miller is an American nun in the Tibetan Buddhist tradition. Ordained by Kyabje Zong Rinpoche in 1978, she has been teaching Buddhist philosophy and practice in FPMT centers in Europe, Asia, and America since 1982. She helped Lama Thubten Yeshe establish the project entitled Universal Education and served as its director for a number of years after its inception. From 1992-96 Ven. Connie was responsible for the editorial department of Wisdom Publications, Boston. Starting in 1996, she served in the Education Services of the FPMT's International Office, serving as the Education Materials Coordinator from 1998 through 2002. She continues to work actively on Essential Education (formerly Universal Education). Ven. Connie is currently the resident teacher at Thubten Norbu Ling Buddhist Center in Santa Fe, New Mexico.
Dr. Nicolas Ribush, teacher of module 5, Death and Rebirth
Dr. Nicholas Ribush, MB, BS, is a graduate of Melbourne University Medical School (1964) who first encountered Buddhism at Kopan Monastery, Nepal in 1972. Since then he has been a student of Lama Yeshe and Lama Zopa Rinpoche and a full-time worker for their international organization, the Foundation for the Preservation of the Mahayana Tradition (FPMT). He was a monk from 1974 to 1986. He established FPMT archiving and publishing activities at Kopan in 1973, and with Lama Yeshe founded Wisdom Publications in 1975. Between 1981 and 1996 he served variously as Wisdom's director, editorial director, and director of development. Over the years he has edited and published many teachings by Lama Yeshe and Lama Zopa Rinpoche and established and/or directed several other FPMT activities, including the International Mahayana Institute, Tushita Mahayana Meditation Centre, the Enlightened Experience Celebration, Mahayana Publications, Kurukulla Center for Tibetan Buddhist Studies, and now the Lama Yeshe Wisdom Archive. He was a member of the FPMT board of directors from its inception in 1983 until 2002.
Renate Ogilvie, teacher of module 6, All About Karma
Renate Ogilvie was born in East Germany, and worked as a literary agent and editor in London where she became interested in Buddhism. Since meeting Lama Zopa Rinpoche in 1990, she has been studying and teaching Buddhism in the Tibetan tradition at his request. She set up and served as director of Shakyamuni Buddha Hospice, training volunteers for working with the dying. As a psychotherapist working in private practice, she is interested in applying the principles of the Dharma to the specific suffering of modern life. She lives in Sydney with her husband and teenage son.
Ven Thubten Dondrub, teacher of module 7, Refuge in the Three Jewels
Venerable Thubten Dondrub is an Australian-born monk in the Gelug school of Tibetan Buddhism. He has been teaching Buddhism to people around the world since the 1980s and has served as attendant to such eminent lamas as Khensur Ngawang Legden of Sera-je Monastery and Lama Zopa Rinpoche. An active participant in issues promoting peace, Ven. Dondrub is currently serving as the Education Officer of the International Mahayana Institute, the FPMT's organization of monks and nuns, and is presently the resident teacher at Hayagriva Center, Perth, Australia.
Kendall Magnussen, teacher of module 8, Establishing a Daily Practice
Kendall Magnussen has been a Tibetan Buddhist practitioner since 1984. She has received extensive teachings on the complete path from Lama Zopa Rinpoche, Ven. Ribur Rinpoche, His Holiness the Dalai Lama, and other qualified masters. Kendall has accumulated over four years of pilgrimage and retreat time in the US, Nepal, India, and Tibet. Since 1991, she has offered her life in service to Lama Zopa Rinpoche in a variety of capacities. In 2000-2004 she served in the FPMT Education Services as a trainer for those who work in FPMT centers and as the project coordinator for the creation of the Discovering BUDDHISM program. Kendall is now doing long-term retreat.
Ven Fedor Stracke, teacher of module 9, Samsara and Nirvana
Ven. Tenzin Fedor was born in 1967 in Germany and has been a Buddhist monk since 1988. He has spent more than ten years in Sera Je Monastic University studying for the esteemed Geshe degree, which he is now close to attain. He was one of the founders and the first director of Sera Je IMI house, a complex especially built for the Western monks studying at the monastery. During his time in India he also attended many of the public teachings given by His Holiness the Dalai Lama on a variety of subjects in both Dharamsala and south India. Ven Fedor has been teaching in FPMT centers since 1988 and from 1996 has also served as Tibetan interpreted for various FPMT and non-FPMT geshes.
Ven Kaye Miner, teacher of module 10, How to Develop Bodhichitta
Venerable Kaye Miner is an Australian nun in the Tibetan Buddhist tradition. Since her ordination in 1990, she has been teaching Buddhism in FPMT centers in Australia and Europe. In 1999 she became the resident teacher at Maitreya Institute Amsterdam in The Netherlands combining, since 2003, the additional responsibility as Director of Maitreya Institute Emst, The Netherlands.
Ven Tenzin Tsaphel, teacher of module 11, Transforming Problems
Ven. Tenzin Tsapel is Australia born and was inspired to become a Buddhist at her first Buddhist course when she met Lama Yeshe and Lama Zopa in 1979. She was ordained in 1985 by His Holiness the Dalai Lama and has been an active teacher in Australia and New Zealand. She is one of the senior nuns at the Chenrezig Nuns Community in Queensland, Australia and for the last eight years has been studying with Geshe Tashi Tsering at Chenrezig Institute's Buddhist Studies Programme, assisting as tutor for two modules of the Lamrim Chen-mo. During this time she has taught all of the Discovering BUDDHISM modules at Chenrezig.
Tubten Pende, teacher of module 12, The Wisdom of Emptiness
Tubten Pende, a.k.a. Jim Dougherty, is a practicing Buddhist since 1972 when he was introduced to Tibetan Buddhism in India. Pende was included in the first wave of the FPMT's Western Buddhist teachers. He was the coordinator of the Geshe Studies Program at Manjushri Institute, England; spiritual program coordinator, director, and later resident teacher at Nalanda Monastery, France; and an FPMT International Office Education Services program developer of the Masters Program at Istituto Lama Tzong Khapa, Italy. He is interested in the effective application of Buddhist theory and practice in the daily life of ordinary people.
Jon Landaw, teacher of module 13, Introduction to Tantra
Jon Landaw, author of Buddhism for Dummies, was born in New Jersey in 1944. From 1972 to 1977 Jon worked as an English editor for the Translation Bureau of His Holiness the Dalai Lama in Dharamsala, India, producing numerous texts under the guidance of Geshe Ngawang Dhargyey. As a student of Lama Yeshe and Lama Zopa Rinpoche since 1973, Jon has edited numerous works for Wisdom Publications, including Wisdom Energy and Introduction to Tantra. He is also the author of Prince Siddhartha, a biography of Buddha for children, and Images of Enlightenment, published by Snow Lion in 1993. As an instructor of Buddhist meditation, he has taught in numerous Dharma centers throughout the United States, Europe, Australia, New Zealand, and elsewhere. He currently lives in Capitola, California, USA with his wife and three children, and leads the Discovering Buddhism courses at Land of Medicine Buddha.
I am not sure how to show my appreciation for everything you have done for me.  This is an incredibly wonderful gift – your organization, the Buddhist teachings, and the teachers who transmit the wisdom.
 

Over 2500 years ago, Shakyamuni Buddha gained direct insight into the nature of reality, perfected the qualities of wisdom, compassion, and power, and revealed the path to his disciples. In the 11th Century, Atisha brought these teachings to Tibet in the form of the lam-rim – the stages on the path to enlightenment. The lam-rim tradition found its pinnacle in the teachings of the great Tibetan saint Lama Tsongkhapa in the 14th Century, and these teachings continued to pass from teacher to student up to this present day.
When Lama Thubten Yeshe and Lama Zopa Rinpoche transmitted these teachings to their disciples, they imparted a deeply experiential tradition of study and practice, leading thousands of seekers to discover the truth of what the Buddha taught. This tradition is the core of Discovering Buddhism. 
All of the FPMT study programs and especially Discovering Buddhism are presented
Discovering Buddhism is a two-year, fourteen-module series that gives the student a solid foundation in the teachings and practice of Tibetan Mahayana Buddhism. This program is offered online through the FPMT Online Center in many FPMT centers worldwide and as a Homestudy Program.
The 13-part Discovering Buddhism DVD set is an inspiring addition to the Discovering Buddhism program and also can be enjoyed independent of the program. It contains engaging  teachings on each topic, taught by eminent Tibetan lamas and experienced Western teachers. See the trailer!
This course continues to amaze me!
 
How it Works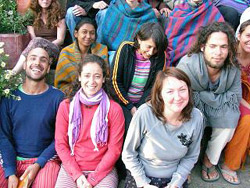 Each Discovering Buddhism module consists of teachings, meditations and practices, readings, assessment questions, and a short retreat. Students may do some or all of these components of each course, as they wish and are interested. Those who complete all the components receive a completion card for that course. When all fourteen modules have been completed, students receive a certificate of completion! This certificate awards the satisfaction of having completed a very comprehensive engagement with the path to enlightenment. The completion certificate is symbolic of your commitment to spiritual awakening. Rejoice deeply when you receive it!
The courses do not need to be completed in order, and Module 14, Special Integration Experiences should be started as early as possible in the program, as it takes some time to complete. Module 14 includes practice retreats available at many FPMT centers.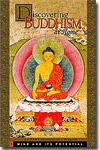 Homestudy Program
Each Discovering Buddhism at Home module contains audio recordings of teachings and meditations given by qualified Western teachers, and a text CD containing the course materials and written transcripts of the audio teachings. Packages are available in both MP3 and audio CD formats. Books from the reading lists are not included in the module package, and may be obtained separately from The Foundation Store.
Discovering Buddhism at Home participants discuss DB topics with each other via an online discussion board. This feature gives students the opportunity to enhance their learning experience through virtual discussion groups. In addition, senior FPMT teachers take part in the discussions, answering questions and overseeing the conversation. FAQ pages help the student navigate the program and provide the best of the discussion board's questions and answers.
Each module takes approximately two months to complete. Upon completion of a module, students may have their assessment questions evaluated by senior FPMT teachers and receive personal feedback.
Just as with the center program, students who complete each module receive a completion card, and those who complete all fourteen modules receive a certificate of completion.
Discovering Buddhism at Home is available from The Foundation Store.
Discovering Buddhism is also available as an online course on the FPMT Online Learning Center. You may purchase individual modules of the online course from The Foundation Store or you may gain complete access to the Online Learning Center by becoming a Friend of FPMT at the Dharma Supporter level or higher.
The 14 Discovering Buddhism Modules
1. Mind and Its Potential
Examine the mind and how it creates happiness and suffering. Learn to transform destructive thoughts and attitudes to create a positive and joyous mind!
2. How to Meditate
Learn the definition and purpose of meditation, how to sit, how to set up a meditation session, different meditation techniques, and how to deal with obstacles to meditation.
3. Presenting the Path
Get an overview of the entire Tibetan Buddhist path to awakening. Study the life story of the Buddha and discover a unique system for putting Buddhist philosophy into practice – the lam-rim, or "graduated path to enlightenment."
4. The Spiritual Teacher
Investigate the role of the teacher on the spiritual path: the need for a teacher, the qualities of teacher and student, and how to relate to a teacher for greatest benefit.
5. Death and Rebirth
Explore the process of death and rebirth and its impact on how we live our lives. Learn to fulfill your purpose in life, resolve conflicts, and develop the skills to help yourself and others at death.
6. All About Karma
Learn the essential facts about the law of cause and effect. Explore ways to deal with life most effectively and take control of your future!
7. Refuge in the Three Jewels
Find out what it means to take refuge in the Three Jewels and the essential practices of refuge. Learn about the advantage of taking lay vows and their role in enhancing our spiritual growth.
8. Establishing a Daily Practice
Assemble the tools you need to develop a successful daily practice and find out the elements necessary to generate realizations. Get some tips for making every action meaningful.
9. Samsara and Nirvana
Investigate what "samsara" is and how we are stuck in it. Find out what "nirvana" is and how to achieve it. Learn how to be free from suffering and empower yourself with practical tools to deal with and eliminate disturbing emotions forever.
10. How to Develop Bodhichitta
Discover practices that develop our innate qualities of compassion. Learn to apply these techniques to generate the mind of bodhichitta, known as the very heart of Buddha's teachings.
11. Transforming Problems
Learn the disadvantages of self-cherishing and the advantages of cherishing others. Learn to employ the special techniques of mind training (lojong) to transform problems into happiness.
12. Wisdom of Emptiness
The realization of emptiness is crucial for the attainment of liberation and enlightenment. Learn to develop calm abiding and different methods of meditation on emptiness.
13. Introduction to Tantra
Learn what tantra is, how it works, and why it is a powerful form of practice. Get a broad overview of the four classes of tantra and learn to practice simple Kriya tantric methods. Learn to integrate tantra with lam-rim meditation for optimal results.
14. Special Integration Experiences
By undertaking intensive practices of purification and a two-week lam-rim retreat, you prepare your mind in the best way to realize the path to enlightenment. Purification practices include: 100,000 prostrations, 3-month Vajrasattva retreat, and Nyung Nä. This is a great way to seal the blessings of this program!
Centers Hosting the Discovering Buddhism Program
We have prepared a page dedicated to helping centers find the resources they need to successfully host the Discovering Buddhism program. You may find this page and other materials here.

 What is the FPMT Online Learning Center?
With over 50 modules available in English, Spanish and French, and more than 17,000 registered users, the FPMT Online Learning Center provides an enormous opportunity to learn. Students who want to  engage in the comprehensive programs developed by FPMT Education Services can easily join other students from all parts of the world in their studies and practice without leaving home.
Perhaps you've studied Buddhism for years in a town with no Buddhist center and feel you have no one to talk to about progressing on the path. Maybe you already participate in online social forums and would love to do so with a spiritual community. Or perhaps a question arises at 3:00 a.m. that needs an answer ASAP. Even if you already attend a Dharma center, the Online Learning Center may offer additional Dharma connections,  and an opportunity to study a program not offered locally.
The programs range from Buddhist basics to advanced Vajrayana commentaries, with offerings including study programs such  as Meditation 101, Discovering Buddhism, Living in the Path, the Basic Program; and additional teachings such as Shiné Retreat with Ven. Choden Rinpoche and Ven. Rene Fusi, and special commentaries such as Commentary on Lama Chopa and Commentary on Lama Tsongkhapa Guru Yoga.  Programs are complete with video and audio teachings, reading materials, moderated discussion forums, coursework and study guides, and community service assignments.
The Online Learning Center brings ease, structure and depth to your studies. All these resources can be found through the convenience of a module's single webpage, and with links provided to other resources, you can study without the need to search the web for related materials. Everything can be stored digitally or streamed directly from the web, and modules can be completed on your own time and pace.

There are two ways to take advantage of the Online Learning Center:
Join Friends of FPMT now, and immediately have access to a number of free modules.  Friends of FPMT who make monthly or annual contributions have access to additional modules, receive a year's subscription to Mandala Publications, downloadable Dharma gifts, and special Friends of FPMT communications.
You can purchase individual modules of the programs at the Foundation Store. Choose the "online" version of your selected module.

Friends of FPMT is a program created for those who want to directly become a part of the FPMT community of supporters, and provides much-needed funding to many FPMT activities. As a Friend of FPMT, your donations will fund the creation of FPMT Education programs and materials, new translations of texts, help us serve our charitable projects and assist FPMT centers, projects, and services. Your donations will maintain all our websites, blogs and the Online Learning Center, which has provided over 17,000 registered users with access to rich FPMT Education programs. It will also enable us to print Mandala magazine, and lots more. 
And as a Friend of FPMT you will also get to directly enjoy and be connected to what you support. Friends benefits can include a subscription to Mandala magazine, access to all the courses in the Online Learning Center, free downloadable gifts from FPMT Education Services, puja's at Kopan monastery sponsored in your name, e-Newsletters and special updates.
PLEASE CONSIDER JOINING AT A FRIENDS LEVEL BEST FOR YOU:
Click on your level of choice to join.
All levels are for a term of one year.
$30 per year

One year subscription to Mandala magazine online and as a downloadable PDF for your e-reading device or computer 
E-newsletter updates
Annual Friends Celebration Letter updating the successes of FPMT International Office for the year in order to rejoice, dedicate and celebrate
$5-$25 monthly gifts

(or $60+ per year)

You will receive the above plus:

A one-year subscription to Mandala Publications
A new annual Dharma eBook, mp3 or video from FPMT Education Services once a year
Annual Friends Celebration Letters informing you of the successes of FPMT for the year in order to rejoice, dedicate and celebrate
$30-$99 monthly gifts

(or $360+ per year)

You will receive the above plus:

Complete access to FPMT's Online Learning Center
A new Dharma e-book, mp3 or video from FPMT Education Services every 3 months
$100 monthly gifts or more

(or $1,200+ per year)

You will receive the above plus:

A special yearly Patron Puja sponsored on your behalf at Kopan Monastery
All levels


Would you like to give the gift of Friends of FPMT? Click here to give Friends to your friends!
$30 per year

Do you live in a country with low to medium international currency exchange rates? 
You will receive:

Monthly e-newsletters
Access to free courses on FPMT's Online Learning Center
Links to other free resources