Posts Tagged "generosity&quot
There are 2 results found
"How do you reconcile the tension between making the Dharma truly accessible to all and covering the high operating costs of retreats? That tension brings up a scarcity mindset. From there it's unlikely that everyone's needs will be met. So what would happen if we trusted in the spirit of generosity instead?" asked Fabienne Pradelle, director of Vajrapani Institute in California. 
With the upcoming retreat "Kopan West: Buddhism 101, A Course on the Gradual Path to Enlightenment with Andy Wistreich," Vajrapani decided to experiment with connecting generosity to helping students deepen their lam-rim practice. Kopan West starts on November 22 and is being sponsored by past retreatants and benefactors and is offered to anyone who participates.
Lam-rim, or stages of the path, study and meditation is central to the experience of FPMT students, both beginners and long-time practioners. The recent advice from FPMT spiritual director Lama Zopa Rinpoche emphasizes gaining actual realizations of lam-rim through meditation and retreat. Like the November courses offered at Kopan Monastery in Nepal, Kopan West students receive instruction in lam-rim teachings. Andy Wistreich, who's leading this year's retreat, is a senior student of Lama Yeshe and Lama Zopa Rinpoche and has led many retreats with students of all levels around the world. 
"With Kopan West, someone else has paid for you to be on retreat, someone you don't even know. How inspiring is that!" Fabienne told Mandala. "Would you want to donate forward to the next person? That's completely up to you. Will this mindset of generosity be sustainable? How long will the chain last? We don't know. But we believe in the power of generosity that exists in each and everyone of us."
Fabienne and the team at Vajrapani have been inspired to try this experiment in generosity in part by Nipun Metha, who's become an well known advocate in California's Bay Area for radical generosity. Fabienne recommended a video of Nipun Metha, describing some of the work he's been involved with, to further explain the thinking behind offering Kopan West as a "pay it forward" retreat.
"Truly amazing things can happen when we let go of the scarcity mindset and look at the world with a spirit of generosity," Fabienne said.
Visit Vajrapani Institute's website for more on the course and retreats they offer.
Mandala brings you news of Lama Zopa Rinpoche and of activities, teachings and events from over 160 FPMT centers, projects and services around the globe. If you have news you would like to share, please let us know.

There are many ways to express generosity:
慷慨 generøsitet vrijgevigheid suuremeelsus kagandahang-loob hào phóng 寛大な générosité generosità Großzügigkeit щедрость generosidade kemurahan generositet gavmildhet Generozitatea
Express generosity with your own International Merit Box kit, translated into eleven different languages-click here for the list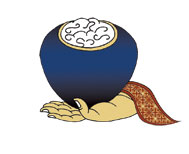 Join the International
Merit Box Project
Grant Distribution Reports:
2003 | 2004 | 2005 | 2006
2007 | 2008 | 2009
2010 | 2011 | 2012
2013 | 2014

Generosity in Action Worldwide
In order to cultivate generosity as part of a daily practice, as well as foster an international spirit of harmony and cohesion amongst the FPMT community, FPMT International Office is happy to present the International Merit Box Project. The original Merit Box Project began in 2001, and every year thousands of dollars are collected from FPMT students, centers and projects worldwide, and disbursed through grants to eligible FPMT projects and initiatives.
By growing the number of participants all over the world, we hope to also widen the array of projects eligible to benefit from these kind donations. The project is a tangible example of generosity and community in action: FPMT students worldwide practicing together in order to benefit the efforts of the entire organization.
MAKE MERIT BOX OFFERINGS
Merit Box practitioners keep a Merit Box handy so they can place offerings in it throughout the year. Just think, one's spare change can help build a new stupa, retreat cabin or translate a Dharma text! International Merit Box Project donations will be collected beginning on Lama Tsongkhapa Day each year (December 16th in 2014), and continuously until March 31, 2015. 

APPLY FOR A MERIT BOX GRANT
Merit Box grants are intended for centers, projects, services, study groups and initiatives that further the Mission of FPMT.  Please contact meritbox@fpmt.org to request a grant application after November 1, 2014. Applications are due March 31, 2015. Lama Zopa Rinpoche is involved in the application review and approval process, which takes place in April. Disbursements are made starting in May of each year.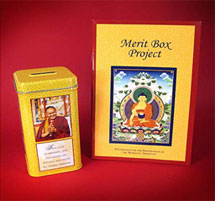 Click here to order a Merit Box Practice Kit!
You can support the International Merit Box Project now by making a one-time or monthly recurring donation!
Contact Info
1632 SE 11th Avenue
Portland, OR 97214-4702 USA
Tel (503) 808-1588 | Fax (503) 232-0557
About FPMT
FPMT is an organization devoted to the transmission of the Mahayana Buddhist tradition and values worldwide through teaching, meditation and community service.
more...
About Buddhism
If you're new to Buddhism, please read our
Buddhism FAQ
. A place to learn about Buddhism in general, FPMT, and our Discovering Buddhism at Home series.