Posts Tagged "mystic tibet&quot
There are 5 results found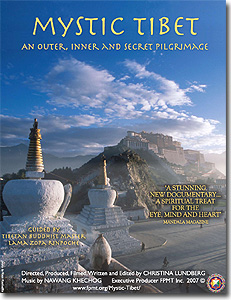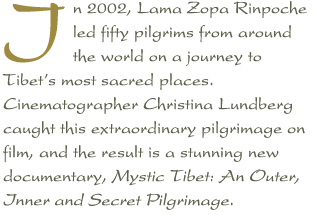 The participants made pilgrimage to many holy places, including Milarepa's cave, Tsipri, and Reting Monastery (where Lama Tsongkhapa wrote the Lam Rim Chenmo). They did a late-night puja at the nunnery where Lama Yeshe's former incarnation was once abbess, offered lights at the Jokhang, Lhasa's most holy temple, chanted mantras to animals, and watched Lama Zopa Rinpoche – whose unbelievable compassion is evident in every word he utters, every smile and blessing he bestows – connect with the Tibetan people starved of teachers since the Chinese occupation. They hiked up unfathomable mountains and suffered altitude sickness. They took in the teachings of Lama Zopa Rinpoche and the infinite blessings of this holy land, and their hearts were transformed. As one pilgrim commented, "A pilgrimage with Rinpoche is not sightseeing. It's like heart-seeing."
Mystic Tibet vividly captures the grandeur and mystery of this life-changing journey. One feels intimately a part of the experience, seeing these holy places and holy objects that seem to live and breathe, enduring the hardships and receiving the blessings right along with the pilgrims. This film is a visual and spiritual treat for the eye, the mind, and the heart. Its evocative soundtrack with music by Nawang Khechog and Mercedes Bahleda is as much a part of the film as the extraordinary landscapes, intricate icons, and devoted faces – not to mention the heroic Italian pilgrim who finished the journey on crutches!
The DVD is now available from the FPMT Foundation Store.
Statements of Appreciation
I would like to thank all the people working in Rinpoche's organization. You all are working very hard until now. I would like to request you to continue. Rinpoche works with such determination and great sincerity in the service of Buddha's teachings and sentient beings.
– His Holiness the Dalai Lama
Contact Info
1632 SE 11th Avenue
Portland, OR 97214-4702 USA
Tel (503) 808-1588 | Fax (503) 232-0557
About FPMT
FPMT is an organization devoted to the transmission of the Mahayana Buddhist tradition and values worldwide through teaching, meditation and community service.
more...
About Buddhism
If you're new to Buddhism, please read our
Buddhism FAQ
. A place to learn about Buddhism in general, FPMT, and our Discovering Buddhism at Home series.