Posts Tagged "support lama zopa rinpoche&quot
There are 1 results found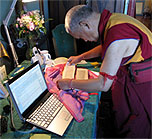 Questions? e-mail workaday@fpmt.org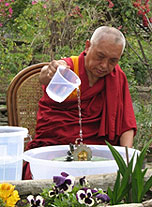 International Office Annual Review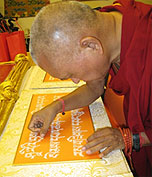 Work a Day for Rinpoche
Distribution of Funds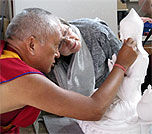 Summary of the FPMT Financial Performance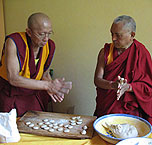 Each year during the month of Saka Dawa, the Work a Day for Rinpoche campaign kicks off a great opportunity to contribute to the work and vision of Lama Zopa Rinpoche.
This year students from more than 43 countries have joined Work a Day for Rinpoche, inspired to help make Rinpoche's teachings livestreamed online and thereby available all over the world, commission precious new translations such as the Middle Length Lam-rim by Je Tsongkhapa for national publication, and support the long list of FPMT charitable projects. Contributions also fund all of FPMT Education Services, all of FPMT's online resources and many more activities. It is really an amazing offering. 
Want to help? We invite you to join in today! You can support by donating a day's wages, or any amount as a one-time gift, or split into into smaller monthly donations.
We are able to offer sentient beings unbelievable benefit, limitless skies of benefit. Therefore, we must rejoice all the time. We should remember this every day.
Your gift receipt will contain a link to download a special hand drawn artwork by Rinpoche with gratitude for your support.
You're also invited to recite the Golden Light Sutra for Rinpoche's long life, or visualize an offering.  
Please consider telling your friends – forward a link to this site to your friends, post it on your Facebook page, and join your fellow "workers" on Facebook by becoming a fan of Work a Day for Rinpoche
include virtual="/inc/wad.php')
I can't wait until June 7th,
To donate now with your credit card:
For other forms of donations such as check or bank wire,
please choose one of the options below.


Check Donations
To donate by check in US funds, please make the check payable to FPMT, Inc., and mail your donation to:
Work a Day for Rinpoche
c/o FPMT
1632 SE 11th Ave.
Portland, OR 97214  USA
Bank Wire Donations
For bank wire instructions, please email workaday@fpmt.org.
In my mind, one of the beauties of Buddhism is that it offers us a practical training for our mind. It does not say, 'Bodhicitta is fantastic because Buddha said so!' Instead, it gives us the methods for developing such an attitude and we can then see for ourselves whether it works or not, whether it is fantastic or not.
Lama Thubten Yeshe
Contact Info
1632 SE 11th Avenue
Portland, OR 97214-4702 USA
Tel (503) 808-1588 | Fax (503) 232-0557
About FPMT
FPMT is an organization devoted to the transmission of the Mahayana Buddhist tradition and values worldwide through teaching, meditation and community service.
more...
About Buddhism
If you're new to Buddhism, please read our
Buddhism FAQ
. A place to learn about Buddhism in general, FPMT, and our Discovering Buddhism at Home series.