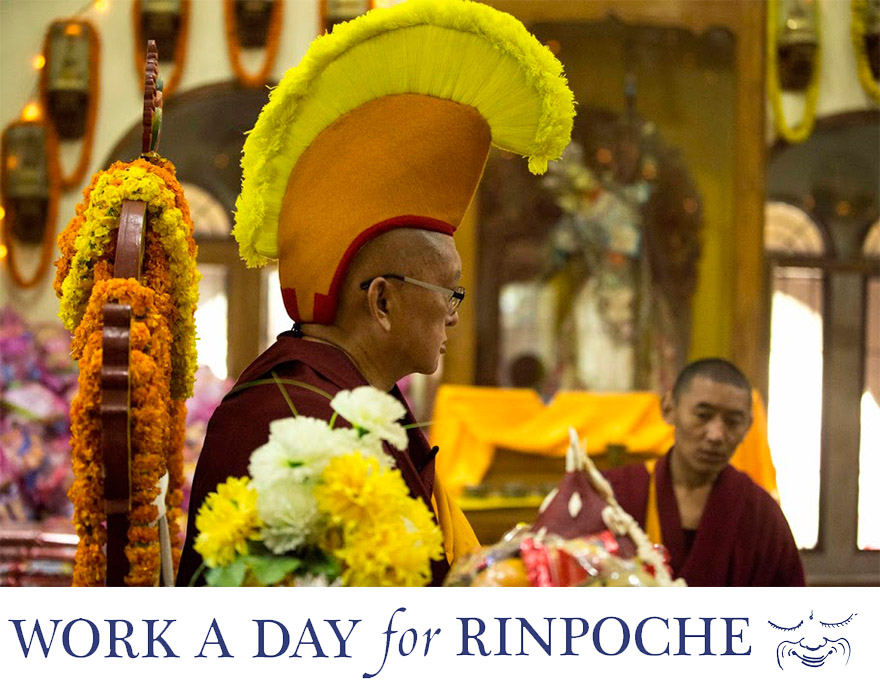 Each year the Work a Day for Rinpoche campaign creates a very meritorious opportunity to contribute to the work and vision of Lama Zopa Rinpoche during the most auspicious time of Saka Dawa.

"The whole point of FPMT is to bring sentient beings to full enlightenment, to peerless happiness. … This is what the FPMT [organization] has been trying to do, and this is the function of FPMT International Office, to help in that."   —Lama Zopa Rinpoche
FPMT International Office is Lama Zopa Rinpoche's office and we work year-round to actualize Rinpoche's wishes for FPMT to benefit as many beings as possible in as many ways as possible.
Help us increase access to Dharma education and practice resources.
Help us accomplish more than 20 charitable projects for a more compassionate world.
Help us serve local FPMT communities.

Join us as we work to fulfill Lama Zopa Rinpoche's compassionate vision to benefit beings!
Want to help? We invite you to join in today!
You can "Work a Day for Rinpoche" by donating a day's work earnings, or any amount, as a one-time gift or smaller monthly donations.
"We are able to offer sentient beings unbelievable benefit, limitless skies of benefit. Therefore, we must rejoice all the time. We should remember this every day." —Lama Zopa Rinpoche

For other forms of donations such as check or bank wire, please email workaday@fpmt.org.
Other Ways to Offer Support
One can offer support in many other ways as well through practices, rejoicing and service on Saka Dawa. We also encourage you to engage in the practices recently advised to help create the conditions for Lama Zopa Rinpoche to have good health this year.
Become a Facebook fan of Work a Day for Rinpoche