His Holiness the Karmapa and Lama Zopa Rinpoche visited the Maitreya School at Root Institute in Bodhgaya, India. His Holiness the Karmapa spoke to the children of the school.
"Root Institute is an oasis of peace and tranquility, like a pure land within the environmental chaos of Bodhgaya," reported kagyuoffice.org, the Karmapa's official website. "His Holiness the Karmapa's teaching after the Monlam at the Institute, established by Lama Zopa Rinpoche, has become an annual tradition, a special event eagerly awaited by his Western students. When His Holiness enters the cozy shrine room, it feels like the Buddha has come home to his sitting room, in marked contrast to the vast space of the Monlam Pavilion which seats 10,000." You can read the entire article "Mahamudra Arises Spontaneously" on the Karmapa's website.
Lama Zopa Rinpoche is the spiritual director of the Foundation for the Preservation of Mahayana Tradition (FPMT), an organization dedicated to preserving Mahayana Buddhism through offering the Buddha's authentic teachings and to facilitating reflection, meditation, practice and the opportunity to actualize and directly experience the Buddha's teachings. Sign up to receive news and updates.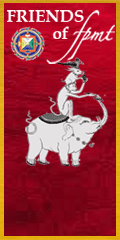 In my mind, one of the beauties of Buddhism is that it offers us a practical training for our mind. It does not say, 'Bodhicitta is fantastic because Buddha said so!' Instead, it gives us the methods for developing such an attitude and we can then see for ourselves whether it works or not, whether it is fantastic or not.
Lama Thubten Yeshe
Contact Info
1632 SE 11th Avenue
Portland, OR 97214-4702 USA
Tel (503) 808-1588 | Fax (503) 232-0557
About FPMT
FPMT is an organization devoted to the transmission of the Mahayana Buddhist tradition and values worldwide through teaching, meditation and community service.
more...
About Buddhism
If you're new to Buddhism, please read our
Buddhism FAQ
. A place to learn about Buddhism in general, FPMT, and our Discovering Buddhism at Home series.