Dee Shekhar, member of Choe Khor Sum Ling in Bangalore, India, shares news from the December 2013 Jangchup Lamrim teachings with His Holiness the Dalai Lama at Sera Je Monastery in South India:
The month of December proved to be doubly important for the members of Choe Khor Sum Ling. We were very blessed to receive Kyabje Lama Zopa Rinpoche in Bangalore and two members of our center had the unique blessing of hosting Rinpoche and his team for dinner.
On December 24, 2013, the streets of Bylakuppe were thronged with people with khatas for nearly 10 kilometers [6 miles] to welcome His Holiness the Dalai Lama, who began the second installation of incredible Jangchup Lamrim teachings on December 25, 2013. Nearly 30,000 people from different countries waited to see and hear His Holiness teach. The monasteries were kind enough to accommodate people traveling from far and wide.
His Holiness began the teaching at Sera Je Monastery by making his students see the presence of spiritual thought in the world and thanking India for its contribution to Buddhism and also by grounding us in the reality of the 21st century. His Holiness gave the lung and commentary on The Swift Path, The Easy Path, The Essence of Refined Gold, The Essence of Nectar, and The Sacred Words of Manjushri. His Holiness then taught extensively on the greatness of the teachings, the qualities of a teacher, the topic of meditation, bodhichitta – aspiring and engaging, suffering and the hell realms.
His Holiness encouraged students to study Je Tsongkhapa's In Praise of Dependent Origination on the day of his long life puja. Lama Zopa Rinpoche gave a lung of the text at the Tsawa Khangsten.

On the last day of the teaching, His Holiness bestowed the Avalokiteshvara initiation in connection to aspiring bodhichitta on all his assembled students. The teachings ended with the promise of meeting later this year to study Kyabje Pabongka Rinpoche's Liberation in the Palm of Your Hand.

Choe Khor Sum Ling members also had the great fortune of making khata offerings to various buddhas and great teachers such as Kyabje Lama Zopa Rinpoche, Khadro-la, Khangser Rinpoche, Ribur Rinpoche, Dagri Rinpoche, Kyongla Rato Rinpoche and His Eminence Kyabje Choden Rinpoche, Khensur Lobsang Tsering and of course His Eminence the 7th Ling Rinpoche, who organized the teachings.
It was a blessing to be amidst all the great teachers and scholarly monks and nuns. All in all, this was a great blessing of pilgrimage for Choe Khor Sum Ling students.
Mandala brings you news of Lama Zopa Rinpoche and of activities, teachings and events from over 160 FPMT centers, projects and services around the globe. If you like what you read on Mandala, consider becoming a Friend of FPMT, which supports our work.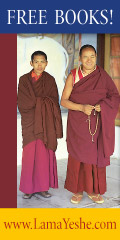 Over and over again our experiences prove that it is our mental outlook that is fundamentally responsible for whether we are successful or unsuccessful, healthy or ill, attractive or ugly, happy or depressed.
Lama Thubten Yeshe
Contact Info
1632 SE 11th Avenue
Portland, OR 97214-4702 USA
Tel (503) 808-1588 | Fax (503) 232-0557
About FPMT
FPMT is an organization devoted to the transmission of the Mahayana Buddhist tradition and values worldwide through teaching, meditation and community service.
more...
About Buddhism
If you're new to Buddhism, please read our
Buddhism FAQ
. A place to learn about Buddhism in general, FPMT, and our Discovering Buddhism at Home series.