Posts Tagged "eight verses of thought transformation&quot
There are 1 results found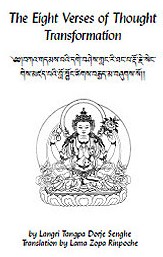 The Eight Verses of Thought Transformation is one of the most important texts from a genre of Tibetan spiritual writings known as lojong (mind training).

This root text was written by the eleventh-century meditator Langri Tangpa Dorje Senghe. His Holiness the Dalai Lama refers to this work as one of the main sources of his own inspiration and includes it in his daily meditations.

FPMT Education Services is happy to offer this text as a download in eBook, a4 and letter booklet formats.
This English translation is by Lama Zopa Rinpoche, and includes the Tibetan phonetics.