Posts Tagged "touring lamas&quot
There are 4 results found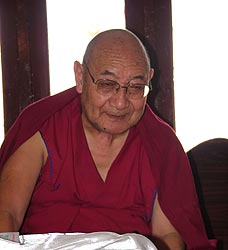 Venerable Dhakpa Tulku Rinpoche is the recognized reincarnation of 49th Gaden Tripa Lobsang Dhargye Rinpoche, who was the head of the Geluk tradition of Tibetan Buddhism.

Shelo Dolma gave birth to Ven. Dhakpa Rinpoche in 1926 in Kongpo in southern Tibet. When he was five years old he was recognized as the reincarnation of the 49th Gaden Tripa by His Holiness the 13th Dalai Lama. Soon after his recognition he was sent to Lhasa for his enthronement, accompanied by his parents and his assistants from his previous lifetime.

He then returned to his personal Monastery Dhakpa Namdol Ling in Meldro Gungkar, north of Lhasa, where he took his novice vows and started memorizing his first prayers. When Dhakpa Rinpoche was ten years old he went to Sera Mey Monastic College and spent sixteen years studying Buddhist philosophy. When he was 26 years old he was able to sit for his Geshe examination successfully, and received the highest level attainable, that of Lharampa Geshe. In 1952 Rinpoche joined the Gyuto Tantric College and spent seven years studying all the Tantric rituals receiving the Ngagrampa Degree in Tantric Studies. In 1959 when the Chinese communists took over Tibet, Dhakpa Rinpoche, fled to India.

In 1962 His Holiness the 14th Dalai Lama appointed Venerable Dhakpa Rinpoche as the Abbot of Sera Mey Monastery, the first Abbot of the Sera Mey Monastery in exile. Rinpoche took his place as an abbot for three years but due to his poor health he had to leave the Monastery and went to northeastern India for medical treatment in Kalimpong. During his stay in Kalimpong many local Tibetans made strong connections with Rinpoche through his spiritual teachings and blessings. Until 1990 Rinpoche led a very quiet life in Kalimpong and spent much of his time in retreat and meditation. Although Rinpoche is one of the most precious and valuable spiritual teachers living in India, due to his humble nature and personal practices, he was little known outside his area. However, he is in fact one of the very rare teachers holding teachings from the most valuable and precious secret lineages which he received from Pabongka Rinpoche and many other highly realized reincarnated Lamas in Tibet. Throughout his life Rinpoche has actively sought out teachings from spiritual masters from other Tibetan Buddhist traditions which adds to the richness of his understanding and teachings. It is now time for him to pass on all these secret lineages to the young Lamas and Geshes before he gets too old. Therefore, Rinpoche was requested to pass on all those teachings and other Tantric initiations to the young Rinpoches at Sera Mey Monastery, which he does for three months every winter. His Holiness the Dalai Lama has praised Dhakpa Rinpoche for his dedication to his practices and the generosity of his teachings.
Dagri Rinpoche is the reincarnation of Pari (Dagri) Dorje Chang, one of the very great geshes of Lhasa who was the teacher of many lamas, including Lama Yeshe. Dagri Rinpoche was born in Tibet in 1958. He grew up during the Cultural Revolution of 1966 – 1976. After his escape from Tibet in 1982 he completed his 17 years of study of Buddhist philosophy and received the Geshe Lharampa degree.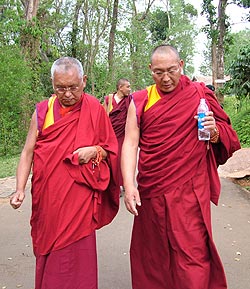 After Rinpoche's escape form Tibet, Lama Yeshe committed to support the incarnation through Sera Je, and then when Lama Yeshe passed away, Lama Zopa Rinpoche took on the responsibility.
Dagri Rinpoche is supporting Lama Zopa Rinpoche very much and can teach lam-rim, lojong and philosophy as well as give initiations, conduct fire pujas, and teach tantric commentaries
---

Biography of the Dagri Rinpoche lineage

Short biodata prepared by Losang Dragpa Center, Malaysia
The Inspirational Dagri Rinpoche, Mandala magazine, 2009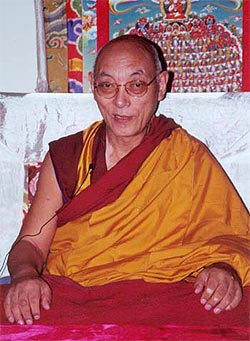 Born in 1933 in eastern Tibet, Choden Rinpoche was recognized at age three as the reincarnation of the previous Rinpoche, who himself had been one of the candidates for the twelfth Dalai Lama. At age eight he entered Rabten monastery, and at age fifteen he went to Sera Je monastery, where he studied the five main texts.
Although Rinpoche studied through the Lharam class and could have become a geshe, his teacher asked him not to take the exams yet. Choden Rinpoche decided to study the teachings on Vinaya – monastic discipline – and is regarded as one of the foremost experts on the subject. Choden Rinpoche was one of the two Sera Je lamas selected to debate with His Holiness the Dalai Lama during His Holiness's geshe exams.
During the communist Chinese takeover of Tibet in 1959, Choden Rinpoche stayed in Tibet and went into solitary retreat for 19 years. He never left his tiny, dark room in Lhasa from 1965 to 1985, and was virtually unknown in his monastery for this reason. In 1985 he was allowed to leave Tibet for India, and has since taught for many years to thousands of students at Sera Je monastery in South India. At the request of Lama Zopa Rinpoche, Choden Rinpoche has now visited the west several times to give teachings and lead retreats.
These lamas have kindly accepted Lama Zopa Rinpoche's request to support his Dharma work by being available to travel to teach at FPMT centers, projects and services.
Directors and Spiritual Program Coordinators can find contact information in order to invite these lamas in the FPMT Members Area.
Lamas (listed alphabetically)
---