News / Media

*If a menu item has a submenu clicking once will expand the menu clicking twice will open the page.

Education

*If a menu item has a submenu clicking once will expand the menu clicking twice will open the page.

Projects

*If a menu item has a submenu clicking once will expand the menu clicking twice will open the page.

FPMT

The whole thing, so many practices, all come down to live the daily life with bodhicitta motivation to put all the effort in that whatever you do. This way your life doesn't get wasted and it becomes full of joy and happiness, with no regrets later, especially when you die and you can die with a smile outside and a smile in the heart.

Lama Zopa Rinpoche

*If a menu item has a submenu clicking once will expand the menu clicking twice will open the page.

Shop

The Foundation Store is FPMT's online shop and features a vast selection of Buddhist study and practice materials written or recommended by our lineage gurus. These items include homestudy programs, prayers and practices in PDF or eBook format, materials for children, and other resources to support practitioners.

Items displayed in the shop are made available for Dharma practice and educational purposes, and never for the purpose of profiting from their sale. Please read FPMT Foundation Store Policy Regarding Dharma Items for more information.
Venerable Choden Rinpoche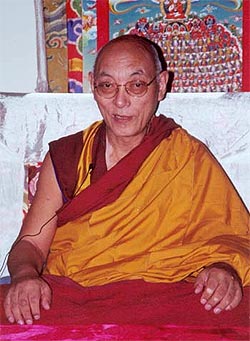 His Eminence Choden Rinpoche passed away on September 11 2015 at 1:30 a.m. India time.
Born in 1933 in eastern Tibet, Choden Rinpoche was recognized at age three as the reincarnation of the previous Rinpoche, who himself had been one of the candidates for the twelfth Dalai Lama. At age eight he entered Rabten monastery, and at age fifteen he went to Sera Je monastery, where he studied the five main texts.
Although Rinpoche studied through the Lharam class and could have become a geshe, his teacher asked him not to take the exams yet. Choden Rinpoche decided to study the teachings on Vinaya – monastic discipline – and was regarded as one of the foremost experts on the subject. Choden Rinpoche was one of the two Sera Je lamas selected to debate with His Holiness the Dalai Lama during His Holiness's geshe exams.
During the communist Chinese takeover of Tibet in 1959, Choden Rinpoche stayed in Tibet and went into solitary retreat for 19 years. He never left his tiny, dark room in Lhasa from 1965 to 1985, and was virtually unknown in his monastery for this reason. In 1985 he was allowed to leave Tibet for India, and then taught for many years to thousands of students at Sera Je monastery in South India. At the request of Lama Zopa Rinpoche, Choden Rinpoche visited the West several times to give teachings and lead retreats.
---
A detailed description of the event of Choden Rinpoche's transition, written by Ven. Namdak, the primary English language contact for the Choden Rinpoche Committee at Sera Je.
The collection of prayers that were advised by Choden Rinpoche himself before he showed the aspect of passing away, for all of his students to offer at this time.
The English translation of the prayer composed by His Holiness the Dalai Lama for Choden Rinpoche's quick return.
See "The Life of a Hidden Meditator: Choden Rinpoche" from Mandala July 2000 to read more about Choden Rinpoche's experiences in Tibet at Sera Monastery and in Lhasa after 1959. The complete multi-part feature "The Life of a Hidden Meditator" is available as a PDF. You can also read more recent stories about Choden Rinpoche on FPMT.org.
Mandala will have a complete obituary for His Eminence Choden Rinpoche in the January-June 2016 issue.
The office is a place for Dharma practice. When one goes to the office, dealing with people, one has to recognize it's a place to practice lam-rim, the three principles of the path, tantra, and the six paramitas. The six paramitas fit very well for daily life. They offer protection for you. Everything is there.
Lama Zopa Rinpoche