Posts Tagged "work a day&quot
There are 6 results found

On Saka Dawa, the day which honors the birth, enlightenment and parinirvana of Shakyamuni Buddha, our virtuous activities increase one hundred million times. This year we celebrate Saka Dawa on June 4 and we are inviting you to Work a Day for Rinpoche.

Work a Day for Rinpoche is a fund that supports Rinpoche's beneficial programs and projects. You can join in by dedicating your virtuous activities on Saka Dawa towards the realization of Lama Zopa Rinpoche's compassionate wishes and donating your salary from that day to the fund.
We rejoice in the hundreds of people from 42 countries who participated in last year's Work a Day for Rinpoche. Their generosity, which totaled US$59,407 in financial contributions, benefited countless beings and generated incredible merit. These funds aided in the creation and distribution of Dharma materials, the support of FPMT centers, project and services and the continued development of communications tools and technologies that keep the FPMT community well informed about Lama Zopa Rinpoche's teachings and activities.
You too can practice generosity on this special day. As Rinpoche wrote to a benefactor of one of FPMT's charitable projects, "you are creating a huge cause for achieving happiness and success in this life, future lives, and for hundreds and thousands of lifetimes, because that is the nature of the karma."
Visit the Work a Day for Rinpoche page to make a donation and to learn about all the activities you can do to celebrate Saka Dawa and support Rinpoche's vast and compassionate vision. You can also join us on Facebook to share your stories on why you choose to Work a Day for Rinpoche. Regardless of the date of your donation, all funds and activities will be dedicated on Saka Dawa.
Warmest Regards,
FPMT International Office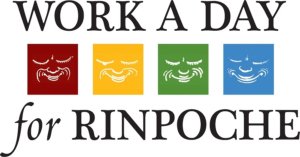 Statements of Appreciation
A few days ago I completed a year of retreats….at two FPMT centres (though I have visited and am very familiar with several others).  The staff of the two centres could not have been kinder and more supportive.  It is especially through appreciating their cultures of care and support for retreatants that I have renewed my admiration for the FPMT, and thereby for your [Lama Zopa Rinpoche's] extraordinary holy activity for sentient beings.  I  have reflected on how marvelous it is in the world of suffering, war, depression, social dissatisfaction and spiritual denial, to have these oases of perfection, the FPMT centers. Moreover I have witnessed some unfortunate, unethical activities in other Buddhist organizations that make one feel so sad.  Also the FPMT is generating study in the tradition of Je Rinpoche and yogic practice leading to enlightenment in a unique way.  Compared to other organizations, the FPMT shines with virtue and a deep harmony.  Of course there are superficial problems that come and go within FPMT – this is only to be expected – but I recognize that these are insignificant compared with the tremendous benefits to all  beings generated through FPMT activities.
– Andy Wistreich, August 2008
Contact Info
1632 SE 11th Avenue
Portland, OR 97214-4702 USA
Tel (503) 808-1588 | Fax (503) 232-0557
About FPMT
FPMT is an organization devoted to the transmission of the Mahayana Buddhist tradition and values worldwide through teaching, meditation and community service.
more...
About Buddhism
If you're new to Buddhism, please read our
Buddhism FAQ
. A place to learn about Buddhism in general, FPMT, and our Discovering Buddhism at Home series.