"The Destroyer Qualified Gone Beyond One (Bhagawan) said, 'The bodhisattva does not follow many Dharmas. The bodhisattva holds one Dharma well and realizes it well. The whole Buddhadharma will be in the hand of that person.' What is that Dharma? It is great COMPASSION. (From the Chenrezig Sutra Well-Condensed Dharma.)"
– Lama Zopa Rinpoche from "Compassion Is of the Utmost Need"
Lama Zopa Rinpoche is the spiritual director of the Foundation for the Preservation of Mahayana Tradition (FPMT), an organization dedicated to preserving Mahayana Buddhism through offering the Buddha's authentic teachings and to facilitating reflection, meditation, practice and the opportunity to actualize and directly experience the Buddha's teachings. Sign up to receive news and updates.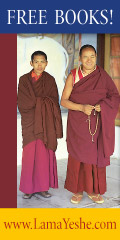 Unlike an external enemy, the inner enemy cannot regroup and launch a comeback once it has been destroyed from within.
His Holiness the Dalai Lama
Contact Info
1632 SE 11th Avenue
Portland, OR 97214-4702 USA
Tel (503) 808-1588 | Fax (503) 232-0557
About FPMT
FPMT is an organization devoted to the transmission of the Mahayana Buddhist tradition and values worldwide through teaching, meditation and community service.
more...
About Buddhism
If you're new to Buddhism, please read our
Buddhism FAQ
. A place to learn about Buddhism in general, FPMT, and our Discovering Buddhism at Home series.