Posts Tagged "stupa fund&quot
There are 3 results found
Lama Zopa Rinpoche had previously pledged to support Land of Medicine Buddha's planned 39-ft stupa which is a replication of the holy Mahabodhi Temple in Bodhgaya, India, the site  where the Buddha attained enlightenment.
We are happy to report that $50,000 has now been offered, through the Stupa Fund, to this incredible stupa project.
One of Lama Zopa Rinpoche's vast visions for FPMT is to build 100,000 stupas around the world. Please rejoice that yet another stupa will be completed toward this long-term aim!
You are welcome to offer any amount directly to the completion of this stupa.
If you would like to support the Stupa Fund, to help ensure that pledges like this continue, you may do so at any time.
Every day, Sangha at Lama Zopa Rinpoche's residence in Aptos, CA,  make three long life and 13 Mitukpa tsa-tsas as well as three small Kadampa stupas which are filled with a roll of the Four Dharmakaya Relic Mantras. These are dedicated to any person who is sick with prayers that they may immediately recover, be liberated from samsara, and may achieve enlightenment quickly. In addition, on the eighth day of the Tibetan month, three Eight Medicine Buddhas tsa-tsas are also made. On the thirtieth, one 12-inch (30-centimeter) tall Padmasambhava tsa-tsa is made.
After the tsa-tsas and stupas are made they are used in other stupas that many people circumambulate when visiting Kachoe Dechen Ling.  All the stupas and tsa tsas that are made are utilized in this way, given to others to use, or they go inside larger stupas that are being built. As each tsa-tsa is an image of a buddha it is created and cared for with utmost respect at all times.
 Rinpoche has commented often on the benefits of holy objects and how stupas can be used on the path to enlightenment.
You can offer any amount to the daily holy object creation at Lama Zopa Rinpoche's residence.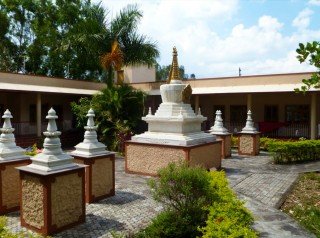 The Stupa Fund recently offered US$2,000 for a marble stupa at IMI House, the khangtsen for FPMT Western Sangha at Sera Je Monastery.
The Benefits of Building Stupas
The main purpose of building stupas is to make the lives of all beings, young and old, meaningful. For those beings who see the stupa it will:
™
Help purify their mind
Help collect merit, which is the cause of all happiness and all success
Help heal their body and mind through purification specifically due to the power of the stupa, meditating on and seeing the holy object
™Help to preserve Tibetan Mahayana culture
There is a need [in the world] to develop compassion and a warm heart. Thus, building a stupa can help to develop so much peace and happiness for numberless sentient beings. As a result, wars, disease, and desire will be pacified by this change of attitude. Disease arising out of the negative mind will be stopped, and previous negative karmas will be purified. Building a stupa will give so much peace and so much peace of mind to the local people where the stupa is built and to people from all over the world. It will purify the mind so that people receive inner peace. Just by coming here [to this place with a stupa], beings will receive an education in order to develop a good heart, compassion and loving kindness, tolerance, patience – all these most precious human qualities of the mind. And inspiration!


You are welcome to donate any amount to the Stupa Fund: