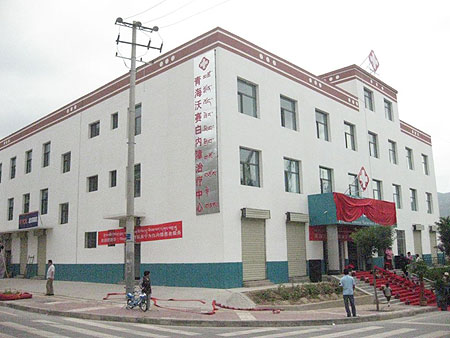 After more than six years of development, FPMT was extremely pleased to announce the opening of the Amdo Eye Hospital, in Xining, the capital of Amdo, Tibet in July of 2010. This hospital is dedicated to providing continuous, sustainable and quality eye care to all and in particular those from underprivileged backgrounds. The hospital will also be offering smaller outreach microsurgery eye clinics in remote areas.
Every five seconds, one person in the world goes blind. 37 million people in the world are blind, yet with access to quality eye care, 80% of the world's blindness would be totally avoidable.
The province of Amdo (called Qinghai in Chinese) is home to people of both Tibetan and Chinese descent. Many are nomads living far from modern health care facilities, and due to the terrain and scattered population, mobile eye care providers cannot always reach them. As a result, the prevalence of blindness in Amdo is four times higher than the national average for China. The need is urgent for accessible eye care in Amdo. That is why Geshe Lhundub Sopa Rinpoche requested Lama Zopa Rinpoche to help with the building of Amdo Eye Hospital.
Please watch a short video on the Amdo Eye Hospital.
Modeled on the already successful Lhasa Eye Clinic, the Amdo Eye Hospital provides high quality cataract surgery. Dr. Sanduk Ruit – who founded the highly successful Tilganga Eye Center in Kathmandu, the Lhasa Eye Clinic and the Nepal Eye Program – will be training the Amdo Eye Hospital staff and is committed to oversee operations for the next two years, ensuring the highest standards (Please read a letter of support from Dr. Sanduk Ruit).
The Simplest Miracle
Intraocular surgery can be performed in minutes. First the eye is washed to reduce the risk of infection. A local anesthetic is injected below the lower eyelid, blocking sensation in the eyeball. After the clouded interior of the lens is removed through a tiny incision on the side of the eyeball, the intraocular lens is inserted into the empty lens capsule. Dr. Ruit calls this surgery, "The best thing a human can do in five minutes."
For the past six years FPMT has been committed to raising the funds to build the Amdo Eye Hospital along with the the kind contributions of many benefactors, in particular The Tanoto Founda­tion and Compassion Paris. The land the hospital was built on was offered free of charge by the local government and the total cost to build the hospital was US$605,970.
The annual cost to run the Amdo Eye Hospital is US$125,313 (800,000 CNY).
By offering to the Amdo Eye Hospital you are benefiting others who are in great need, in particularly the people in Tibet who are blind, helping them to open their eyes and see, what an incredible joy and happiness you are giving them!

However many hundreds and thousands of people who receive help from the Amdo Eye Hospital, for as long as it exists, they receive this unbelievable benefit because of your kindness and generosity. 

From this you are creating unbelievable causes of happiness and success that will be achieved in this life and in future lives. This is the nature of the karma: from one cause you experience the result for hundreds and thousands of years.

 
Statements of Appreciation
No words can really completely capture the joyous feelings in my heart when I think of how Rinpoche and FPMT has benefited so many thousands of people these past twenty, thirty years. I have tried several times but each time I am so overwhelmed with the things I want to convey that I just get so choked up. Rinpoche is indescribable – so pure, so patient, so humble and so so wise… and it is really incredible the way everyone at FPMT is constantly supporting and helping Rinpoche in his untiring quest to bring Dharma to so many thousands of us at every level along the path. I am so humbled by Rinpoche's vast wisdom and patience and so inspired by so much effort being put in by my Dharma brothers and sisters in FPMT all working with the unwavering goal of planting seeds, making Dharma accessible, teaching, sharing, inspiring, reaching out, giving a shoulder, and showing the way to attaining the peerless enlightenment and always benefiting others. It is just so blissful knowing I am a small part of Rinpoche's great mandala. Thank you everyone … and most of all thank you to Rinpoche for opening my eyes and my mind to the true meaning and purpose of my life.
– Lillian Too
Contact Info
1632 SE 11th Avenue
Portland, OR 97214-4702 USA
Tel (503) 808-1588 | Fax (503) 232-0557
About FPMT
FPMT is an organization devoted to the transmission of the Mahayana Buddhist tradition and values worldwide through teaching, meditation and community service.
more...
About Buddhism
If you're new to Buddhism, please read our
Buddhism FAQ
. A place to learn about Buddhism in general, FPMT, and our Discovering Buddhism at Home series.