Posts Tagged "saka dawa&quot
There are 2 results found
Tushita Meditation Centre is a bustling FPMT center in Dharamsala – the seat-in-exile of His Holiness the 14th Dalai Lama. Tushita staff recently wrote Mandala, sharing news about their Saka Dawa events:
Saka Dawa is one of the most important festival days of the Tibetan Buddhist calendar, celebrating Shakyamuni Buddha's birth, enlightenment and parinirvana. This year Saka Dawa fell on June 13. To begin the day, we held a butterlamp light offering puja with our resident "Old Lama Gyupa," Ven. Thubten Dorjee, to make prayers and dedications for our center, sponsors and all sentient beings.
Later, many people joined us for a special program of open drop-in sessions, including "What the Buddha Taught" with FPMT-registered teacher Glen Svensson, a group reading of the Golden Light Sutra on the lawn by Lama Yeshe's Stupa, and a movie screening of the The Life of Buddha, an excellent BBC documentary. 
While the movie was showing, Tushita staff, volunteers and monastics used the auspicious day to refresh the statue boxes on Lama Yeshe's Stupa. The statues were offered new clothes, and we were able to finally install the Ratnasambhava statue that we had made in Nepal to replace one that was stolen a year or so ago.
The program of Saka Dawa events concluded with a Medicine Buddha puja and then light offerings with meditation at Lama Yeshe's Stupa.
Additionally, 15 hardcore practitioners joined our final set of nyung nä retreats, which ended on the morning of June 14.
It was also our beloved dog Nying-je's 9th birthday. Before being renamed Nying-je Chenmo (Great Compassion) by Lama Zopa Rinpoche, she was previously called Saka Dawa, after the auspicious day she turned up at Tushita in 2005. Then, she was a malnourished, stray spitfire puppy. Now, she's a well-fed, leisurely older woman, but still a very endearing character, much loved by all.
You can see more photos from Tushita's Saka Dawa events on Facebook.
Mandala brings you news of Lama Zopa Rinpoche and of activities, teachings and events from over 160 FPMT centers, projects and services around the globe. If you like what you read on Mandala, consider becoming a Friend of FPMT, which supports our work.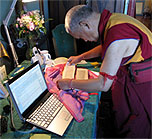 Questions? e-mail workaday@fpmt.org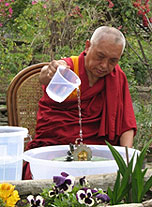 International Office Annual Review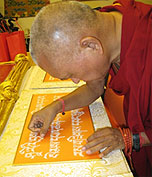 Work a Day for Rinpoche
Distribution of Funds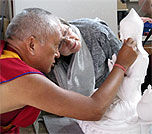 Summary of the FPMT Financial Performance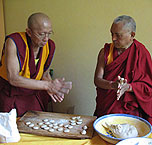 Each year during the month of Saka Dawa, the Work a Day for Rinpoche campaign kicks off a great opportunity to contribute to the work and vision of Lama Zopa Rinpoche.
This year students from more than 43 countries have joined Work a Day for Rinpoche, inspired to help make Rinpoche's teachings livestreamed online and thereby available all over the world, commission precious new translations such as the Middle Length Lam-rim by Je Tsongkhapa for national publication, and support the long list of FPMT charitable projects. Contributions also fund all of FPMT Education Services, all of FPMT's online resources and many more activities. It is really an amazing offering. 
Want to help? We invite you to join in today! You can support by donating a day's wages, or any amount as a one-time gift, or split into into smaller monthly donations.
We are able to offer sentient beings unbelievable benefit, limitless skies of benefit. Therefore, we must rejoice all the time. We should remember this every day.
Your gift receipt will contain a link to download a special hand drawn artwork by Rinpoche with gratitude for your support.
You're also invited to recite the Golden Light Sutra for Rinpoche's long life, or visualize an offering.  
Please consider telling your friends – forward a link to this site to your friends, post it on your Facebook page, and join your fellow "workers" on Facebook by becoming a fan of Work a Day for Rinpoche
include virtual="/inc/wad.php')
I can't wait until June 7th,
To donate now with your credit card:
For other forms of donations such as check or bank wire,
please choose one of the options below.


Check Donations
To donate by check in US funds, please make the check payable to FPMT, Inc., and mail your donation to:
Work a Day for Rinpoche
c/o FPMT
1632 SE 11th Ave.
Portland, OR 97214  USA
Bank Wire Donations
For bank wire instructions, please email workaday@fpmt.org.
Contact Info
1632 SE 11th Avenue
Portland, OR 97214-4702 USA
Tel (503) 808-1588 | Fax (503) 232-0557
About FPMT
FPMT is an organization devoted to the transmission of the Mahayana Buddhist tradition and values worldwide through teaching, meditation and community service.
more...
About Buddhism
If you're new to Buddhism, please read our
Buddhism FAQ
. A place to learn about Buddhism in general, FPMT, and our Discovering Buddhism at Home series.