News/Media

*If a menu item has a submenu clicking once will expand the menu clicking twice will open the page.

Study & Practice

*If a menu item has a submenu clicking once will expand the menu clicking twice will open the page.

Projects

*If a menu item has a submenu clicking once will expand the menu clicking twice will open the page.

FPMT

Good human qualities… honesty, sincerity, a good heart, cannot be bought with money, nor can they be produced by machines, but only by the mind itself. We call this the inner light, or God's blessing, or human quality. This is the essence of mankind.

His Holiness the Dalai Lama

*If a menu item has a submenu clicking once will expand the menu clicking twice will open the page.

Shop

The Foundation Store is FPMT's online shop and features a vast selection of Buddhist study and practice materials written or recommended by our lineage gurus. These items include homestudy programs, prayers and practices in PDF or eBook format, materials for children, and other resources to support practitioners.

Items displayed in the shop are made available for Dharma practice and educational purposes, and never for the purpose of profiting from their sale. Please read FPMT Foundation Store Policy Regarding Dharma Items for more information.
Saka Dawa falls on June 5 this year and is one of the four great holy days of the Tibetan calendar commemorating Shakyamuni Buddha's enlightenment and parinirvana. June 5 is also an eclipse day this year. 

The Puja Fund is sponsoring prayers and practices on behalf of FPMT for all students, volunteers and benefactors, and the entire world, on Saka Dawa. Normally we would be sponsoring a lot more pujas, but due to the current restrictions in South India, many of the monasteries are not able to offer the pujas at this time. We are so thankful that Kopan Monastery and Nunnery will still be doing pujas on Saka Dawa. These are the activities we are sponsoring this year:
PUJAS
100,000 recitations of Praises to the Twenty-One Taras 
Druk Chu Ma (sixty-four offerings to Kalarupa)
Medicine Buddha Puja and King of Prayers
SUTRA PRINTING
Golden Light Sutra (6 x), Arya Sangata Sutra (10 x), Vajra Cutter Sutra (200 x) and Amitayus Long Life Sutra (20 x): printing will be done during the actual eclipse time with specific prayers that Rinpoche has recommended.

OFFERING TO HOLY OBJECTS, GURUS, AND SANGHA COMMUNITIES
Offerings of gold, robes, saffron, and umbrellas are made to holy statues located in Lhasa, Tibet; and the Boudhanath and Swayambunath Stupas. Also offerings are made to all of Lama Zopa Rinpoche's gurus, and to all the IMI Sangha communities. 
Using Saka Dawa to Create Merit in a Suffering World
Saka Dawa is such an incredibly auspicious and powerful time to practice and make prayers, especially right now with all the suffering in the world. This is a great opportunity to utilize this time in the best possible way, for the benefit of all beings. Anyone can mentally join in any of these pujas and offerings, by remembering them and rejoicing in them. Merely remembering what is happening and rejoicing in the offerings is so beneficial: the existence of the holy objects, the Sangha making prayers and students all over the world who are also are making prayers, as well as the activities and offerings happening in so many of the centers and online on Saka Dawa. By rejoicing in this you create so much merit and it is multiplied 100 million times. How fantastic! What an opportunity!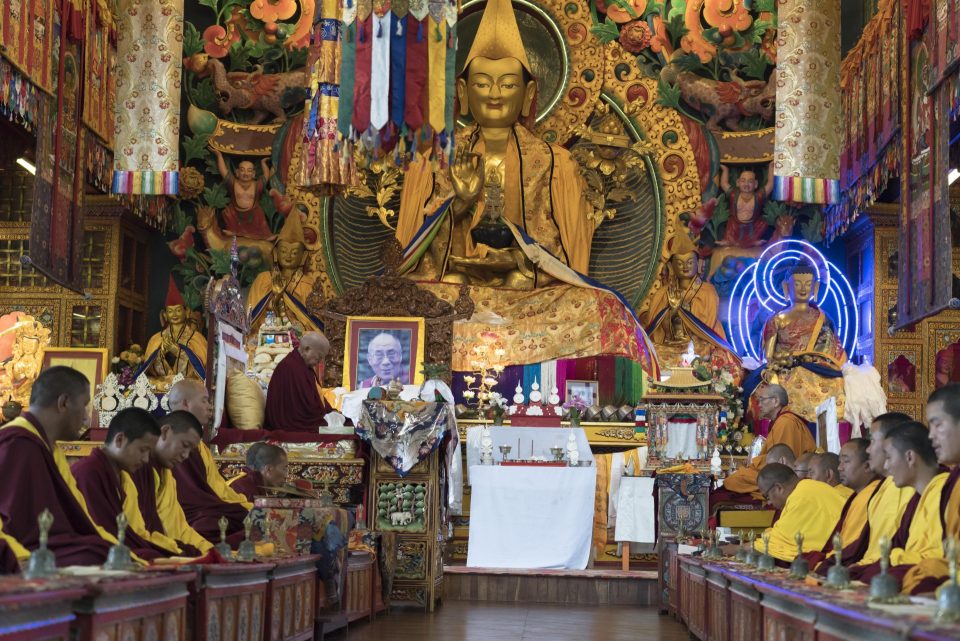 Lama Zopa Rinpoche recently gave new advice on what practices to do on Saka Dawa, and also offered the lineage, commentary and tunes of the eight Mahayana precepts to students via video so it is very easy to receive the eight Mahayana precepts on Saka Dawa from Rinpoche directly, an incredibly precious opportunity. 
Thank you for your support to the Puja Fund. It is due to the kindness of so many that these ongoing prayers, pujas, and offerings can happen and in this way, hopefully bringing more peace and happiness in the world. 
---
All are welcome to offer any amount to the Puja Fund so that these beneficial activities can continue long into the future. 
Lama Zopa Rinpoche's recent advice for practice on Saka Dawa: https://fpmt.org/edu-news/recommended-practices-for-the-fifteenth-day-of-saka-dawa-june-5/
Advice for eclipse days and Buddha multiplying days: https://fpmt.org/edu-news/advice-for-eclipse-days-and-buddha-multiplying-days/
The greatest problems of humanity are psychological, not material. From birth to death, people are continually under the control of their mental sufferings.
Lama Zopa Rinpoche