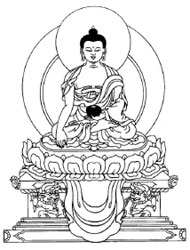 At the beginning of the Sutra of Golden Light, Buddha Shakyamuni, the Tathagata, the Arhat, the Fully Enlightened, calls to anyone experiencing misery and affliction, bad health, poverty, loss, abuse, ill will, fear, nightmares, or other harms. He says to make the mind virtuous and to come and listen.
This "King of Glorious Sutras," contains everything needed, from daily happiness to complete Enlightenment. It contains a heart-rending practice of confession and rejoicing, profound teachings on dependent arising, reliable assurances of protection, guidelines for ideal government, and awe-inspiring stories of the Buddha's previous lives, in which the Buddha shows how, even before he had completely eliminated the delusions, he liberated countless beings from the ocean of suffering through compassion and personal courage. The Sutra of Golden Light moves us to do what has to be done and clearly describes the result.
| | | |
| --- | --- | --- |
| | To these sentient beings I shall reveal this sutra called Sublime Golden Light, which rids one of every harmful misdeed, and expounds upon the profound. | |
On July 10, 2007, while attending the Deer Park Summer Course, Beth Simon made this request to Lama Zopa Rinpoche: "Please tell me what would please you". Rinpoche told Beth to recite the Sutra of Golden Light and to tell her friends to recite it.
Rinpoche said, "This is what I want. This is what I ask. This will make me happy."
---
Download the Sutra of Golden Light texts in various languages
---
Lama Zopa Rinpoche urges us to recite the Sutra of Golden Light every day. The benefits from reciting, listening to, or even hearing the name of the sutra are immeasurable, from eliminating conflict, terrorism, torture and famine to achieving full enlightenment.
This sutra is inconceivable,
For its ocean of virtue is without end;
It frees every being
From countless oceans of suffering.
Therefore, Rinpoche says, recite even one page every day, and if possible, do so with others.
For beings without merit,
The store of their merit
Will grow into a limitless,
incalculable, inconceivable mass.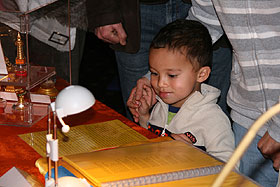 This King of Glorious Sutras
Fully destroys external enemies,
Turns back legions of foreign armies,
Removes the fear of the terrified and poor
And causes supreme virtue.
---
The sutra manifested as a drum in a Bodhisattva's dream. From the drum came verses of aspiration and dedication.
By the sound of this majestic drum of golden light,
May the suffering of lower migration,
Yama and the poverty of the three realms
Of the triple thousand worlds cease to be.
---
In the Sutra of Golden Light, Buddha Shakyamuni gives this advice:
The one who wishes to make
unimaginable offerings to all buddhas,
and who wishes to know
the profound sphere of tathagatas
should go to that place –
whether monastery or dwelling –
where this sublime sutra is explained.
Even reciting one page a day is of great benefit, and it adds up. Read and recite alone or with others.
We want to keep a tally of the number of complete recitations. Whenever you finish the sutra, report your recitation.
If you are reporting group recitations, please include the total number of completed recitations of the sutra.
Experiences with Sutra of Golden Light
Contact with the Sutra of Golden Light can produce new thoughts, changed understanding, interesting dreams, strengthened motivation, and who knows what else!
Lama Zopa Rinpoche has specifically asked to hear about our experiences with the Sutra of Golden Light. One man reported to Beth that he received a copy of the sutra in the mail and immediately he had an urge to light incense. In the Sutra, the four great kings themselves say that when one offers even one stick of incense, the fragrance calls forth all of the protectors and draws them to the place where the sutra is being honored!
Describe your experiences with hearing, reading, reciting, giving or receiving, or just thinking about the Sutra of Golden Light, and to respond to other's experiences.
---
Questions about Sutra of Golden Light
As you read, recite, and think about this profound sutra, questions will arise. Use this link to post questions and read responses.
---
Audio (MP3s)
You can download, save, and listen to this oral transmission on your computer. The files can also be transfered to a portable MP3 player or burned onto CDs.

Download Instructions
For Windows — "Right-click" on the file link below. Then use the command
"Save Target As…" – Internet Explorer
"Save Link As…" – Firefox
For Macintosh — Hold down the "Control Button" on your keyboard and click on the file link below. Then use the command "SAVE AS…"
Sutra of Golden Light Oral Transmission
by Kirti Tsenshab Rinpoche
If you would like to obtain an MP3 disc of this and other sutra oral transmissions given by Kirti Tsenshab Rinpoche, please visit the Foundation Store:
http://shop.fpmt.org/Sutra-Oral-Transmissions_p_666.html
This recording was kindly provided to us by The Media Lab, a project of FPMT center Land of Medicine Buddha. The Media Lab digitally records, archives and distributes the Tibetan Buddhist teachings given at Land of Medicine Buddha by respected Western teachers and great Tibetan masters.
---
With grateful thanks to Beth Simon, who is looking after these pages at Rinpoche's request.
We should train ourselves not to become engrossed in any of the thoughts continuously arising in our mind. Our consciousness is like a vast ocean with plenty of space for thoughts and emotions to swim about and we should not allow our attention to be distracted by any of them.
Lama Thubten Yeshe
Contact Info
1632 SE 11th Avenue
Portland, OR 97214-4702 USA
Tel (503) 808-1588 | Fax (503) 232-0557
About FPMT
FPMT is an organization devoted to the transmission of the Mahayana Buddhist tradition and values worldwide through teaching, meditation and community service.
more...
About Buddhism
If you're new to Buddhism, please read our
Buddhism FAQ
. A place to learn about Buddhism in general, FPMT, and our Discovering Buddhism at Home series.