Posts Tagged "rinpoche's teachers&quot
There are 15 results found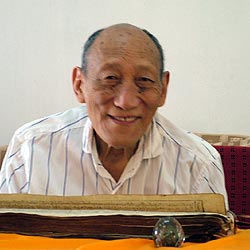 Khyongla Rato Rinpoche is a reincarnate lama and scholar of the Gelugpa order of Tibetan Buddhism. Rinpoche was born in the Dagyab region of Kham, in southeastern Tibet. In 1928 senior Gelugpa monks divined that a five-year-old boy living in this remote part of Tibet was the reincarnation of the ninth Khyongla. On his sixth birthday monks on horseback took him from his parents home to a monastery some distance away where he was installed as its spiritual head. For over three decades he lived the sober life of a monk, studying at the most famous monasteries in Tibet and earning the Lharampa Geshe degree. In 1959 along with thousands of monks as well as the Dalai Lama, he fled on foot over the Himalayas to safety and to a radically different life in India, Europe and eventually in the United States. In 1975 he founded The Tibet Center, the oldest Tibetan Buddhist Center in New York City, USA.
Locho Rinpoche is one of the few living high reincarnate lamas who was educated in Tibet. He is an expert on Manjushri's fierce form, Yamataka, and many other teachings and practices. Born in Kham, Tibet in 1928 and recognized at age six as the reincarnation of a famous scholar/teacher from the local Selkar monastery, at age eleven Locho Rinpoche entered Drepung Loseling Monastic College outside Lhasa, obtained his Geshe degree at age 25, and then attended Gyume Tantric College.
In 1959 he fled to India, living in Sarnath for two years and then two years on a research fellowship at Calcutta University before becoming principal of the Buddhist School of Dialectics in Ladahk for six years. In 1967 he become abbot of a small monastery in Manali before moving to Dharamsala, where he now resides. He served as Abbot of the Dalai Lama's Namgyal Monastery from 1986 to 1991, and has visited the U.S. on several previous occasions, including one year teaching at the University of Virginia.
Reincarnation of Ribur Rinpoche

 The incarnation of Ribur Rinpoche – whose personal name is Tenzin Pasang Rinpoche – is already living and studying at Sera Mey Monastery.  He was recognized as the incarnation of Ribur Rinpoche by His Holiness the Dalai Lama and was initially enthroned as the incarnation in Bodhgaya in 2010 by Kyabje Lama Zopa Rinpoche and Woser Rinpoche, and formally enthroned at Sera Mey Monastery in May 2013.  
The young incarnation when he was only six years old (see photo below) noted that His Holiness the Dalai Lama had given him the advice: "Study hard and you can become like the previous Rinpoche."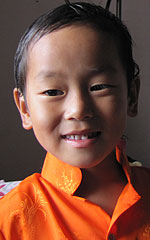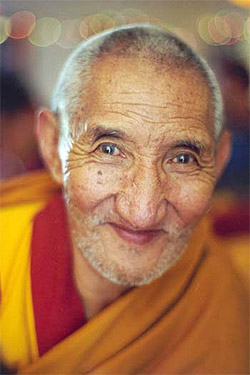 Ribur Rinpoche was born in the Kham region of Tibet in 1923, and was recognized by the Thirteenth Dalai Lama as the reincarnation of the head lama of Ribur Monastery. After studying at Sera Me monastery, where he received numerous teachings from his root guru, Pabongka Rinpoche, Rinpoche received his geshe degree in 1948. Rinpoche was then confined in Lhasa from 1959 until 1976, during which time he experienced relentless interrogation and torture during thirty-five of the infamous struggle sessions. "If I told you what happened on a regular basis, you would find it hard to believe."
At the end of the Cultural Revolution in 1976, Ribur Rinpoche spent more than 10 years in Chinese labor camps and was given a job with the Religious Affairs Office in Tibet. On one of his trips to China, he worked with the Panchen Lama and recovered holy objects – including the famous Shakyamuni Buddha statue in the Ramoche temple – that had been dismantled and shipped to China. He also re-established the destroyed stupa of Lama Tsongkhapa, which contained some of Lama Tsongkhapa's bodily relics.
Since his exile to India in 1985, Ribur Rinpoche wrote numerous biographies of great lamas such as the Thirteenth Dalai Lama and an extensive history of Tibet, which includes his autobiography. Ribur Rinpoche spent many years living in northern California where he gave teachings and led retreats, before returning to India, where he passed away in 2006.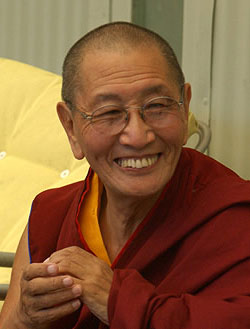 Rinpoche's Biography »
Praise from Lama Zopa Rinpoche »
Update Oct 2007 »
Update, Review & Rejoicing »
Prayer for Rinpoche's Quick Return
Guru Yoga Requesting Prayer
Rinpoche's Last Days »
Cremation Ceremony Photos »
After demonstrating the appearance of serious illness for many months Kirti Tsenshab Rinpoche entered tukdam, the final meditation, at 2.30am, Saturday 16th December 2006 in South Delhi, India. The day of the 15th, which was Lama Tsongkapa Day – one of the holiest days in the Geluk callendar- , special offerings and prayers were offered at the house and in the evening extensive light offerings were made.

During this period Rinpoche revealed just how we should practice when death approaches, with the same skill he has perfectly demonstrated how we should practice in all circumstances in this life.


Rinpoche's Cremation
Rinpoche's holy body was taken to Dharamsala on Thursday night and it was kept in public display in Rinpoche's room at Kirti Gompa (in Mcleod Ganj, India) for three days prior to the cremation. Many Tibetans and some Western students who were able to make the trip to Dharamsala made offerings to Rinpoche's holy body that was in the laying posture covered with his yellow ceremonial robe. I had received numerous emails asking me to offer a last khata, so I decided to offer one khata for each country Rinpoche visited, including Antarctica and its penguins. I also offered one khata for all the places Rinpoche did not visit in this life.

When I entered Rinpoche and Alak's room I was struck by how many items were there collected from all over the world: a set of walki-talki from California, a traditionally hand painted little box from Russia, pictures from Rio de Janeiro next to some old pictures of the Dalai Lama among Nerhu and Indira Gandhi, a water bottle in the shape of Mother Mary from Mexico, a toy woolen lamb from New Zealand, a picture of Ayers rock from Australia, a bath mat with dolphins from Puerto Rico, shopping bags from Athens, certificates from the boat that took Rinpoche and Alak to Antarctica, a stupa from France, tsa-tsas from Taiwan, fridge magnets from South Africa, a sweater from Colombia, a camera bought in Washington DC., a pair of crocs from Israel and so on. Rinpoche and Alak have been in so many places, connecting with so many students around the world.

The cremation site below the Tibetan Childrens Village had been prepared for the ceremony and a temporary brick stupa was erected for the cremation. When they were digging the ground in preparation for the stupa they unearthed some Nepali coins featuring a stupa and a vajra and everyone interpreted that as a very auspicious sign of stability.

Early on the morning of December 25th Rinpoche's holy body was placed in the full lotus posture, dressed in brocade, adorned with the crown of the five dhyani buddhas, and his face covered with red silk. The body accompanied by the same monks who took care of Rinpoche during the last six months was taken from his residence at 5.30am and was carried to the cremation site. Rinpoche's holy body was then placed on a throne and people had the opportunity to offer a khata for the last time. When that was done, the same group of monks circumambulated the cremation stupa carrying Rinpoche's holy body and they finally lowered it into the stupa. Monks from Namgyal Monastery performed the Kalachakra fire puja while at the same time monks from Kirti Monastery recited the prayers of refuge and bodhichita, the King of Prayers, Lama Choepa tsog, and so forth. The fire was lit and soon smoke and flames emerged.

Once the ceremony was over the stupa was covered and the fire was left burning till Saturday Dec 30th when the stupa was opened again. The relics were collected and placed in a specially prepared vase and then taken down to Rinpoche's room once again. In the meanwhile all signs were carefully recorded. An elder monk from Ling Labrang who specializes in interpreting signs appearing at the cremation was invited to participate. He commented that there were a lot of auspicious signs but also a number of signs that he had never seen before and therefore could not interpret at the moment. Rinpoche's relics will be kept in the vase until a proper relic stupa is constructed however it was not seen necessary to erect a permanent stupa at the cremation site.

A lot of people are asking for the translation of the Prayer for the Quick Return of the Reincarnation. The prayer will be coming soon.

And as a final note, as many of you might know, Michael Mueller has been collecting Rinpoche's teachings from around the world over the last few years. This is done with the aim to publish all of Rinpoche's teachings and advice, in Tibetan as well as in English. If you have any teachings that you would like to share, please contact Michael at mmexcite@yahoo.de

With best wishes,

Voula
Ven. Bakula Rinpoche died while in India on November 4, 2003.
He lived one of the more interesting lives of a Buddhist lama. Born into a royal family of Ladakh, India, he was later recognized by the Thirteenth Dalai Lama as a reincarnation of Bakula Arhat – one of the Sixteen Arhats (direct disciples of Shakyamuni Buddha who had tremendous spiritual realizations).
Bakula Rinpoche had a keen interest in Mongolia and Russia from a young age, and while other Tibetan teachers were going to the West, Bakula Rinpoche said, "Everyone is going to the west – it's easy to go to the west."
After Rinpoche worked as a minister of the Indian government under Indira Gandhi, he began to travel to Mongolia and the USSR, where he helped re-open ancient monasteries and organize Buddhist peace conferences. In 1990, was appointed as the Indian ambassador to Mongolia for a period of two years. When he arrived, Mongolia was still communist, but during his stay – which lasted more than 10 years – it became a free country, so Bakula Rinpoche could travel freely and work to revive pure Buddhism.
After the fall of Communism in Mongolia, Bakula Rinpoche established monasteries and nunneries, hosted His Holiness the Dalai Lama, invited Lama Zopa Rinpoche several times, and granted ordination to many Mongolians. He retired from his position as ambassador in 2000.
Interestingly enough, according to Mongolian folklore, there was a long-held belief that Bakula Arhat would one day come from India to revive Buddhism in Mongolia. Perhaps it wasn't folklore.
On the 26th February 2008, His Holiness the Dalai Lama has confirmed Thupten Ngawang, a child born in Nubra, Ladakh as the reincarnation of Bakula Rinpoche. The child is a bright little boy born on 24th November 2005 and has been chosen from among several children.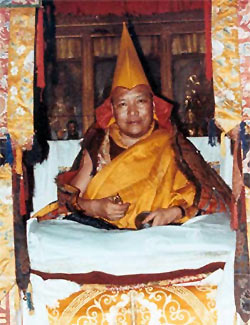 Trulshik Rinpoche passed away on September 2 2011. Rinpoche finished his meditation three days later.
One of the greatest living masters of the Nyingma tradition of Tibetan Buddhism, Trulshik Rinpoche was a leading proponent of the Rime, or non-sectarian, spirit of Buddhism. One of Lama Zopa Rinpoche's gurus, he lived in the Solu Khumbu region of Nepal, which is also Lama Zopa Rinpoche's birthplace.
Trulshik Rinpoche was the closest and most realized disciple of the late master, Dilgo Khyentse Rinpoche. It was prophesied in Khyentse Rinpoche's visionary teachings (terma) that Trulshik Rinpoche would be the spiritual heir to his teachings, and in his absence, Khyentse Rinpoche referred all important matters to Trulshik Rinpoche. Upon Khyentse Rinpoche's passing in 1991, Trulshik Rinpoche was entrusted to find his reincarnation. He also visited the West several times to give teachings to fortunate students.
Geshe Lhundub Sopa, was born in 1923 in the Shang principality of Tsang in the western part of Central Tibet. He was ordained a novice monk at the age of nine and entered the famed Gaden Chokor Monastery. In 1941, at the age of eighteen he traveled to Lhasa, the capital of Tibet, and was admitted to the Tsangpa House of Sery Jey Monastery.
Geshe Sopa began teaching in Tibet at a very early age. Even before completing his own examinations for the degree of geshe, he was chosen by his Monastery as one of the Dalai Lama's debate examiners during the annual Prayer Festival in 1959.
In 1959, Geshe Sopa sought political asylum in India. In 1962 he sat for the annual geshe examinations in Buxador, India and was awarded the degree of geshe with highest distinction (Lharampa). In that same year, H. H. the Dalai Lama appointed him tutor to three young recognized incarnate monks. The four of them moved to the Lamaist Buddhist Monastery in Freewood Acres, New Jersey. Geshe Sopa stayed here for the next five years.
In 1967, Professor Richard Robinson invited Geshe Sopa to join the faculty at the University of Wisconsin-Madison. In 1973 he became Assistant Professor of Buddhist Studies, in 1976 he was promoted to the rank of Associate Professor, and in 1985 to Professor. He has taught Tibetan language, general courses in Buddhist philosophy and specialized doctoral colloquia on a variety of topics in Indo-Tibetan Buddhist thought. He is well-known for his insight into the Mahayana philosophy of emptiness. Geshe Sopa recently retired from his professorship at the University of Wisconsin in Madison.
During this time at the university, many students began requesting private instruction outside of a formal academic setting – to meet this need, he founded the Deer Park Buddhist Center in Wisconsin in 1979. He is the center's spiritual head and director. In 1981 Deer Park hosted the first Kalacakra initiation to be offered in the West by His Holiness the Dalai Lama; since then, His Holiness has made five visits to Deer Park to offer scriptural commentary and initiations.
1920-1986
Geshe Rabten was born in Tibet in 1920. He spent twenty years first studying and then teaching at Sera Monastic University in Lhasa, until his exile in 1959. Upon completion of his training in India he was appointed as a religious assistant to the Dalai Lama. He also spent many years in solitary retreat, and wrote the book Song of the Profound View about his meditation experiences.
Since 1969, Geshe Rabten instructed Western students on Tibetan Buddhism. He was one of the first Tibetan Buddhist masters to give teachings in the West, and was one of the principle gurus of Lama Thubten Yeshe and Lama Zopa Rinpoche. He founded Tharpa Choeling Center for Higher Buddhist Studies in Switzerland in 1979 and resided there as a full-time spiritual director before he passed away in 1986.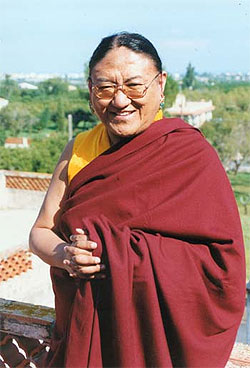 His Holiness, Sakya Trizin, is the one of the world's preeminent masters of Tibetan Buddhism, and is the supreme head of the Khon Sakya lineage. Born in Tibet in 1945, His Holiness ascended to the throne of Sakya at the young age of seven, when he was recognized by His Holiness the Dalai Lama.
Trained since early age of the various teachings of sutra and tantra, His Holiness is widely regarded as an emanation of Manjushri, the Buddha of Wisdom. Presently residing in Mussoorie, Northern India, His Holiness travels frequently around the world and is tireless in bestowing initiations and teachings to a growing group of dedicated disciples.
His Holiness the Sakya Trizin has established important centers of learning and monastic practice in India and Nepal where the highly developed Sakya traditions of scholarship, philosophy, and practice continue in exile. Among these are the Sakya Institute, the Sakya College, and the Dzongsar Institute.
1920 – 2007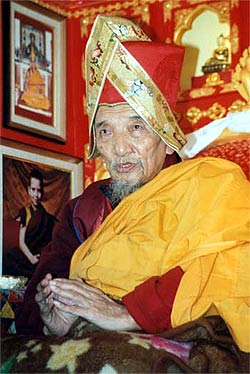 Chobgye Trichen Rinpoche's Passing »
Latest News »
Photos of Last Korwa »
Prayer for Rinpoche's Quick Return
His Eminence Chobgye Trichen Rinpoche was head of the Tsharpa sub-lineage of the Sakya order of Tibetan Buddhism. He was the 26th patriarch of Phenpo Nalendra Monastary, founded by Rongton Sheja Kunrig (1367-1449). Born in 1920, His Eminence was recognized by the 13th Dalai Lama as 18th in the lineage of Chobgye Trichens.

After going into exile, Chobgye Trichen Rinpoche built two monastaries: one in Lumbini, birthplace of the Buddha and the other in Kathmandu. Rinpoche is regarded as a master of masters; most Tibetan Buddhist lineage holders are his disciples, including His Holiness the Dalai Lama, His Holiness Sakya Trizin and the late Dudjom Rinpoche. Rinpoche conducted a series of three and a half year solitary meditation retreats for senior Sakyapa monks over the past fifteen years. Rinpoche spent so much time in meditation retreat that he was regarded as a hidden master.