News/Media

*If a menu item has a submenu clicking once will expand the menu clicking twice will open the page.

Study & Practice

*If a menu item has a submenu clicking once will expand the menu clicking twice will open the page.

Projects

*If a menu item has a submenu clicking once will expand the menu clicking twice will open the page.

FPMT

Practice with the bodhisattva attitude every day. People can't see your mind; what people see is a manifestation of your attitude in your actions of body and speech. So pay attention to your attitude all the time. Guard it as if you are the police, or like a parent cares for a child, like a bodyguard, or as if you are the guru and your mind is your disciple.

Lama Zopa Rinpoche

*If a menu item has a submenu clicking once will expand the menu clicking twice will open the page.

Shop

The Foundation Store is FPMT's online shop and features a vast selection of Buddhist study and practice materials written or recommended by our lineage gurus. These items include homestudy programs, prayers and practices in PDF or eBook format, materials for children, and other resources to support practitioners.

Items displayed in the shop are made available for Dharma practice and educational purposes, and never for the purpose of profiting from their sale. Please read FPMT Foundation Store Policy Regarding Dharma Items for more information.
Venerable Kirti Tsenshab Rinpoche (1926-2006)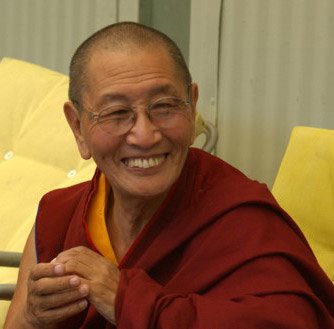 Kirti Tsenshab Rinpoche was born in the province of Amdo – eastern Tibet – in 1926, and at age six was recognized as the reincarnation of the former abbot of the Kirti Gompa, and ordained as a monk at age nine. Rinpoche received teachings from many high lamas of the Tibetan Buddhist tradition, and was one of the holders of the tantra of Kalachakra lineage, having received that empowerment when he was fourteen years old. At the age of 32, and having completed his monastic studies he was appointed as the Abbot of Kirti Gompa.
After escaping from Tíbet in 1959, Kirti Tsenshab Rinpoche taught Tibetan orphans at the Tibetan Children's Village, Dharamsala, India. At the age of 45, he began a fifteen-year meditation retreat in a small stone hermitage above Dharamsala, "big enough for a bed, prostrations, and a stove". He spent the first seven years meditating on the lamrim, three years on the Seven-Point Thought Transformation, then two years on generation and completion stage tantra. For the final three years of his retreat, Rinpoche repeated all of the above. Rinpoche gave Kalachakra commentary to His Holiness the Dalai Lama and was a teacher of Lama Zopa Rinpoche.
Lama Zopa Rinpoche has said of Kirti Tsenshab Rinpoche, "He is a great Kadampa master who shows real Kadampa tradition…so completely renounced. There's not one slightest worldly activity, not the slightest eight worldly dharmas, no self cherishing thought. Even talking, everything is as much as possible pleasing to sentient being's minds."
Rinpoche gave teachings around the world in many countries including Australia, Germany, Holland, Hong Kong, Italy, New Zealand, Singapore, Taiwan, and the United States.
A Student Letter About Rinpoche's Passing
After demonstrating the appearance of serious illness for many months, Kirti Tsenshab Rinpoche entered tukdam, the final meditation, at 2.30am, on December 16th, 2006, in South Delhi, India. The day of the 15th, which was Lama Tsongkapa Day – one of the holiest days in the Geluk calendar – special offerings and prayers were offered at the house and in the evening extensive light offerings were made.
During this period, Rinpoche revealed just how we should practice when death approaches, with the same skill he has perfectly demonstrated how we should practice in all circumstances in this life.
Rinpoche's holy body was taken to Dharamsala on Thursday night and it was kept in public display in Rinpoche's room at Kirti Gompa (in Mcleod Ganj, India) for three days prior to the cremation. Many Tibetans and some Western students who were able to make the trip to Dharamsala made offerings to Rinpoche's holy body that was in the laying posture covered with his yellow ceremonial robe. I had received numerous emails asking me to offer a last khata, so I decided to offer one khata for each country Rinpoche visited, including Antarctica and its penguins. I also offered one khata for all the places Rinpoche did not visit in this life.
When I entered Rinpoche and Alak's room I was struck by how many items were there collected from all over the world: a set of walki-talki from California, a traditionally hand painted little box from Russia, pictures from Rio de Janeiro next to some old pictures of the Dalai Lama among Nerhu and Indira Gandhi, a water bottle in the shape of Mother Mary from Mexico, a toy woolen lamb from New Zealand, a picture of Ayers rock from Australia, a bath mat with dolphins from Puerto Rico, shopping bags from Athens, certificates from the boat that took Rinpoche and Alak to Antarctica, a stupa from France, tsa-tsas from Taiwan, fridge magnets from South Africa, a sweater from Colombia, a camera bought in Washington DC., a pair of crocs from Israel and so on. Rinpoche and Alak have been in so many places, connecting with so many students around the world.
The cremation site below the Tibetan Childrens Village had been prepared for the ceremony and a temporary brick stupa was erected for the cremation. When they were digging the ground in preparation for the stupa they unearthed some Nepali coins featuring a stupa and a vajra and everyone interpreted that as a very auspicious sign of stability.
Early on the morning of December 25th Rinpoche's holy body was placed in the full lotus posture, dressed in brocade, adorned with the crown of the five dhyani buddhas, and his face covered with red silk. The body accompanied by the same monks who took care of Rinpoche during the last six months was taken from his residence at 5.30am and was carried to the cremation site. Rinpoche's holy body was then placed on a throne and people had the opportunity to offer a khata for the last time. When that was done, the same group of monks circumambulated the cremation stupa carrying Rinpoche's holy body and they finally lowered it into the stupa. Monks from Namgyal Monastery performed the Kalachakra fire puja while at the same time monks from Kirti Monastery recited the prayers of refuge and bodhichitta, the King of Prayers, Lama Choepa tsog, and so forth. The fire was lit and soon smoke and flames emerged.
Once the ceremony was over the stupa was covered and the fire was left burning till Saturday Dec 30th when the stupa was opened again. The relics were collected and placed in a specially prepared vase and then taken down to Rinpoche's room once again. In the meanwhile all signs were carefully recorded. An elder monk from Ling Labrang who specializes in interpreting signs appearing at the cremation was invited to participate. He commented that there were a lot of auspicious signs but also a number of signs that he had never seen before and therefore could not interpret at the moment. Rinpoche's relics will be kept in the vase until a proper relic stupa is constructed however it was not seen necessary to erect a permanent stupa at the cremation site.
A lot of people are asking for the translation of the Prayer for the Quick Return of the Reincarnation. The prayer will be coming soon.
And as a final note, as many of you might know, Michael Mueller has been collecting Rinpoche's teachings from around the world over the last few years. This is done with the aim to publish all of Rinpoche's teachings and advice, in Tibetan as well as in English. If you have any teachings that you would like to share, please contact Michael at mmexcite@yahoo.de
With best wishes,
Voula
---
Read detailed accounts of Kirti Tsenshab Rinpoche's final days, including photo's of the cremation ceremony. We invite you to download this praise of Kirti Tsenshab Rinpoche by Lama Zopa Rinpoche.

You can also download the Prayer for Rinpoche's Quick Return in English, Portugese, Russian, Spanish, and Vietnamese; and this Guru Yoga Requesting Prayer.
My approach is to expose your ego so that you can see it for what it is. Therefore, I try to provoke your ego. There's nothing diplomatic about this tactic. We've been diplomatic for countless lives, always trying to avoid confrontation, never meeting our problems face to face. That's not my style. I like to meet problems head on and that's what I want you to do, too.
Lama Thubten Yeshe