His Holiness Sakya Trizin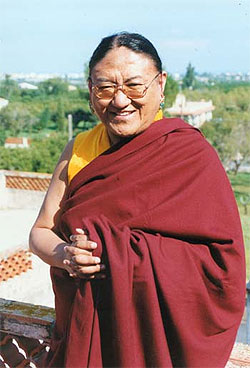 His Holiness, Sakya Trizin, is the one of the world's preeminent masters of Tibetan Buddhism, and is the supreme head of the Khon Sakya lineage. Born in Tibet in 1945, His Holiness ascended to the throne of Sakya at the young age of seven, when he was recognized by His Holiness the Dalai Lama.
Trained since early age of the various teachings of sutra and tantra, His Holiness is widely regarded as an emanation of Manjushri, the Buddha of Wisdom. Presently residing in Mussoorie, Northern India, His Holiness travels frequently around the world and is tireless in bestowing initiations and teachings to a growing group of dedicated disciples.
His Holiness the Sakya Trizin has established important centers of learning and monastic practice in India and Nepal where the highly developed Sakya traditions of scholarship, philosophy, and practice continue in exile. Among these are the Sakya Institute, the Sakya College, and the Dzongsar Institute.