Tsenshab Serkong Rinpoche
1914-1983
Kyabje Tsenshab Serkong Tugse Rinpoche was born on July 27, 1914, in the area of Loka in southern Tibet. His father was one of the most outstanding masters of the last century, the great Serkong Dorjechang, the incarnation of Marpa the translator, his mother the incarnation of Marpa's wife Dagmema and Tsenshab Serkong Rinpoche the incarnation of Marpa's son Darmadodey.
Tsenshab Serkong Rinpoche studied with masters from all the four major traditions of Tibetan Buddhism. He was a member of Ganden Jangtze Monastic University, where he received his Geshe Lharampa degree after fourteen years of study. He then spent nine years at Gyume Tantric College, where after passing all his examinations he held the position of Master of Discipline, before being appointed in 1948 one of the seven Tsenshab or Master Debate Partners to His Holiness the Fourteenth Dalai Lama. Tsenshab Serkong Rinpoche served His Holiness in this capacity for the rest of his life and imparted to His Holiness many lineages, initiations and oral transmissions. He accompanied His Holiness to China in 1954 and came in exile to India in 1959.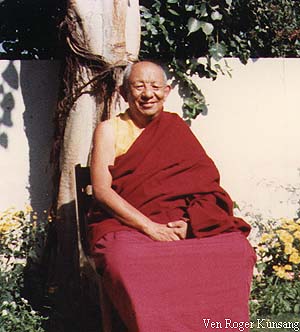 In India, Tsenshab Serkong Rinpoche further served His Holiness in helping establish the Office of Religious and Cultural Affairs. He also served as one of His Holiness' main advisors, chief performer of his personal religious rituals, his teacher of Buddhist technical knowledge and skills such as mandala construction and his spiritual lieutenant for communicating and carrying out his policies.
As a master of both sutra and all four classes of tantra, Tsenshab Serkong Rinpoche travelled extensively throughout India and Nepal to give teachings and initiations and help the monasteries re-start their rituals. He made five trips to Spiti where, in the manner of Atisha, he reformed and revitalized the monasteries and the Buddhist tradition of that remote mountain region. He also made two tours of North America and Europe.
Taking on all obstacles to the welfare and works of His Holiness the Dalai Lama, Tsenshab Serkong Rinpoche passed away in full control and in accordance with his intentions, in the manner of the Buddha Shakyamuni, on August 20, 1983 in Kyipar, Spiti, India. In memorium, His Holiness has praised his former Master Debate Partner as a real Kadampa Geshe, someone who always remained humble in the truest sense.