News/Media

*If a menu item has a submenu clicking once will expand the menu clicking twice will open the page.

Study & Practice

*If a menu item has a submenu clicking once will expand the menu clicking twice will open the page.

Projects

*If a menu item has a submenu clicking once will expand the menu clicking twice will open the page.

FPMT

The greatest problems of humanity are psychological, not material. From birth to death, people are continually under the control of their mental sufferings.

Lama Zopa Rinpoche

*If a menu item has a submenu clicking once will expand the menu clicking twice will open the page.

Shop

The Foundation Store is FPMT's online shop and features a vast selection of Buddhist study and practice materials written or recommended by our lineage gurus. These items include homestudy programs, prayers and practices in PDF or eBook format, materials for children, and other resources to support practitioners.

Items displayed in the shop are made available for Dharma practice and educational purposes, and never for the purpose of profiting from their sale. Please read FPMT Foundation Store Policy Regarding Dharma Items for more information.
His Holiness Kyabje Zong Rinpoche (1905-1984)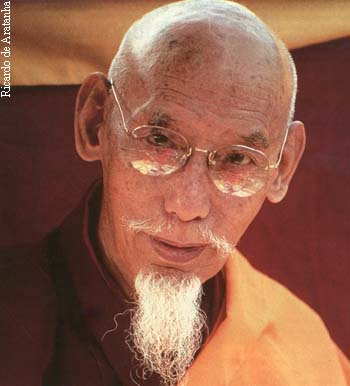 His Holiness Zong Rinpoche passed away at 9:30 in the morning, Thursday November 15, 1984 at his monastery Ganden Shartse, in Mundgod, South India. A month earlier he had had a high fever but completely recovered soon after.
His last main function at the monastery, where he was once abbot and where he was dearly loved, was to preside at the verification ceremonies for the reincarnation of his guru, Trijang Rinpoche. It was soon after that he died, without illness or warning. Rinpoche was cremated on November 19th and his relics removed from the stupa six days later.
Rinpoche was born in Kham in 1905. He went to Lhasa when he was eleven years old to study at Shartse. He studied effortlessly and became renowned as a powerful and irrefutable debater. A learned geshe at that time said that 'even if Shri Dharmakirti had been present, he would not have been able to debate better than that.'
After graduating as a high ranking Lharampa geshe at the age of twenty-five he moved on to the Tantric College of Gyuto. In 1937 he was appointed abbot of Shartse, a position he held for nine years.
Rinpoche was known as a strong, detached and wrathful lama. He had impeccable knowledge of all rituals, art and science, and he never hesitated to give reasons to others why this action or that painting was wrong.
He was renowned for his 'many actions of powerful magic,' as a result of which 'the most marvelous, indescribable signs occurred.'
Rinpoche spent the years after 1946 and until his exile in 1959 traveling to many monasteries, 'removing hindrances, doing rituals, and giving many initiations, transmissions and commentaries, and instruction in the profound and extensive dharma, whatever was needed.'
In 1959 he fled Tibet as an exile. Rinpoche referred to those days in Los Angeles last year, 'Due to our bad karma we lost our land and escaped to India. In India, for eight or nine years we were locked up in a forest, in a place where it was difficult to get around.
'Then, when I came out I was appointed principal at the Institute of Higher Tibetan Studies at Varanasi. His Holiness the Dalai Lama came to Buxa and requested me to take this responsibility. I couldn't refuse so I took the position.'
After his work there was completed, Rinpoche moved to his old monastery Ganden Shartse in its new location in south India.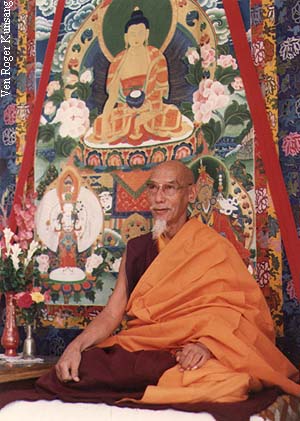 His Holiness Zong Rinpoche first came to teach in the West in 1978, at the request of Lama Thubten Yeshe. He had been asked by him twice before, but had refused. Altogether he travelled to the West three times, the last two times staying extensive periods in America and Europe.
Thousands of Westerners have received teachings from him, both in the West and in India. He forged strong links with dharma centres in America, Canada, England, France, Italy and Switzerland.
Greta Jensen, a close student of Rinpoche (he used to call her 'ama lolo' – 'fat mother'!), recalls her first meeting with him. Previously she had had many inexplicable visions of 'this old man with a beard.' Upon discovering who he was, she eventually met him in Los Angeles on a visit with her family to America.
'I cried,' Greta said. 'He sat there looking nonchalantly away as he does, and said to me, "Don't think that I am anything special. Think that it is by the power of your own karma that you have the good fortune to meet the dharma. If you like you can come and listen to my teachings and if you feel it is useful I'll give you more."'
Corin, Greta's fourteen year old son who has spent periods of months living with Rinpoche at his monastery, says that 'Rinpoche knew practically everything. He was really kind and always smiling, and always made me feel happy and warm.
'I had a special seat next to Rinpoche, on his left, and I used to eat my meals with him and go to puja with him.'
Max Comfort, Greta's husband, said that Zong Rinpoche 'had tremendous presence and always commanded respect. In the West he was always fascinated with procedure, how things were made and how they worked. And he was so incredibly skillful with his hands, he knew how to do things.'
On a visit to the Tower of London, Max remembers, 'he captivated a crowd of tourists with his detailed and accurate explanation of the workings of an ancient blunderbuss!'
Rinpoche was in his eightieth year when he died. During his teachings at Thubten Dhargyey Ling in Los Angeles in December 1983, he recalled a meeting with His Holiness the Dalai Lama the same year, seventeen years ago, that he had been requested by him to become principal in Varanasi.
'We received news that it was a difficult year for His Holiness. I was appointed to represent the monks of the three monasteries and the four schools, to go to Dharamsala to request His Holiness to live long.
'When I arrived in Dharamsala, it was New Year. "I won't die," His Holiness said to me. "I am glad you came by." He took my beard and shook it and said to me, "just sit here and relax."
'When he said to me, "I won't die," I was so happy I cried in front of him.
'He said he was pleased I had accepted the position at Varanasi. "I have no choice,' I said. His Holiness said I was the right person for the job, but I know my own position; I have a correct estimation of myself. I had bad pains in my knees and breathing problems. I said that maybe I wouldn't be able to fulfil the demands of my job. I related my history to His Holiness and said I was already over mature age.
'He said, "Age doesn't matter because you can make yourself younger." I didn't know how to do this but since he said it I couldn't ask!
'But really, I have reduced my age and got younger. At Buxa I had a walking stick, but since that audience I have not had any problems with my knees or my breathing. It really worked that I got younger.'
During the teaching in Los Angeles, Rinpoche also talked about a meeting he had with his guru Trijang Rinpoche at the same time .
'At that time His Holiness Trijang Dorje Chang had a bad illness. I asked Trijang Rinpoche not to pass away before I did. He promised. My hope was that he would live until 83 years of age.
'Before I left Dharamsala, he told me, "We are friends. You are my senior student, my friend, and I am your teacher as well. You are my hope, I trust you."
'He showed me the wrinkles on his face. "And look at my hands," he said. "So skinny, all wrinkles. Come close and touch my forehead with yours."
'We touched each other on our foreheads, and I couldn't say anything.
'When I came to the West, I kept writing letters to him. I wrote and said, "I want to see you." He said, "There is no reason to meet each other because there is no goodbye between us. So relax."
'Finally, he lived for 81 years. Shakyamuni Buddha also lived for 81 years.
'He told me that I should live as long as he lived, so I hope to live at least 81 years.
'The blessing of the Lama is very special. If I live for 81 years it is the blessing of my Lama. If I don't, I have no regrets.'
Reprinted from Wisdom: Magazine of the FPMT, Number 2, 1984. Minor edits made for website, January 2022.

Buddhist meditation doesn't necessarily mean sitting cross-legged with your eyes closed. Simply observing how your mind is responding to the sense world can be a really perfect meditation and bring a perfect result.
Lama Thubten Yeshe