How to Contact Lama Zopa Rinpoche
Center-Related • FPMT Education • Rinpoche's Schedule • Prayers for the Sick • Death and Dying • Request Prayers for the Dead • Daily Practice Advice • Ordination • General Advice • Personal Correspondence • Lama Zopa Rinpoche's Online Advice Book
Thank you for your interest in contacting Lama Zopa Rinpoche. We hope the below information will assist you in directing your inquiry to the appropriate department or help you access the resources you need.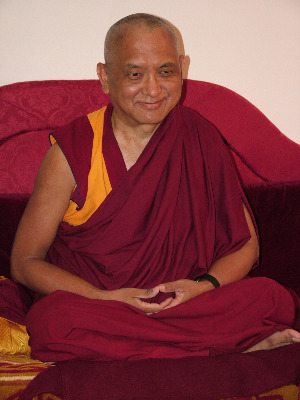 FPMT Education Questions

For questions related to FPMT Education including study programs and available practice texts and materials please contact FPMT Education Services or visit the education program section of fpmt.org.
To Request Prayers for the Sick

In order to request prayers for someone who is sick please email and mention the sick person's full name. The Sangha at Rinpoche's house will dedicate for them during regular animal liberations and daily when making long life tsa tsas.

If you would like to make a donation for this service please go to the Animal Liberation Fund and Stupa Fund.

For advice on what are the best practices you can do at this time, Lama Zopa Rinpoche always recommends Medicine Buddha practice and Using Sickness for the Path

If you would like to request a puja for a sick person, Kopan Monastery offer this service.

Death and Dying

Lama Zopa Rinpoche's essential advice and practices for the time of death. To request prayers from His Holiness the Dalai Lama, Lama Zopa Rinpoche and FPMT Sangha communities Request Prayers for the Dead.

Daily Practice Advice

Lama Zopa Rinpoche's Essential Daily Practice Advice is a valuable resource Rinpoche has put togther to use a basis for daily practice.
Due to Rinpoche's work load and present health condition it is quite difficult for Rinpoche to reply to all messages, also replies can take a few months and sometimes it may not be possible for Rinpoche to reply personally.
Before sending your question, please do have a look at the Advice from Rinpoche as Rinpoche may have answered a question very similar to yours before.
To help Rinpoche – please keep your correspondence concise and with questions clear.
Address:
Lama Zopa Rinpoche
FPMT International Office
1632 SE 11th Avenue
Portland, OR 97214-4702
USA
Statements of Appreciation
I am so grateful for all the work that you all put in so that I can learn the path. True rejoicing! I am enjoying the path so very much. I can't imagine my life without it. Every moment is filled with dharma – in all aspects of my life. I even have dharma dreams now! Maybe some purification is going on. Such a long way to go but …step by step.
– Julie, Australia
Contact Info
1632 SE 11th Avenue
Portland, OR 97214-4702 USA
Tel (503) 808-1588 | Fax (503) 232-0557
About FPMT
FPMT is an organization devoted to the transmission of the Mahayana Buddhist tradition and values worldwide through teaching, meditation and community service.
more...
About Buddhism
If you're new to Buddhism, please read our
Buddhism FAQ
. A place to learn about Buddhism in general, FPMT, and our Discovering Buddhism at Home series.