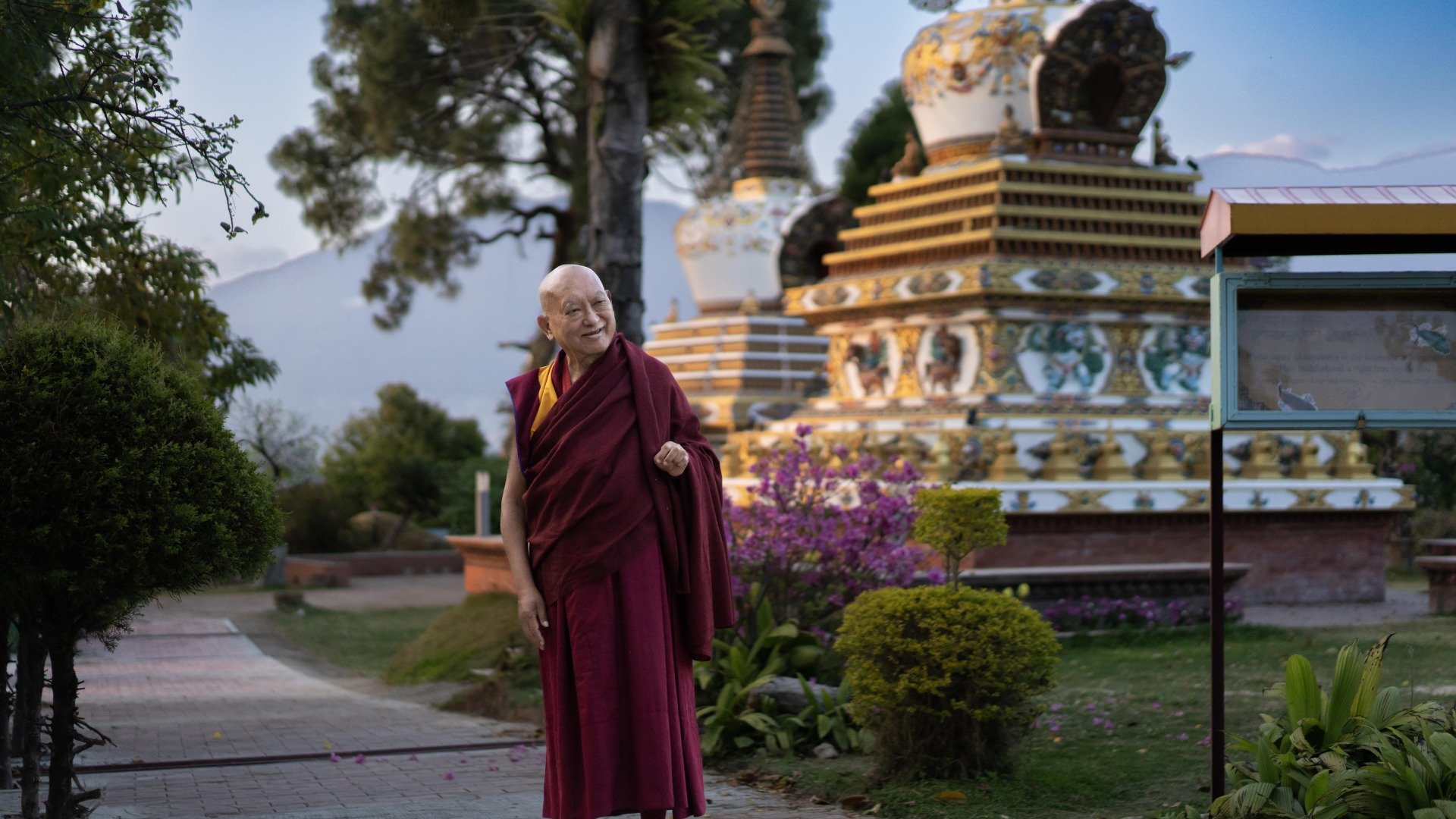 Obituary of Lama Zopa Rinpoche
French translation | Spanish translation
---


At 9:30am on April 13 at Kopan Monastery in Nepal, FPMT's most precious guru and spiritual director, Lama Thubten Zopa Rinpoche, entered his final meditation. Although it is difficult to convey the extraordinariness of Rinpoche's life, we nevertheless share the below eulogy, written by Ven. Robina Courtin, so we can rejoice from our hearts in Rinpoche's myriad accomplishments, teachings, blessings, and activities and be inspired to follow in his footsteps.
---
"This Is the Bodhisattva's Way of Life, This Is the Bodhisattva's Way of Life"
When Ven. Roger Kunsang took over as attendant to Lama Zopa Rinpoche, in 1986, he had no idea what the job entailed. He decided to simply follow Rinpoche's lead in doing whatever needed to be done. But Rinpoche would never express a need. He didn't ask for anything. If you didn't put a cup of tea in front of him, he wouldn't have tea.
There was always an open door. People would come in while Rinpoche ate his lunch and he'd immediately engage with them. Even to someone coming through the window at three in the morning Rinpoche would be very accommodating, showing no surprise. Everyone's wishes became Rinpoche's priority.
Rinpoche would give whatever he had: statues, thangkas, malas, his robes, money. You could be sure that the gift you offered Rinpoche during your appointment would end up in the hands of the next person.
There was never any discussion about how long people would stay for their meeting. Rinpoche never showed the slightest impatience or annoyance. He never expressed the wish for a structure, a schedule: for time off, time for meetings, time for eating, time for this and that.
Rinpoche never went to bed. The unconsciousness of sleep was an unbearable waste of time. He would never get out of his robes, he would never lie down, he wouldn't even stretch out his legs — he was always sitting in the meditation position.
There was no break for Rinpoche, and any suggestion of taking a break literally made no sense to him.
As Rinpoche traveled the world to the Dharma centers now in his charge, after taking over from Lama Thubten Yeshe after Lama passed away in 1984, it was the same, all day, every day, year in, year out. It was airport, center, airport, center. As soon as they arrived at a center it was on for twenty-four hours — not eight hours or ten, it was around the clock. Teaching late into the night, eating lunch at midnight, working on letters and the needs of the centers until the early hours.
At any given moment, there were hundreds, and later thousands, of letters from students and centers needing Rinpoche's attention. There was never any anxiety about this and Rinpoche might spend days, even weeks, on one letter: a man in prison received a letter of forty-five typed pages.
That was Rinpoche's way of taking over from Lama. He was one hundred percent intent on benefiting others, just like Lama, and this is how he did it.
After a few years of this, one day Ven. Roger threw his hands in the air and gave up — gave up trying to find ways to give Rinpoche a rest. "I remember saying to myself, very clearly, it just came out of my mouth, spontaneously: 'This is the bodhisattva's way of life, this is the bodhisattva's way of life.'"
Even More Compassion
Rinpoche pushed his body beyond all reasonable limits, and in 2000 in Singapore, this finally took its toll. Doctors diagnosed Rinpoche with type 2 diabetes and very high blood pressure.
Then in 2011, while giving a Yamantaka empowerment in Australia, Rinpoche had a stroke and was hospitalized.
In and out of consciousness during the first days, he showed not the slightest interest in finding out what was wrong with him, never asked the doctors a single question.
For Rinpoche, it was as if nothing had changed. He was relaxed and calm, effortlessly adjusting to his new situation, the right side of his body paralyzed, his speech impaired.
He was joyful about his physical limitations, happily experiencing them for the sake of others. In fact, to Ven. Roger it seemed that Rinpoche's wish to serve, to benefit, was even more intense, his compassion even more extraordinary.
Rinpoche showed no interest in participating in the recommended therapies. "We tried and tried," Ven. Roger said. "He would do a little, and then give it up."
Instead, as soon as he discovered that his bed sheets would be laundered and used by other patients, Rinpoche would be busy saying mantras, blessing the sheets. In the pool for his hydrotherapy, he spent his time saying mantras and blessing the water for the other patients, showing no interest in his exercises.
Literally every second of his life was devoted to others, and every decision was based on what would be most beneficial — even whether to live or die.
Ven. Roger remembers two occasions when Rinpoche said he would make an observation to see if he should pass away or not.
With Rinpoche, there was no sign of the ordinary "I"; it simply didn't exist.
"That Is My Home!"

Lama Thubten Zopa Rinpoche was born at sunrise on December 3, 1945, the last day of the tenth month of the Wood Bird year in the Tibetan lunar calendar, in Thangme, a village in the Khumbu region of Nepal, up in the Himalayas.
It was evident from the time he was two or three years old that he knew what he wanted. One of many children of a Sherpa family — he was called Dawa Chötor then — the moment his mother, Yangchen, turned her back, fetching water, checking on the potato fields, or collecting wood, he'd be gone, determinedly trudging his way up the long, steep, winding path that led to the cave of the Lawudo Lama, the revered local yogi Kunsang Yeshe who'd died a couple of years earlier.
They'd find him asleep in the resting place halfway up the mountain, his sister Ngawang Samten said. When they'd admonish him to "come home!" he'd point up towards the cave and say, "No, that is my home!"
Ani Samten said that somehow he was different from the other children, sitting apart, or sitting on a high box when he ate his meals. And when he'd play games, he'd always play the role of the lama: he'd lead pujas, give initiations, and announce the names of the Lawudo Lama's benefactors, saying they'd be coming.
When he was three, Rinpoche was delighted when the Lawudo Lama's attendant, Ngawang Chöpel, came to visit. He cried and cried when he was leaving, declaring that he must go with him. Although soon recognized as the unmistaken reincarnation by many lamas, including the beloved local lama, Trulshik Rinpoche, it wasn't until years later that the family of Lama Kunsang Yeshe, who was a lay yogi, accepted.
When he was five he was sent over the mountains to Rolwaling, west of Khumbu, to be educated by one of his uncles.
It was here, in 1952, that he first laid eyes on people with "white eyes and yellow hair," as the Sherpas described Westerners, a group of them camping in a meadow on the other side of the river. Eager to meet them, he crossed the river on the makeshift bridge but fell into the water with his gift of boiled potatoes before reaching the other side. Rinpoche recounted later that while he was struggling to keep his head above water the thought occurred to him that the person known as the Lawudo Lama was about to die, but although he didn't know anything about emptiness, "there was no fear."
A New Direction

In 1957, some uncles — his father died when Rinpoche was a baby – went on pilgrimage to Lhasa, taking Rinpoche with them. They visited various holy places, such as Tashi Lhunpo, then dropped Rinpoche off with an uncle in Phagri, a trading town tucked in between Sikkim and Bhutan, before going on to Lhasa.
A meeting there with a monk called Lozang Gyatso — "Would you like to be my student?" he asked Rinpoche. "Yes!" Rinpoche delightedly answered — ripened Rinpoche's connection with the Gelug tradition. He moved with him to the monastery he managed nearby, a branch of Dromo Geshe Rinpoche's Dungkar Monastery in the Dromo Valley, a day's walk south of Phagri.
When his family returned from Lhasa to pick him up six months later, eager to return to Nepal and have him enthroned as the Lawudo Lama, Rinpoche firmly stated he didn't want to go: he was happy with his new life as a Gelug monk.
Unmoved by their cajoling and threats, he stood his ground. With the support of the local magistrate, who said he was old enough, at 12, to decide for himself, he stayed on to continue his studies. As usual, Rinpoche knew what he wanted.
That year, Rinpoche took his novice monk vows from Geshe Thubten Jinpa, the abbot of Dungkar, and received the name Thubten Zopa. Rinpoche continued his studies and, impressed by the Gelug monks, decided he would build many gompas and monasteries when he grew up.
Escape to India

Plans to send him to the Je college of Sera Monastery in Lhasa were thwarted by the uprising against the Chinese Communists, so, accompanied by Ven. Lozang Gyatso, Rinpoche escaped to India via Bhutan, a short journey, arriving in the fall of 1959.
Rinpoche was sent to an old fort in Buxaduar, not far away, which had been used as a prison during the time of the British; it was offered by the Indian government to house the thousands of Tibetan monks now pouring across the border.
But for a fortuitous decision by the superintendent of police in charge of Tibetan refugees at the border, Rinpoche's life would have taken a very different turn. In fact, he would have gone with other monks from Phagri to one of the Dromo branch monasteries in Ghoom, near Darjeeling, but for some reason the policeman said that Rinpoche had to go to Buxa.
Rinpoche joked later that if he had gone to Darjeeling, perhaps he would have disrobed, got married, and had many children and grandchildren!
In 1961, he in fact spent a few months at one of the monasteries in Ghoom, Samten Choling, to recuperate from tuberculosis. It happened that Kyabje Ling Rinpoche, His Holiness the Dalai Lama's senior tutor, was also there, also for medical reasons. He would eat meals with him, receive teachings, and then they would "go for walks and play together," as the present Ling Rinpoche describes it.
They met again ten years later, in Bodhgaya, when Rinpoche received his full ordination from Kyabje Ling Rinpoche.
Besides a couple of stints at a school for young reincarnated lamas run by Englishwoman Ven. Freda Bedi, first in Delhi and then in Dalhousie, and his time in Ghoom, Rinpoche spent most of the next seven years at Buxa.
It was in Buxa, in 1963, as a result of his connection with Sera Je scholar, Geshe Rabten, with whom he was living and studying — Rinpoche had been accepted into Sera Je soon after arriving — that Rinpoche started to receive teachings from fellow disciple Lama Yeshe, who was ten years older. Rinpoche was 18.
Meeting Lama Yeshe

They already knew each other from the beginning at Buxa, having both attended Geshe Rabten's teachings — Rinpoche recalls being moved by Lama's devotion. But now Geshe Rabten was leaving for Dharamsala and Lama Yeshe was one of the monks that Geshe-la suggested Rinpoche study with.
From Rinpoche's own telling, the first teaching was not auspicious.
For some reason, he was reluctant to go up the hill to Lama's place — partly, he said, because he didn't have an offering: "When you first make contact with the guru, it is important to perform the offerings properly." And when he got there Rinpoche couldn't understand a single word of Lama's teaching and thought to himself, "I wish he could talk more slowly!" But he returned the next day, and the next, eventually moving in.
Rinpoche stayed with Lama Yeshe as his heart disciple for the remaining twenty years of Lama's life.
Kopan Monastery: A Dual Facility

The lamas met the first of their foreign students, Zina Rachevsky, during a second recuperative sojourn in Darjeeling, in 1967. They eventually moved with her to Boudhanath in the Kathamandu Valley in Nepal and, before long, established Kopan Monastery, on a hill north of the holy stupa.
In 1969, the family of the previous Lawudo Lama finally offered the lama's land and possessions to Rinpoche, including the lama's cave, where he'd spent the last years of his life in meditation.
And it was then that previous disciples of the lama requested Rinpoche to establish a place for the local boys to get an education. The lamas named it Mt. Everest Centre and it opened in 1972 with some thirty monks in residence, including the reincarnations of four of the local lamas.
They'd go down to Kopan for the winter, and eventually stayed. There they were taken care of by Lama Lhundrup Rigsel, a student of Lama Yeshe's from Sera who was with Lama in Buxa. Lama Lhundrup continued to oversee Kopan until he passed away in 2011.
In 1971 the first one-month intensive lamrim course for foreigners was held at Kopan, eventually becoming an annual event known as the November Course.
The lamas had had the prescience to study English at Buxa — discovering in the process that memorizing English dictionaries in traditional Tibetan fashion wasn't helpful! — and were thus able to easily capture the hearts of their new disciples, who were hungry for a new way to see themselves and the world.
Kopan thus developed into a dual facility: a classical Tibetan Buddhist monastery that used the curriculum of the lamas' own monastery, Sera Je, eventually being recognized as a branch; and a place for foreigners to come and study and do retreat all year round. An unlikely combination, but it worked beautifully.
Both Lama and Rinpoche were compelling and charismatic, attracting students everywhere. Each in their own way, they were the evidence of the efficacy of the path of wisdom and compassion they taught.
They introduced their students to the view — unique to Buddhism and a revelation in the West — that they're not set in stone, that their mind can be radically reconfigured, that delusions are not innate and the sufferings wrought by them are not endless.
"You can mold your mind into any shape you like," Rinpoche told them.
The Perfect Disciple
Rinpoche must have been the most precious gift to these new students, who knew nothing about how to relate to a lama, a spiritual mentor. Rinpoche showed the aspect of the perfect disciple: immaculately behaved, gentle, refined, elegant even.
Such impeccable devotion said as much about the object of Rinpoche's devotion as it did about Rinpoche himself — how else would these untrained devotees know that this easy-going, open-hearted, almost boyish monk, Lama Yeshe, was in fact an accomplished yogi and scholar? Rinpoche seemed to fit their view of a holy man, not Lama. Rinpoche showed them exactly how to be.
Rinpoche said later that Lama Yeshe, "whose holy name is difficult to say, was kinder than the buddhas of the three times and nurtured me, materially and spiritually, with far greater kindness than did my parents of this life."
A Pandit

Lama was the powerhouse, overseeing the development of Kopan. But Rinpoche's power would manifest when he taught. It was clear that he was not just a yogi but also a pandit: besides meditation, his only interest since childhood (besides learning English) had been to study the vast body of Buddhist literature.
During the November Courses, Rinpoche gave enthusiastic, very long discourses. He was incredibly generous, never tiring, going into the most intricate details of the path to enlightenment.
And it was exactly as if you were hearing the teachings from the mouth of Je Tsongkhapa himself, intact and unmodified since he propounded them in the middle ages.
Rinpoche's wisdom teachings were incisive, intricate, and clearly experiential. If you were brave enough to engage in debate, there you'd be, disarmed by his smile, responding confidently to the gentle questioning – and then all of a sudden Rinpoche would waylay you and you'd find yourself without a leg to stand on.
Rinpoche's teachings on the suffering of beings were beyond heartfelt. He'd exhort his students to develop "unbearable" compassion and the fervent wish to free them all, forever, "by yourself, alone."
The fire and brimstone of religious fundamentalists was nothing compared to Rinpoche's elaborate and hair-raising descriptions of the hell realms you could fall into, the dire consequences of negative karma and broken pledges. But this was offset by Rinpoche's hilarity, his joy, and his gentle affection for everyone.
Lama also taught during these courses and his teachings were utterly different: modern, psychological, and incredibly encouraging, especially in his descriptions of our marvelous potential — the word "hell" never passed his lips! His grasp of modern minds and his ability to communicate were uncanny. You'd be swept up by Lama: enlightenment seemed so easy!
A Yogi

Because of Lama's fierce protective love, Rinpoche was able to immerse himself day and night in his studies and meditation, often going into retreat. After one retreat Lama told a close student, "I think we have a real baby buddha now!"
Rinpoche had already given up any wish to sleep at night years earlier, so would meditate throughout. He'd become extremely thin from bouts of tuberculosis at Buxa and remained this way for years, looking the part of the ascetic he actually was.
Rinpoche was renowned by now for his dedication to the practice of generosity: to the holy beings as well the ordinary ones.
He would spend ages blessing his meals and offering them to the buddhas but never eating them — like any good mother, Lama Yeshe would have to cajole him.
On one short airplane journey, after Rinpoche had spent the entire time blessing and offering his meal and just before they were to take away his tray, Ven. Roger asked Rinpoche if he'd like to eat his lunch. "It's okay," Rinpoche said. "The main purpose has been achieved."
Students knew to give up any hope of a hot cup of tea, served during the breaks in teachings, so extensive was the visualization of the offering. And the parents of one center director said they thoroughly enjoyed Rinpoche's two-hour blessing and offering of the evening meal they'd prepared.
During one rainy season at Chogye Trichen Rinpoche's monastery in Lumbini, Ven. Roger found Rinpoche absorbed in meditation in the middle of the night, his undershirt over his head, offering his body to the hundreds of mosquitoes to feast on.
An Artist

Rinpoche was also an artist; he learned to paint thangkas when he was a boy. One of his students, English sculptor Peter Griffin, says Rinpoche would love to be involved in the making of statues and would spend hours explaining how the art of the statue should look.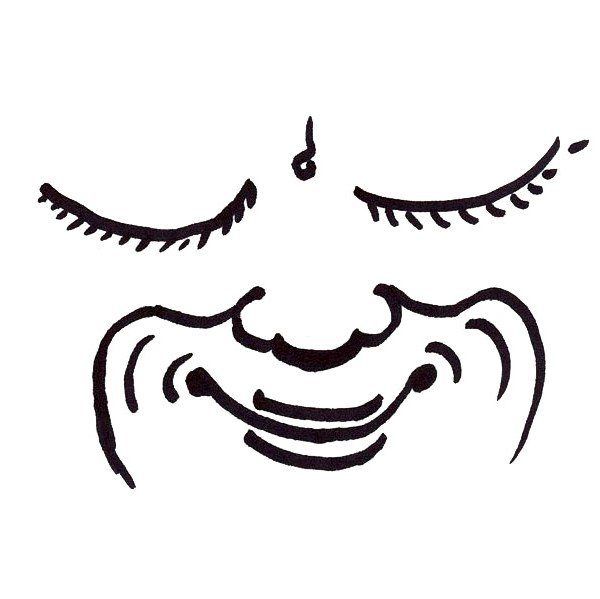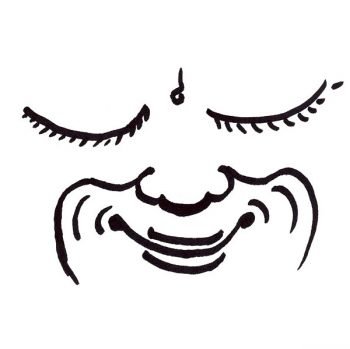 "You could see that Rinpoche was channeling the deity, or seeing the deity directly," Peter says. "He wasn't just talking about the art, he was communicating the qualities of the deity and expressing how that should be represented in the art — how the slight turn of the corner of the mouth, or the shape of an eyelid would express the Buddha's compassion, or how modifying the shape of the figure slightly would draw people in more."
Rinpoche was a calligrapher: his greatest pleasure was to write out the Prajnaparamita Sutra in gold.
And Rinpoche was even a cartoonist. His absurd, naive, hilarious cartoons and delicious Dharma captions went around the world: in books, on cards, in letters, on placards in the grounds of centers.
Rinpoche was an expert in the melodies for prayers and the musical instruments used at pujas, often spending years checking with his lamas or other lineage holders. It seemed as if they melodies came straight from the dakinis and the sound that emanated from Rinpoche's cymbals was transcendent. And each note was so clear, so precise. 
In everything he did, in fact, Rinpoche was exact, impeccable: his teachings, his prostrations, his mandala offerings, his very manner. Even his momos were perfect!
Kopan Monastery: The Wellspring of the FPMT

Kopan was the wellspring of what Lama named the Foundation for the Preservation of the Mahayana Tradition, which, by the time he passed away, had grown to include tens of thousands of students and some forty organizations in thirteen countries, including Dharma centers, places for retreat, social service projects, publishing companies, monasteries – there were around one hundred foreign monks and nuns — as well as a monastery for Himalayan nuns, Kachoe Ghakyil, which follows the same education program as Kopan, just down the hill, and Lawudo Gompa, taken care of over the years by Rinpoche's mother, sister and brother.
Lama and Rinpoche Were One

It was as if the lamas were one: it was always "Lama and Rinpoche" in the same breath. So it was heartbreaking when Lama passed away, so young at 49, in March 1984. Initially Rinpoche — "I am just numb. I cannot think of anything" – didn't accept to take over as spiritual director of the organization, but finally he agreed.
At a meeting with His Holiness the Dalai Lama in Dharamsala the following year, attended by Rinpoche and various FPMT people, His Holiness turned to Rinpoche, who was sitting next to him bent low in devotion, affectionately patted his head and said, "I am really happy with my old friend. . . . So far, what you have done, you have done it very well. It seems [your organization is] one of the stable and effective Buddhist organizations, I think, on this planet. So as a Buddhist, as a Buddhist monk, I appreciate your effort."
After a year of loss and sadness, these were healing words for their fractured hearts.
The Guiding Light
For the next forty years Rinpoche was the light that guided this organization, the FPMT, which by 2023 had expanded its activities into thirty-four countries, all established and managed by the students of the lamas: more Dharma centers, more retreat centers, more monasteries for monks and nuns; publishing activities in several languages, projects for teaching universal education, the massive Maitreya statue in India, a magnificent replica of the Gyantse Stupa in Australia, hospice services, social service projects including those for serving the imprisoned, projects for the liberation of animals: all told, 135-plus activities whose sole purpose, as expressed by Rinpoche, is to alleviate the suffering of beings and to bring them happiness, finally the ultimate happiness of enlightenment.
Many other projects have come directly from Rinpoche himself, managed by his office, functioning mainly to fund good works. Last year some $4 million was offered to the beneficiaries.
Last year, for example, the Supporting Ordained Sangha Fund offered more than a quarter of the $4 million to various projects at some fifteen monasteries and nunneries in India, Nepal, and Mongolia, as well as to foreign sangha.
In 1991, Rinpoche established a food fund at Lama and Rinpoche's own monastery, in south India. The Sera Je Food Fund started small and grew to providing daily vegetarian meals in a newly built kitchen to some 3,000 monks at the cost of $280,000 a year. In 2018 the $5.3 million fully endowed fund was offered to Sera Je, the interest from which will cover the cost of all meals indefinitely.
The Lama Tsongkhapa Teachers Fund, started at the request of His Holiness the Dalai Lama in 1997, offers a small monthly stipend to 150 senior Gelug teachers and retired abbots and offers funds to hundreds of monks to cover travel and food costs so they can attend traditional events.
Rinpoche has also established projects to build statues and stupas, paint thangkas, translate and publish texts, write out in gold the Prajnaparamita Sutra; funds for the recitation of sutras, prayers and practices, for offering gold and brocade to holy objects in the monasteries of Nepal and India; projects for the building of health clinics, to protect the environment, that support older Tibetans, children, animals.
Everything Exists on the Tip of the Wish

Nothing deterred Rinpoche. Anything was possible. As he'd often tell his students, "Everything exists on the tip of the wish" – and he was fearless in his wishes. There was never any worry about where funds would come from. One abbess in Taiwan told Ven. Roger after a meeting with Rinpoche that morning that she'd had a dream the night before in which the bodhisattva of compassion, Kwan Yin, appeared and told her that a very special person was coming and to "give him whatever he wants." What did Rinpoche want? Seed money for the Sera Je Food Fund, soon to be established.
But these are just the tip of the iceberg. Rinpoche responded to one student who was astonished by his many projects, "And I only tell you five percent of them!"
Ven. Roger remembers well one afternoon in 2007 at Kachoe Dechen Ling, in Aptos, California. During a break in Rinpoche's retreat, Rinpoche came downstairs with a stack of blue Post-it notes covered on both sides in Rinpoche's distinctive handwriting with his ideas, visions even.
Rinpoche sat and described them. They poured out of him, the numberless things he wanted to do to benefit beings: 100,000 stupas around the world, 100,000 prayer wheels around the world, 1,000 Maitreya statues around the world — not just the one! Projects to support monasteries and nunneries, education programs; it went on and on.
It was clear to Ven. Roger "that something very much out of the ordinary was happening." It was as if Rinpoche could see them all clearly. They are now encapsulated as Rinpoche's Vast Vision for the FPMT. And many of these visions are already manifesting in the current projects.
There's no limit on time, Rinpoche said. "They will take many lifetimes."
The Guru Is Buddha

Over the years, Rinpoche would always make time for retreat, taking empowerments, and receiving oral transmissions of lineages of practices and teachings. If his own lamas did not have a particular lineage Rinpoche would seek out qualified people, even if they were just some simple person somewhere, carefully checking their credentials before committing to them as his guru.
Rinpoche was devoted to some forty spiritual friends, including Khandro Tseringma Rinpoche (who, in turn, is a disciple of Rinpoche's): at the 2019 November Course Rinpoche delightedly told the students that she is his "one Lady Guru."
When he did commit to someone as his guru, Rinpoche's devotion was absolute. His Holiness the Dalai Lama, his other root guru Trijang Rinpoche, Lama Yeshe, all his lamas: they were all manifestations of the same dharmakaya, omniscient mind: "The transcendental wisdom of all buddhas, one taste in the great bliss, dharmakaya: that is the guru, the kind, kind guru."
Having this pure view, it was therefore effortless for Rinpoche to see every action, every word, every scolding, every sickness, every breath of the guru as a teaching solely for the benefit of the disciple; the guru shows the aspect of whatever is necessary for the disciple's mind.
Following Lama Yeshe's instructions, Rinpoche would do a Most Secret Hayagriva retreat each year for the benefit of the FPMT as a whole. Ven. Roger remembers well one of the retreats, in the countryside outside Melbourne, Australia, in the early 1990s. Ven. Roger did his own retreat and during the breaks would feed the three horses that grazed there.
As usual, Rinpoche would be in silence, so Ven. Roger would quietly bring Rinpoche's meals. On about the tenth day, at breakfast time Rinpoche greeted him, much to his surprise, with "Good morning!"
"Retreat is finished, Rinpoche?" No, Rinpoche said. "I had a negative thought so I decided I needed to start the retreat again." In fact, Rinpoche hadn't even started the sadhana – he was still in the motivation phase!
How could such utter integrity not bring results? During a group retreat on the same deity in California in 1997, Rinpoche told the students about his own retreat and said "it was extremely effective, unbelievably effective. I don't know whether it was to do with the place; I'm not sure. But it was amazing. It was one place where I thought I could have realizations. That thought never comes, but it came there."
In Heaven at Kopan

Rinpoche's nonstop travels ground to a halt with the onset of the Coronavirus, so Rinpoche stayed on at Kopan after the 2019 November Course and spent the next four years there — longer than he'd sat in one place during the past fifty years. It must have been heaven. What a relief for Rinpoche's fragile body.
But teachings continued, on video. Rinpoche would sit on his big loungeroom sofa, surrounded by the ever-expanding population of his zany stuffed animals, all adorned with Dharma messages and mantras, teaching whenever and for as long as he liked.
Rinpoche was also surrounded, of course, by numberless statues and thankgas of holy beings and photos of his gurus, with every inch of available horizontal space covered in water bowl offerings. Wherever Rinpoche lived, the offering of water bowls was always a three-hour-a-day job.
 At the height of the pandemic, to alleviate the suffering of the people of Nepal as well as the rest of the world, Rinpoche did a number of Nolsang, Dojre Namjong purification and extensive bath offering, and tea offering with the senior Kopan monks on the hilltop at Kopan. Rinpoche also did regular sur offering, and other extensive prayers and pujas every night. Or he'd meet from time to time with local lamas to do pujas and prayers for the benefit of the world.
As the pandemic restrictions were relaxed, Rinpoche would often make his way down to the Boudha stupa and give spontaneous teachings to the gathered students before circumambulating six times: for the suffering beings of each of the six realms.
A Visit to Tsum

In April this year, Rinpoche was invited to attend special events up in Tsum Valley, northeast of Kathmandu near the border of Tibet, where his close friend Geshe Lama Konchog had spent years in meditation in caves associated with the great Milarepa: "He lived in Vajra Yogini's pure land," Rinpoche said. Geshe-la was close to local lama Drukpa Rinpoche, who oversaw Mu Monastery and Rachen Nunnery, and did much to support them while he was there in the 1970s.
In 2003, Drukpa Rinpoche asked Lama Zopa Rinpoche to take responsibility for the monasteries. Many of Kopan's monks and Kachoe Ghakyil's nuns are from Tsum.
Rinpoche requested Kopan Monastery to take care — and not just spiritually, and not just of the monks and nuns: Kopan offered funds for education, medical care, and gave badly needed support after the 2015 earthquake. Geshe Lama Konchog's attendant, Geshe Zopa, says that Rinpoche is "the parent of all of the villagers."
A week of activities would include the celebration of a hundred years of not killing — in fact, not even harming – animals and other creatures in all thirteen villages in the region. "There was no way you could keep Rinpoche from an event like that!" Ven. Roger says.
Rachen Nunnery was to be the center of celebrations: a thousand people would be taking a Most Secret Hayagriva empowerment; they'd offer Rinpoche a long life puja; all the villagers and government officials would show their appreciation to Rinpoche — even the prime minister of Nepal was to be coming at the end of the event; and, close to Rinpoche's heart, he would be giving the blessing for Rachen to formally become a non-sectarian institution, where teachings and practices would encompass all four Tibetan traditions.
Rinpoche arrived in Tsum on the 10th, first blessing Mu Monastery, then arriving at Rachen Nunnery. Everything went nicely.
The next day Rinpoche visited a nearby Kagyu monastery, and here it was apparent that Rinpoche's breathing was not comfortable. "But we didn't worry too much," Ven. Roger said, "because Rinpoche comes from higher altitudes than these."
The next day there was no improvement, so oxygen bottles were found and eventually professional oxygen equipment was brought up from a nearby village.
By now Ven. Roger was worried. As he did in all important decisions, he consulted Rinpoche, reminding him of the intensity of the upcoming two or three days of the empowerment and suggested they cancel the rest of the visit. Rinpoche did several observations and accepted that was the best.
The news spread quickly among the villagers and many of them wasted no time in making their way to Rinpoche to offer their beautifully framed awards and expressions of devotion and gratitude.
Rinpoche greeted them outside, without oxygen, and for two hours happily gave teachings and the transmission of a practice.
By the third day, April 12, Rinpoche's breathing hadn't improved, so a helicopter was arranged for the following morning. A senior nurse had arrived and she and others monitored Rinpoche throughout the night, checking every two hours. The attendants kept watch all night too.
The helicopter arrived around seven in the morning and the pilot, understanding the urgency to get Rinpoche to a lower altitude, promised he'd take the quickest route.
Rinpoche Dissolves His Mind into the Ultimate Expanse

The Kopan jeep was at Kathmandu airport, ready for Rinpoche. In spite of the lower altitude, his breathing was still difficult. After helping Rinpoche into the front seat and before they drove off, Ven. Roger recommended to Rinpoche that they go straight to hospital.
Rinpoche used his mala to make an observation. "The way Rinpoche did the mo was much quicker than usual," Ven. Roger said. The answer was a decisive, "No. Go straight to Kopan."
Ven. Roger called Kopan and asked them to have Dr. Ram of Karuna Hospital there, ready with oxygen and equipment. Checking on Rinpoche from the back seat, Ven. Roger and the other attendants sat quietly during the thirty-minute drive through the chaos of Kathmandu traffic. Rinpoche, as usual, was in meditation.
Finally at Kopan, they drove through the main gates and took the road that goes past the Chenrezig Gompa, allowing them to pull up by the dining room, right next to the elevator that goes to Rinpoche's apartment above the main gompa. Dr. Ram and his two assistants were anxiously awaiting them.
As soon as Ven. Roger opened the car door to help Rinpoche out, he noticed that Rinpoche's breathing seemed to have stopped.
Dr. Ram was right there and helped Ven. Roger carefully move Rinpoche out of the car onto a stretcher the nurses had prepared.
Dr. Ram and his team spent the next ninety minutes in a desperate effort to revive Rinpoche: they'd check that Rinpoche's airways were clear, do chest compressions, give mouth-to-mouth resuscitation. "They didn't stop. They tried so hard," Ven. Roger said.
He and the other attendants stayed quietly focused throughout —"We were just numb." From a distance, students were gathering, it gradually dawning on them that it was Rinpoche being attended to, not knowing what to think – and not daring to think the worst.
Finally, Dr. Ram, exhausted from his efforts, turned to Ven. Roger and said, "We've done everything we can." It was 9:30am.
Just Sitting Very Nicely
After the heartbreaking news was put out around the world that morning, one of Rinpoche's gurus, His Eminence Jhado Rinpoche, immediately wrote a prayer for Rinpoche's swift return and in a message said, "On April 13, 2023, Lama Zopa Rinpoche, Supreme Refuge and the Luminary of the Teachings, unexpectedly manifested the aspect of dissolving his mind into the ultimate expanse.
"Although this is a great loss, we should take comfort in the certainty that Rinpoche must have a compelling reason to do so."
Needing to put Rinpoche in a place where he could continue his meditation, they gently moved him to a chair and into the elevator, up to his apartment, to his inner room.
Ven. Roger and the attendants sat Rinpoche in his usual meditation place, his pouches of protection mantras in place on his body, his saffron monks' robe around him, legs crossed, hands in his lap — "they went very easily into the meditation mudra" – and holding his mala.
"Then he was just sitting very nicely," Ven. Roger said.
Pay Homage for Years to Come

His Eminence Ling Rinpoche called Ven. Roger and suggested that it would be auspicious to embalm Lama Zopa Rinpoche's holy body, not an uncommon tradition in Tibet, and to use the traditional methods, without chemicals; His Holiness the Dalai Lama agreed. Ling Rinpoche felt that because Rinpoche had so many students and connections with people all around the world, keeping his holy body would allow people to pay homage in the years to come.
This process would commence once it was established that Rinpoche had finished his meditation.
Rinpoche Arises from His Clear Light Meditation

During Rinpoche's meditation, Ven. Roger said he could detect "a fragrance in the air"; other attendants noticed it too.
Late in the evening of the second day, April 14, during the recitation of the Guhyasamaja self-initiation by the tantric monks in the room next to Rinpoche's – where prayers went on twenty-four hours a day – one of Rinpoche's attendants, Ven. Tendar, who was familiar with the practice, decided to check on Rinpoche as soon as he heard the section at the end of the sadhana in which the four goddesses request the yogi "with sweet-sounding melodious song" to arise from his clear light meditation. At that moment he noticed the red bodhichitta coming from Rinpoche's nose, a sign that the mind had left the body, that Rinpoche had finished his clear light meditation. It was 10pm.
Immeasurably Sad and Inexpressibly Grief-Stricken

The news of Rinpoche's passing brought a flood of grief, not just from Rinpoche's students but from his own lamas, his peers, and the thousands of people who've benefited from Rinpoche's munificence around the globe.
In a message, His Eminence Ling Rinpoche said that his heart "was filled with tremendous grief" as soon as he heard "the sad news that Kyabje Lama Zopa Rinpoche had shown the aspect of suddenly absorbing his holy mind into the dharmadātu. . . ."
The hundreds of monks of Kopan and nuns of Kachoe Ghakyil began forty-nine days of round-the-clock pujas and self-initiations. Monasteries, nunneries and other organizations offered prayers and butter lamps.
Thousands of students around the world, at home and at the centers, met daily on Zoom to recite the prayers advised by His Holiness the Dalai Lama — among them, heartfelt requests to Rinpoche to come back soon, including one by His Holiness.
During the ensuing days and weeks, students flocked to Kopan from all over the world, for a day, a week, or longer, meeting for four sessions a day in the Chenrezig Gompa, with small groups meeting each afternoon near Rinpoche's holy body, reciting prayers together.
Some eighty monasteries and organizations, as well as lamas and others, wrote heartfelt letters or came to Kopan personally. The prevailing feeling expressed by all of them, in person or in their letters of condolence, was of loss, of sadness, of shock.
The head of the Gelugpas, the Ganden Tripa, Lobsang Tenzin Rinpoche, said that when he heard the news that "the incomparably Glorious Savior" has passed away he felt "sad and lost. Although this is a devastation for the Dharma. . .Rinpoche had accomplished his life's deeds."
His Holiness he 17th Gyalwang Karmapa, Ogyen Trinley Dorje, said "I myself met this great master many times and was taken by his humble, open nature and demeanor." He said that "his main practice was bodhichitta; he lived the example of the Kadampa masters of old. He was known as a master of the Gelukpa lineage, but he held a profound pure view of all lineages."
The Supreme Head of the Sakyapa Order, His Holiness Kyabgon Gongma Trichen Rinpoche, said that as soon as he heard "the sad news of the passing of His Eminence Lama Zopa Rinpoche, who has extraordinarily dedicated his entire life for the Buddhadharma in all its aspects of exposition, practice and rituals, I immediately felt a great sense of loss, sorrow, and helplessness."
His Eminence the 12th Jamgon Kenting Tai Situ Rinpoche visited Kopan and talked personally to Rinpoche for thirty minutes, as if he were right there: "Okay! You are the one who gave up your entire life for sake of the Buddha's precious teachings. without anything for yourself. Great, noble-hearted Zopa Rinpoche, my friend, old friend."
Dromo Geshe Rinpoche wrote about "the loss of such a precious and loving guru."
Sera Me Monastery's Geshe Thubten Rinchen Rinpoche, who'd known Rinpoche since their days together in Buxa, told the monks at Kopan House at Sera Je on the evening of April 13 that after thinking throughout the day about how this "inconceivably kind and great holy being has passed away, I became immeasurably sad and inexpressibly grief-stricken."
Rinpoche's devoted disciple, Khandro Tseringma Rinpoche, who came immediately to Kopan, was heartbroken. "I invoke you! I call upon you! I implore you on behalf of all beings!" she wrote in her prayer. "Arise! Arise! Arise from the dharmakaya! Do not rest in Khecara or other pure, celestial realms. . . . This lament was made by me, a dakini with pure faith and samaya, her eyes filled with tears of sorrow."
Tenzin Osel Rinpoche, the reincarnation of Lama Yeshe, gave a talk to the students.
Ganden Shartse abbot Khen Rinpoche Jangchup Sangye, who was originally from Mu Monastery in the Tsum Valley, wrote to Ven. Roger that for the people of Tsum, "Kyabje Lama Zopa Rinpoche, whose kindness is immeasurable both in spiritual and material gifts, is the principal guru and spiritual head of Mu Monastery and Rachen Nunnery."
Chokyi Nyima Rinpoche, a close friend of Lama Zopa Rinpoche's since their time together at the school run by Freda Bedi, said that "now as I reflect on his momentous undertakings for the benefit of beings. . .I experience a deep sense of admiration and appreciation and an even deeper sense of loss at his passing."
Tulku Tenzin Gyurmey of Rinpoche's house at Sera Je wrote that "there is no doubt that Rinpoche is the upholder of the Kadam lineage of practices and every word that he spoke comes from his practice, which makes him a unique and rare gem in this world."
One lama, Lelung Rinpoche, came to Kopan on the day Rinpoche stopped breathing to pay his respects. His heartfelt prayer for Rinpoche's swift return was "written spontaneously" while he sat in the room next to where Rinpoche was meditating, "while remembering the life and activities of the great being, the great unequalled lamp of the teachings, the supreme Lama Thubten Zopa Rinpoche, at the time when he departed for the sake of others, April 13, 2023."
All the lamas exhorted Rinpoche's students, as His Holiness the Karmapa did, "to continue as before with your practice of listening, contemplation, and meditation without slackening even the slightest. "Please do whatever you can to fulfill the wishes of this great and glorious lama."
Many other lamas visited Kopan: Osel Dorje Rinpoche; His Eminence Jangtse Choeje Kyabje Gosok Rinpoche; Khen Rinpoche Geshe Tashi Tsethar, abbot of Sera Je Monastery; His Eminence Kyabje Zong Rinpoche; His Eminence the 3rd Serkong Dorje Chang Rinpoche; Khen Rinpoche Kyabje Thamthog Rinpoche; Tsoknyi Rinpoche, Mingyur Rinpoche; Sherab Tendar Rinpoche of Osel Choeling Monastery; Ngawang Lapsum Rinpoche, head lama of Rolwaling monastery; Sendak Tulku Rinpoche, president of Nepal Buddhist Nyingma Association; Khenpo Gyurme Tsultrim of Shechen Monastery; Khen Rinpoche Tenzin Drogon, abbot of Sheldar Choede Monastery; Ani Choying Drolma.
"As if Dear Lama Zopa Rinpoche Is Right Beside Me"
In a message accompanying his prayer for Rinpoche's swift return, His Holiness the Dalai Lama said, "While it is devastating that Zopa Rinpoche has departed in this way, the most important thing is that when he was with us, he made the precious mind of enlightenment the foundation of his practice."
"And so, if his followers who have been left behind properly emulate the guru's life, it is exactly that which will definitely fulfill Rinpoche's wishes.
"Therefore, keep this in mind, and from now on also make requests to the Three Jewels and earnest dedication prayers."
At a meeting in Dharamsala on April 26 attended by Ven. Roger and other directors on the board of FPMT Inc., His Holiness promised that he would help identify the reincarnation.
"I have fond feelings for dear Rinpoche. He was so loyal and good to me," His Holiness said. "Therefore, I have the responsibility to find the unmistaken reincarnation of Lama Zopa Rinpoche so that the reincarnation will continue to benefit the Dharma."
Rinpoche had instructed that no one person would take on the job of spiritual director after he passed away, so on behalf of the board and in keeping with Rinpoche's wishes, Ven. Roger requested His Holiness for guidance.
"From my side," His Holiness promised, "I will continuously offer every possible support, as if dear Lama Zopa Rinpoche is right beside me."
"Now it is important to continue to fulfill the wishes Lama Zopa Rinpoche had while he was alive."
---
Written by Ven. Robina Courtin with thanks to Lawudo Lama by Ven. Jamyang Wangmo, Wisdom Publications; Big Love, by Adèle Hulse, Lama Yeshe Wisdom Archive; Wisdom magazine 2, 1984, Lama Yeshe Wisdom Archive; and Ven. Ngawang Samten.
Chapters
"This is the Bodhisattva's Way of Life" | Even More Compassion | "That is My Home!" | A New Direction | Escape to India
Meeting Lama Yeshe | Kopan Monastery: A Dual Facility | The Perfect Disciple | A Pandit | A Yogi | An Artist
Kopan Monastery: The Wellspring of FPMT | Lama and Rinpoche Were One | The Guiding Light
Everything Exists on the Tip of a Wish | The Guru is Buddha | In Heaven at Kopan | A Visit to Tsum
Rinpoche Dissolves His Mind Into the Ultimate Expanse | Just Sitting Very Nicely | Pay Homage for Years to Come
Rinpoche Arises from His Clear Light Meditation | Immeasurably Sad and Inexpressibly Grief-Stricken
"As if Dear Lama Zopa Rinpoche is Right Beside Me"