News/Media

*If a menu item has a submenu clicking once will expand the menu clicking twice will open the page.

Study & Practice

*If a menu item has a submenu clicking once will expand the menu clicking twice will open the page.

Projects

*If a menu item has a submenu clicking once will expand the menu clicking twice will open the page.

FPMT

You can see from your own life experiences how the environment can affect you. When you're among peaceful, generous, happy people, you're inclined to feel happy and peaceful yourself. When you're among angry, aggressive people, you tend to become like them. The human mind is like a mirror. Therefore, it is very important to be conscious of your surroundings and how they affect your mind.

Lama Thubten Yeshe

*If a menu item has a submenu clicking once will expand the menu clicking twice will open the page.

Shop

The Foundation Store is FPMT's online shop and features a vast selection of Buddhist study and practice materials written or recommended by our lineage gurus. These items include homestudy programs, prayers and practices in PDF or eBook format, materials for children, and other resources to support practitioners.

Items displayed in the shop are made available for Dharma practice and educational purposes, and never for the purpose of profiting from their sale. Please read FPMT Foundation Store Policy Regarding Dharma Items for more information.
The living likeness of Lama Thubten Yeshe
by George Galt
Creating a three-dimensional image of Lama Yeshe as he appeared to his students while teaching was, many thought, an impossible task. Yet sculptor Jim Westbrook, himself a student of Lama Yeshe, has created a life-size bronze statue that effectively captures an aspect of Lama's lightning energy.
When he was teaching, Lama Thubten Yeshe was constantly in motion. No one who ever saw him could easily forget the thump of a hand to his chest to illustrate the inner nature of compassion, or the arch of his eyebrow as he asked, "Understand, dear?" Lama Yeshe used hand gesture, facial expression, and body language fluently in his quest to bring Buddhism to Westerners.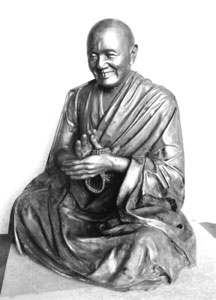 Lama Yeshe's style of teaching was deeply radical in the context of traditional Tibetan Buddhism. He actively sought Western students from among the hippies who found their way to Nepal in the 1970s. He connected them to Buddhism with his vibrant humor, his inexhaustible appetite for questions, and his patient research into his students' culture, interests, and concerns. His palpable compassion drew people to him, and his skill in using any teaching means at his disposal, including the roller coasters at Disneyland, kept them involved. He taught a semester at University of California at Santa Cruz, and after explaining the negative consequences of violent behavior, got everyone in his class to promise not to kill people in order to solve problems. Effectively, he had everyone take refuge, but without mentioning Buddha, Dharma, or Sangha.
So it seems fitting that an image of Lama Yeshe would reflect that radical nature by portraying him as he appeared during his teaching career, even though, traditionally in Tibet, when a statue of a departed lama was commissioned, the image presented was youthful and idealized.
Jim Westbrook received the request for such a statue from two different sources at around the same time. He had gone to visit Lama Zopa Rinpoche, and Jim's wife Kathy had shown Rinpoche Jim's realistic sculpture of a Tibetan woman. "Rinpoche had great fun with that sculpture," Jim said. "He dressed it up in robes and took it to show to Geshe Sopa. I knew when Rinpoche then asked me to sculpt Lama Yeshe that he wanted an image like that. The project was interesting to me because it was iconoclastic, and this direction came from Rinpoche."
Simultaneously, a committee interested in creating a shrine for Lama Yeshe at Lama's cremation site at Vajrapani Institute also approached Jim about creating a life-size and life-like statue to be the centerpiece of the shrine, and raised enough money to begin work. A well-known photo of Lama Yeshe teaching was chosen as the principal example of the image to be created.