News/Media

*If a menu item has a submenu clicking once will expand the menu clicking twice will open the page.

Study & Practice

*If a menu item has a submenu clicking once will expand the menu clicking twice will open the page.

Projects

*If a menu item has a submenu clicking once will expand the menu clicking twice will open the page.

FPMT

Problems come when you are not living in a natural state of mind. Then, no matter what you are doing, your mind will be on something else. You are supposed to be cleaning your house, but your mind is thinking about going to the beach and eating ice cream. That is when you run into difficulties.

Lama Thubten Yeshe

*If a menu item has a submenu clicking once will expand the menu clicking twice will open the page.

Shop

The Foundation Store is FPMT's online shop and features a vast selection of Buddhist study and practice materials written or recommended by our lineage gurus. These items include homestudy programs, prayers and practices in PDF or eBook format, materials for children, and other resources to support practitioners.

Items displayed in the shop are made available for Dharma practice and educational purposes, and never for the purpose of profiting from their sale. Please read FPMT Foundation Store Policy Regarding Dharma Items for more information.
By Lama Yeshe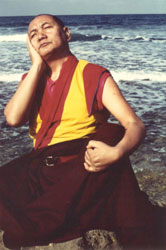 Of course, once you get into the details, karma can be extraordinarily complex, but when I introduce it to beginners, I try to keep it simple so that they can get at least a basic intellectual understanding. In reality, the only way you can get a total understanding of karma is through your own experience, and that experience is beyond words.
Trying to get a complete understanding of karma through the intellect alone is like trying to count every atom of earth, water, fire, and air in the universe, which is impossible,
Fundamentally, what is karma? Karma is your body, speech, and mind. That's it. It's very simple. If I were to try to compare the subject of karma to the kinds of subjects you study in the West, I'd say that it parallels in some ways the theory of the evolution of everything that exists. Karma encompasses everything on Earth and beyond, every existent phenomenon in the universe, throughout infinite space – in Buddhist terms, every phenomenon in samsara and nirvana. Karma is the energy of all phenomena and has nothing to do with what your mind believes.
If karma encompasses all relative phenomena, are these phenomena interconnected? Even modern science understands that all the energy in the universe is interdependently related; this is not just Buddhist dogma.
For example, where does all the green vegetation we see around us come from? It doesn't arise without cause. First there has to be a cause; then, the effect – the relative appearance of the green – arises. Similarly, each of us also has a cause; we, too, are interdependent phenomena. We depend on other energies for our existence. Those energies, in turn, depend on yet other energies. In this way, all energy is linked.
You probably think your body comes from the supermarket: As long as the supermarket's there, you can eat; as long as you can eat, you exist. Obviously, it goes much deeper than that. Therefore, your conception of what you are – "I am. I'm this; I'm that; I'm this" – is like a dream. Intuitively, your ego has this notion that you're independent, that you're not a dependent phenomenon. That's complete rubbish.
If you look, you can easily see how you're interdependent. It only becomes complicated if your mind thinks it's complicated. Your mind makes things up. That's karma, too – an interdependent phenomenon; it exists in relation to other energy. If you understand the basic simplicity of this, you'll be more careful in the way you act because you'll realize that every single action of your body, speech, and mind produces a reaction …
Excerpted from a teaching by Lama Yeshe at Chenrezig Institute, Australia, 28 June 1976. Edited from the Lama Yeshe Wisdom Archive by Dr. Nick Ribush.