News/Media

*If a menu item has a submenu clicking once will expand the menu clicking twice will open the page.

Study & Practice

*If a menu item has a submenu clicking once will expand the menu clicking twice will open the page.

Projects

*If a menu item has a submenu clicking once will expand the menu clicking twice will open the page.

FPMT

Superficial observation of the sense world might lead you to believe that people's problems are different, but if you check more deeply, you will see that fundamentally, they are the same. What makes people's problems appear unique is their different interpretation of their experiences.

Lama Thubten Yeshe

*If a menu item has a submenu clicking once will expand the menu clicking twice will open the page.

Shop

The Foundation Store is FPMT's online shop and features a vast selection of Buddhist study and practice materials written or recommended by our lineage gurus. These items include homestudy programs, prayers and practices in PDF or eBook format, materials for children, and other resources to support practitioners.

Items displayed in the shop are made available for Dharma practice and educational purposes, and never for the purpose of profiting from their sale. Please read FPMT Foundation Store Policy Regarding Dharma Items for more information.
The Works of Geshe Jampa Gyatso at Pomaia
February / March 2008
By Ven. Joan Nicell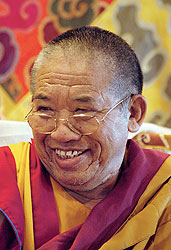 Geshe-la, as he was affectionately known to all, arrived at Istituto Lama Tzong Khapa, Pomaia (Italy), on November 30, 1980, and unexpectedly left us almost exactly twenty-seven years later on November 27, 2007. While the facts about what Geshe-la taught and did in those twenty-seven years are easy to recount, it is not so easy to describe what he did for so many people during that time. However, to begin with, it is probably not an exaggeration to say that he, in all likelihood, gave more hours of teaching in the West than any other Tibetan lama.
In 1983, at the request of Lama Yeshe, he set up a seven-year teacher training program in Sutra and Tantra as well as a twelve-year Geshe Studies Program that, between them, were to include not only commentaries on three of the five great texts studied in Tibetan monastic universities, but also commentaries on the four classes of tantra and the Guhyasamaja Tantra, as well as on six of the supplementary subjects.
When I first came to the Institute in 1990, Geshe-la had completed his commentary on the Ornament for Clear Realization and was teaching the last chapter of the second of the great treatises, Chandrakirti's Supplement to the Middle Way, to an extremely small group of disciples. In fact often the staff – Geshe-la, George Churinoff (the textual translator), plus the Tibetan-English and English-Italian interpreters – outnumbered the students in the gompa. Upon asking about this sad situation, I was told that it had not always been like this, and that in 1983, there had been many students who had engaged with great enthusiasm in the study of the Ornament for Clear Realization. But the years passed and, with many interruptions to the program for a variety of reasons including a lack of translators, the number of students slowly dwindled as they experienced difficulties in supporting themselves economically, and either left the Institute or began to work full-time in various positions in the Institute. In spite of this, Geshe-la himself never seemed to become discouraged and continued on to finish commenting on the Supplement to the Middle Way in 1991, as well as the Treasury of Manifest Knowledge in 1997. He once told me that he had been determined to finish teaching these three great treatises because he had promised Lama Yeshe that he would do so.
In the meantime Geshe-la also taught regular weekend courses, not only at the Institute but at many other centers all over Italy, as well as occasionally in Spain and England. On average he would teach three out of four weekends a month, in addition to the regular teachings on Buddhist philosophy from Monday to Friday. Often he would leave on Friday afternoon and return either late Sunday or Monday morning, yet still he would be in the gompa on Monday evening, teaching us the intricacies of Buddhist philosophy with great patience and thoroughness. When his translator came down with tuberculosis in 1992, Geshe-la began to teach both weekend courses and the Treasury of Manifest Knowledge in what he himself always called his "broken English." For those of us who had deciphered his "broken English," it was a joy to directly receive the unmistaken Dharma from such a great master.
In 1996, Thubten Pende, the recently appointed director of the new FPMT Education Department, suggested that a revised edition of the Geshe Studies Program be taught by Geshe Jampa Gyatso at the Institute. The following year was spent in organizing and advertising the newly created seven-year Masters Program, complete with the study of the three great treatises as well as one year devoted to an overview of tantra in general and another to the in-depth study of the Guhyasamaja Tantra. In January 1998 Geshe-la began to teach the Ornament to the thirty-five students who had come from all over the world to study Buddhist philosophy (in the small Italian village of Pomaia) with a living master who had earned a reputation for his scholarly knowledge as well as his down-to-earth practical approach to Dharma in daily life.
In the fall of 2001, half way through the Masters Program, Geshe-la was diagnosed with lung cancer [see "The Death of Geshe Jampa Gyatso" page XX]. Geshe-la continued to teach the Masters Program, lessening only his schedule of weekend teachings outside the Institute.
Although the Masters Program must have been easier than the early years of the Geshe Studies Program, it was still a pioneer program and fraught with many difficulties for the students and staff alike. However, in spite of this, twenty students completed the entire seven-year program while another thirty completed one or more subjects. The Masters Program was followed by a two-and-a-half year Basic Program, offered both as a full-time residential program as well as a correspondence course. Geshe-la shared the teaching of the nine core subjects with the Institute's second resident lama, Geshe Tenzin Tenphel, who taught the philosophical subjects, while Geshe-la himself taught the more practice-oriented texts. This time, sixteen people completed the entire residential program while another twenty-nine completed one or more subjects, nineteen completed all nine subjects by correspondence, and another forty-six completed one or more subjects by correspondence. Requested by both His Holiness the Dalai Lama and Lama Zopa Rinpoche, Geshe-la had accepted to teach another Masters Program beginning in January 2008. Eighty students have been accepted into the program.
Geshe-la was the motivating force behind many Dharma activities. He was directly and indirectly involved in the founding of many Dharma centers in Italy, as well as a monastery and nunnery at the Institute, and more recently the acquisition of twenty acres of land near the Institute for the future construction of a joint monastery and nunnery. In 1986 he was appointed abbot by Lama Zopa Rinpoche of the newly founded Takden Shedrup Dhargye Ling Monastery, and in 1990 was appointed abbot of the newly founded Shenphen Samten Ling Nunnery. In 1994 he was asked by Lama Zopa Rinpoche to be the abbot of Nalanda Monastery in France, where he was invited to teach annually. In addition, he benefited his many disciples in India by paying regular visits over the years to his house in Sera Je Monastery where he was asked by the Tibetan monks to teach various subjects.
In addition to his 480-page thesis on the three exalted knowers, over the years Geshe-la also composed several texts in Tibetan, and a commentary by him on the practice of Prostrations to the Thirty-Five Buddhas, called Everlasting Rain of Nectar, has been published in both English and Italian. Also a commentary on "Minds and Mental Factors" and a collection of short teachings have been published in Italian. Numerous transcripts of his teachings (including his Masters Program and Basic Program teachings) are available as unpublished manuscripts in both English and Italian. The list of teachings given at Istituto Lama Tzong Khapa alone number 380 courses – and that does not include the numerous empowerments that he gave, nor the annual tantric retreats that he led.
Geshe-la was involved in all four visits of His Holiness the Dalai Lama to the Institute, as well as the visits of many other important lamas. He oversaw the building of three stupas at the Institute, the filling of a prayer wheel containing 21 billion mantras, and the transformation of an old and ruined chapel into a beautiful temple dedicated to Chenrezig. He regularly filled and consecrated the many statues brought to him by his disciples. He was involved in everything to do with the Dharma at the Institute, from choosing the color of paint for the interior of altar, to the redecorating of the protector gompa, to the construction of a celestial mansion for empowerments, to the organizing of elaborate rituals (the blessing of wealth vases, long life pujas, the annual Losar puja, the conferral of empowerments both by him and other lamas, fire pujas…).
In addition, Geshe-la was involved in every major, and many minor, administrative decisions at the Institute and in other Dharma centers (from what to do with mentally-ill guests and volunteers up to the construction of new buildings to provide accommodation for an ever-growing number of students). He attended public conferences, inter-religious dialogues, political encounters, and did whatever he could to support Tibet in its struggle for autonomy. He accepted interviews with reporters and occasionally appeared on television. In spite of his dislike for long meals, he always accepted our invitations to his birthday celebrations, Losar lunches, and Christmas dinners. He learned and respected our Western customs and traditions.
He gave advice and did divinations regarding anything and everything, from which doctors and treatments were the best for a particular illness, to how to find (or keep!) a partner, what to do with troublesome children, a sick parent, a difficult employer, competition from colleagues, whether it was the right moment to change jobs, to buy a new house, to set up one's own business, to take ordination, to have a child… His door was always open to everyone. To everyone he would say "I will pray," but he also actually helped people find a partner, a job, an apartment to rent, a house to buy… He made peace between partners, as well as between parents and children, even telephoning one of the parties involved to talk to them personally.
Geshe-la taught us not to misuse our own or others' belongings, to not waste or throw out what could still be used, to not go running after the latest gadget, whether a cell phone or a car. He showed us how to laugh at ourselves, our silly habits, our shortcomings, our weaknesses. He taught us to accept ourselves for what we are, while striving to become the buddha that is everyone's potential. He taught us with endless patience, repeating time and again how to develop equanimity, love, compassion, patience, concentration, and wisdom. He told us his favorite stories over and over again, checking our memory by always adding a slight variation from the time before. He delighted us with his acting out of the sufferings of aging (often pointing out the fact that we would have a heart attack if we were suddenly to wake up old with a wrinkled face, gray hair, no teeth, loose skin), as well as the torment of attachment and the way we say "I love you," while meaning "I am attached to you." He shocked us with his outspoken opinions about politics and politicians (both Western and Tibetan). He surprised us with his lack of etiquette, tranquilly cleaning the wax out of his ears, taking out his false teeth to clean them, or scratching his legs or back while we talked to him. He charmed us with his imitations of people, his knowledge of our world, his insight into our lives and problems. He forced us to work on ourselves, on our minds, on our mistaken way of viewing ourselves and our world. He made us be truthful and honest with him and with ourselves. In short, he never put up with any of our usual garbage.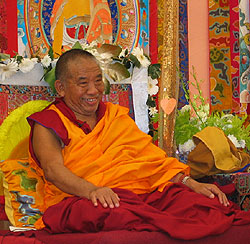 Geshe-la always found a way to communicate with people, whether they were Buddhists or not. He could talk with great expertise on politics, especially Italian politics (he watched the news everyday when he was not in retreat), as well as on world events and sports (especially his favorite Italian sport, soccer). He was curious about everything and everyone, he missed nothing. Often he would interrogate us on some subject, only for us to then find out that he knew far more about the subject than the person he was questioning! He was known for his computer-like memory, not only of the names of the many people he met, but also where they were from and where they lived, what kind of job they had, how many children they had, what their difficulties and problems were…
Geshe-la, on the outside, was always a simple and humble human being. He never showed off his knowledge, and was the first to say that he did not know something or had forgotten something. He had no recipes in his dealings with people:  He could be whatever they wanted him to be – a kind parent, a shoulder to cry on, a friend to share problems with, a priest to confess to, a therapist and counselor, a learned scholar, a tantric yogi. In fact he was all these and much more. He left an imprint on everyone who met him, with his joy, his huge smile, and his contagious laughter. He had a forthright way of telling us how things are without any of the usual political correctness. He could be wrathful and tough. He could be as soft and loving as a mother with a newborn child. He was at his ease with everyone and in every situation.
The Institute is a lonely place without Geshe-la, it is as if the very heart of this place has come to a stop. However, all of us here are determined to carry on the many projects he initiated, of which the upcoming Masters Program and the construction of the new monastery are the priorities. May he swiftly return to teach and guide us once again. …