News/Media

*If a menu item has a submenu clicking once will expand the menu clicking twice will open the page.

Study & Practice

*If a menu item has a submenu clicking once will expand the menu clicking twice will open the page.

Projects

*If a menu item has a submenu clicking once will expand the menu clicking twice will open the page.

FPMT

Every second of this human life gives us the freedom to choose between hell and enlightenment, samsara and liberation.

Lama Zopa Rinpoche

*If a menu item has a submenu clicking once will expand the menu clicking twice will open the page.

Shop

The Foundation Store is FPMT's online shop and features a vast selection of Buddhist study and practice materials written or recommended by our lineage gurus. These items include homestudy programs, prayers and practices in PDF or eBook format, materials for children, and other resources to support practitioners.

Items displayed in the shop are made available for Dharma practice and educational purposes, and never for the purpose of profiting from their sale. Please read FPMT Foundation Store Policy Regarding Dharma Items for more information.
New Director of FPMT International Office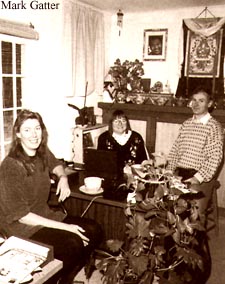 In November, Lama Zopa Rinpoche appointed Sharon Gross director of the FPMT International Office in Soquel, California. She takes over from Harvey Horrocks, who has been director since 1987, and Petra McWilliams, who joined him as co-director two years ago.
Sharon met the Dharma in 1974, attending the Kopan Fifth Course. She studied the FPMT Geshe Program for several years with Geshe Jampa Tegchog at Manjushri Institute in England and later in France, before returning to the USA and settling in Santa Cruz. She joined International Office in nearby Soquel as office manager in July last year.
"It is an excellent change, said Harvey. "I am very confident that Sharon will do a good job."
"During the past few years, a lot of thought and energy have gone into improving and expanding the International Office so that it can better serve its main purpose as administrative office of Lama Zopa Rinpoche, the spiritual director of the FPMT, as well as serve the almost 100 centers and follow through on the many projects that Rinpoche initiates," said Petra.
"With Sharon as the new director, I can now focus my attention on taking care of the needs of the worldwide centers, and Harvey devotes his time to large developmental plans, especially related to FPMT Board plus assert management," Petra said. "I will continue to work closely with Rinpoche and his attendant Ven. Roger Kunsang to serve the centers and facilitate communication between Rinpoche and the centers."
The office started at Kopan Monastery in Nepal in the mid-seventies as, basically, the extension of the secretary of Lama Thubten Yeshe. Peter Kedge, who did the job first, passed it on to Jacie Keeley; by now it was called Central Office. Jacie expanded the office and moved it to Istituto Lama Tzong Khapa in Italy. Jeff Nye and Ven. Yeshe Khadro did brief stints as director, then Harvey Horrocks took over.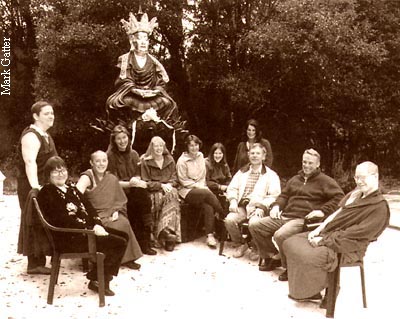 Central Office moved to the United States in 1989, where it has remained. Based at Land of Medicine Buddha, it was renamed earlier this year as International Office, where there is now a staff of 1l in the four areas of activity: Education, Center Services, Finance and Mandala, the newsmagazine of the FPMT.
"We were able to expand four years ago because of a kind benefactor, who offered $100,000 a year for five years," said Harvev. Mandala, which he started in 1987, changed to its present format; more staff joined the office; and a property and house next door to Land of Medicine Buddha were purchased, which will be the office's new home in February.
"Our benefactor continues to support us," Harvey said. "She has offered healthcare benefits to the staff and has established an education fund, which, among other things, will give scholarships to selected students of the new Master's Program in Italy."
"I am delighted to be part of the International Office staff," Sharon Gross said. "As director, my job is to manage our growth, office and staff. At this stage in our evolution we are determining better ways to work as a team in order to implement more services, develop more systems and produce tangible products for use by the centers and individuals, such as prayer book and education curriculum guidelines.
"I look forward to a harmonious evolution to better serve all the needs of the FPMT and to be able to assist Lama Zopa Rinpoche to accomplish many more of his wishes," said Sharon.
FPMT education fund
A grant provider for international FPMT education projects

A fund exists to provide financial support for FPMT projects. A grant committee meets periodically to evaluate areas of support and review applications. Applications are currently being solicited.

Application Information: Detailed guidelines that outline eligibility requirements, deadlines, application procedures, review process and notification dates are available from the FPMT International Office.

Please address inquiries to:

FPMT Education Fund
125 B La Posta Road
Taos, NM 87571 USA