News/Media

*If a menu item has a submenu clicking once will expand the menu clicking twice will open the page.

Study & Practice

*If a menu item has a submenu clicking once will expand the menu clicking twice will open the page.

Projects

*If a menu item has a submenu clicking once will expand the menu clicking twice will open the page.

FPMT

Death could come any minute so transform your life into Dharma.

Lama Zopa Rinpoche

*If a menu item has a submenu clicking once will expand the menu clicking twice will open the page.

Shop

The Foundation Store is FPMT's online shop and features a vast selection of Buddhist study and practice materials written or recommended by our lineage gurus. These items include homestudy programs, prayers and practices in PDF or eBook format, materials for children, and other resources to support practitioners.

Items displayed in the shop are made available for Dharma practice and educational purposes, and never for the purpose of profiting from their sale. Please read FPMT Foundation Store Policy Regarding Dharma Items for more information.
FPMT News Around the World
October / December 2009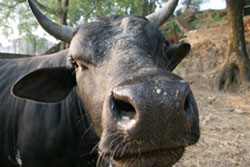 INTERNATIONAL
A new FPMT project, named Enlightenment for the Dear Animals, seeks to help people benefit animals by providing information, advice, and news, as well as providing a forum for sharing stories and linking people around the world who are helping animals. Their first newsletter is available and contains the newsletter of the Animal Liberation Sanctuary.
Although their website is currently under construction, Enlightenment for Dear Animals is always looking for new animal stories and experiences with a Buddhist twist. They also want to know if your center is planning any activities relating to animals so this news can be shared with others.
Enlightenment for Dear Animals is also enthusiastic about upcoming World Animal Day on October 4, 2009. On this day, animal life in all its forms is celebrated, and special events are planned all over the world. World Animal Day is observed by animal-lovers of all beliefs, nationalities and backgrounds, and animal blessings are held in churches, synagogues, in parks and fields; animal rescue shelters hold events, open houses, and organize information displays; schools undertake animal-related project work; and individuals and groups of friends and co-workers donate to animal charities or pledge to sponsor shelter animals.
Lama Zopa Rinpoche encourages all of us to do more for animals and would like to see more animal liberations and animal blessings taking place at centers. With this in mind, Enlightenment for the Dear Animals encourages FPMT centers to do something positive for animals specifically on this day, whether it be hosting a simple talk or movie screening, joining with the local church and animal groups for an interfaith event, or hosting a pet blessing day or an animal liberation. Enlightenment for the Dear Animals would like to see this as an annual event that features in the program of centers, similar to International Sangha Day events. Please remember to let them know of your activity so that they can share it with others on their website.
AUSTRALIA
Ven. Chodron Interview with Palliative Care Network 
Palliative Care Network – e, a global organization dedicated to providing free palliative care education, interviewed Ven. Tenzin Chodron from Karuna Hospice Service for the organization's audio library.
The interview touches on the Buddhist perspective on death and dying, and the work of Karuna Hospice Service. Ven. Chodron draws from a wealth of experience at Karuna Hospice Service, giving intelligent and sincere answers to questions regarding spiritual practices at the time of death, pain management and grief at the death of children, among other fascinating topics.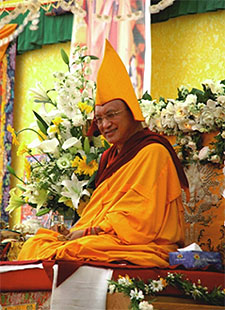 FRANCE
Praise for Rinpoche
At a recent long life puja for Rinpoche, Gordon McDougall composed and offered this unique praise for the holy guru:
Request to Kyabje Thubten Zopa Rinpoche on the Occasion of the End of the One Hundred Million Manis Retreat, Institut Vajra Yogini, June 4, 2009.
Dear Mum,
Well, here I am in the south of France staying at a lovely chateau. The weather's great and the food's great, and there are lots of friends here and I'm averaging four hours sleep a night and I've done 47,000 prostrations and …
How would we lay people tell our friends about this last month? How would we explain the sleep deprivation, the fifteen hour's sitting a day, the pain, the discomfort, the purification, the precepts, the whole works? How would we explain our south of France holiday that had no alcohol, clubs, swimming pools, no sex? How would we explain all this?
In a word … Rinpoche.
Who else could put us through all this?
Who else could help us understand and endure it?
Who else could give us the chance to do 100 million manis for His Holiness?
Who else could give us a month face to face with our self-cherishing? 
Who else could help us open our hearts to others?
Who else could introduce us to our minds and give us the tools to deal with it?
Who else could inspire and energize us so we can actually enjoy it?
Who else could create this pure land we are living in?
In four words … Kyabje Thubten Zopa Rinpoche.
You are patience, but maybe when teaching us You still have to use the mantra You gave us to increase patience. Many of us who have sat before You for decades still haven't got it but You never give up on us. You never give up on anyone. Rinpoche, never ever give up on us no matter how long it takes.
With the way You live, You are our ultimate role model, showing us by example how it is possible to live in complete purity.
You combine wisdom and compassion in a way that is the perfect antidote for all of us "illusioned" students. Knowing our minds, You have the skill to crack even the thickest of the thick-skulled ones amongst us. You take us from tears of unbearable compassion to tears of laughter, laughing at Yourself, playing with words, even sometimes manifesting forgetfulness to make the old ones amongst us feel better.
The breadth of the methods You use on us is amazing. Amazing! No matter how deluded we might be, You have a means to bring us benefit. You teach us to trust You, and You teach us to take responsibility for our own lives.
You present us the broadest picture and the finest detail, from how to play the cymbals to the meaning of one word in a prayer. You play with our minds, creating conditions where we are confronted with our delusions and with our true (yet not truly existing) potential.
While we sleep our blissful four hours a day, You work, endless projects manifesting and growing like the offerings You ask us to make. It's impossible to conceive the breadth of Your vision, the scope of Your projects. Manifesting in human form for us, surely in reality You must have a thousand arms and a thousand eyes just to be able to do a thousandth of the work You do for sentient beings.
Unexcelled master at explaining wisdom, even turning the dedications into a teaching on emptiness! From the most profound, to the most practical, effective methods we can use in our everyday life, for all the sentient beings who aren't even there. At all. In the way we perceive them.
Above all, You are compassion. Unimaginable and vast compassion for all beings, from the wounded pigeon to the plane crash victims, to all of us wandering the six realms, full of delusions and suffering. Your incredible kindness to all us students!
When our self-cherishing reacts to the hours and the practice, You are our compassionate torturer. 
When our minds are drunk with lethargy, You are our wake-up call.
When our self is crying 'me, me,' You are our bath of compassion.
When the child within cries enough, You lead us from delusion to awaken our potential.
When our hearts are open, You are our mother and father, all-loving.
You are always in our hearts, but …
What a joy! What a joy! To have You here with us for a full month! To be part of Your mandala and experience the family feeling of the FPMT. Like the mandala offering splitting into atoms, we'll carry this inspiration back with us all over the world.
With our dull minds we can't see a millionth of Your great qualities, a billionth, a zillionth, and yet, in our own deluded way, we can see some of what You do for us.
While we thrash about in samsara, eating, sleeping, working, making mistakes, You remain there immutable, the heart of our hearts.
Wow! You started the retreat by saying we should do for liberation what people do for football. People cheer when their country wins the European Cup. (Cheers! Cheers!) But here, at the end of this amazing – AMAZING! – retreat, we have just won a million European Cups full of merit (Cheers! Cheers!), a billion European Cups full of merit (Cheers! Cheers!), a zillion European Cups full of merit (Cheers! Cheers!), skies full of European Cups full of merit! (Cheers! Cheers!)
And that's another thing. You've taught us how to rejoice.
So, Rinpoche, please, please, please have a long, long life. Please, please, please remain to guide us forever through all our future lives. Please be the unerring guide to all mother sentient beings and lead us all to enlightenment (which is empty from its own side) without even a second's delay, by Yourself alone!
Precious Rinpoche, please, please, please live long!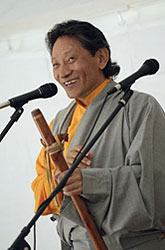 UNITED STATES
Milarepa Festival Day on Chokhor
Duchen at Milarepa Center
At Milarepa Center in Vermont July 25 marked not only Chokhor Duchen, the anniversary of the Buddha's first teaching on the four noble truths, but was also a celebration of Milarepa Festival Day with special guest, renowned Tibetan flautist, Nawang Khechog. More than 100 people joined in for a delicious Tibetan lunch including delectable momos that were served along with Nawang's highly uplifting music and teachings. We were especially delighted to have a visit by a Sherpa family who originally came from Thame, Lama Zopa Rinpoche's birthplace!
Director Ven. Amy Miller welcomed guests and gave a brief explanation of the life story of the Buddha and the significance of the day. She then introduced Nawang who started with a few musical excerpts and then explained the importance of great yogi saint, Milarepa, and the impact this historical figure has had on his life. He also gave some sweet teachings on Buddhism and continued his music for nearly an hour after that.
It was a magical event and guests sat mesmerized under Milarepa Center's new tent. It seemed that a wonderful time was had by all.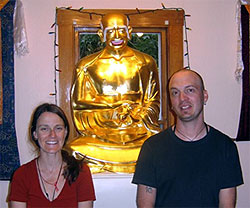 Bakula Arhat Statue Gilded at Milarepa Center
Some years ago, Lama Zopa Rinpoche recommended that Milarepa Center have a statue made of Bakula Arhat. Rinpoche indicated that this particular statue would help to bring wealth to the center, but mainly the flourishing of the Dharma at Milarepa along with success in all of the center's activities. The statue was created in clay by Lisa Heath, a local artist, and was completed over the past few years and filled and consecrated by Geshe Tsulga, the resident teacher at Kurukulla Center in Boston. Then it sat for quite a while as the center worked to raise money to have it gilded and to find the best artist to do the work.
When director Ven. Amy Miller moved to the center last September, Rinpoche wanted the gilding completed, but Amy didn't know the local artists as she was new to the area. Finally Dolores Devellis of Kurukulla Center sent Ven. Amy an e-mail mentioning a wonderful artist, Troy Stafford, from the neighboring state of Maine. Ven. Amy contacted Troy who came out to "visit" Bakula Arhat over the summer. He seemed the perfect person to do the work. He showed up for the Family Camp on a Thursday evening and said it would be completed by the end of the camp three days later. Everyone got involved and it was a wonderful activity for the children to be able to offer gold to Bakula Arhat during their weekend activities. By Sunday night, when everyone left, Milarepa Center glowed with the gold offering to Bakula from Troy, his wife Mer, and all who were at the center during the project.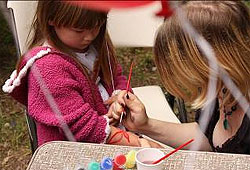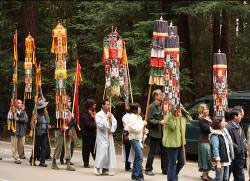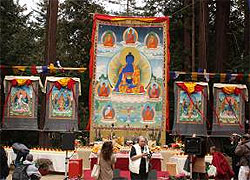 Medicine Buddha Festival Day
In its seventh year, the annual Medicine Buddha Festival Day at Land of Medicine Buddha(LMB) in Soquel, CA was an enormous success.
Center Director Denice Macy reports that several new ideas suggested by Lama Zopa Rinpoche were incorporated into the 2009 festival, including hosting the Heart Shrine Relic Tour, arranging for a Tara Dance, and commissioning eight new large thangkas (four of which have already been completed).
"From our side we worked hard to make the festival more organized and fit into our aim to make the activities of LMB more available to the larger community and 'green'," Denice comments. "We also connected with more Tibetan community members to add a 'cultural fair' aspect … [and] again provided space for our sister FPMT organization to provide information on their centers and projects to our attendees."
By working with local authorities, the festival was able to advertise in the local newspaper for the first time and hire shuttle busses to run from the center to the church on Soquel Drive, thereby limiting the parking on the land and improving safety.
Over 500 participants of Medicine Buddha Festival Day were fortunate to receive a talk about Medicine Buddha and the oral transmission of the mantra from Kyabje Choden Rinpoche, who was kind enough to interrupt his own teaching series to attend.
"As a result of our efforts and Rinpoche's advice, this was the most people who have attended. Many more Westerners and many more Tibetans, and an even bigger group of Vietnamese."
VIETNAM
Jade Buddha Promotes Peace on World Tour
By Sandra Smith
The Jade Buddha for Universal Peace started its world tour in March 2009 with a most amazing trip to Vietnam. Over a three-month period, close to four million Vietnamese people came to pay homage to the Jade Buddha and to renew their faith.
Jade Buddha Project chairman Ian Green is delighted with the success of the Vietnamese tour, and inspired by the devotion of the Vietnamese people.
"No matter how tired we were or difficult the situation was, the effect the Jade Buddha had on the Vietnamese people who saw it, made it all very worthwhile," Ian said. "You could see delight in their faces and so many were in tears after viewing this amazing Jade Buddha."
Managing the huge crowds at the temples was a challenge for the Jade Buddha team, as they had to ensure that everyone could pay homage to the Buddha in a safe and respectful manner. "When you are dealing with crowds of up to 350,000 people per day, this requires a great deal of planning," Ian said.
Vietnamese abbots Thich Chan Tinh and Thich Quang Hien confirmed that this was the largest number of people to attend an event in Vietnam since 1975, when the country was unified under Communist rule. The Jade Buddha brought back many people who had not been to the temples for years, according to the abbots. Visitors included Vietnam's president, vice-president and prime minister, who paid their respects at Phat Tich temple, near the capital Hanoi.
Lama Zopa Rinpoche emphasized the importance of so many millions of people who have seen the Jade Buddha and therefore have had strong imprints placed in their minds for enlightenment.
Rinpoche said to "Rejoice, this is such a wonderful achievement! To please remember the benefits to sentient beings in what you are doing with the tour, by people even merely seeing the Jade Buddha, ultimately brings them extensive benefit."
Great Stupa Board member Judy Green says that hearing about the discovery in Canada of an amazing 18-ton jade boulder was the beginning of a momentous five-year journey for her and Ian, starting with "serious fund-raising" and then shipping it to Northern Thailand to be carved.
Judy says carving the statue was a long and involved process, which included intensive work by sculptor Jonathon Partridge. The statue's face was then painted gold by Rajeesh, a Nepalese painter recommended by Lama Zopa Rinpoche. Finally, early this year the Jade Buddha was ready for transportation to Vietnam to begin its world tour.
Judy describes the excitement of the occasion when the Jade Buddha was officially unveiled for the first time in Danang, Vietnam. "Now, finally, Ian and I were in Danang in another world – an extraordinary location within the grounds of a beautiful old temple surrounded by those lumpy mountains peculiar to Asia, waiting, with a large crowd of curious onlookers and with huge anticipation, to unwrap our Jade Buddha," Judy said.
"That moment of seeing it 'in the flesh' for the first time was heart-stopping – the exquisite luster of the jade, the beautiful, smiling, golden face – an unforgettable and very emotional moment," she said. "By what seemed an absolute miracle of effort and hard work and tenacity from many people, here it was. And we could not have imagined it to be more perfect."
Ian and Judy Green were treated like major celebrities wherever they travelled in Vietnam, and Ian says they had to be shepherded through the crowds by security forces. A Jade Buddha souvenir industry quickly sprang up around the temples, and by the end of the tour there were about 200 small stalls selling mementos.
Asiatrans representative Mai Dung coordinated the transportation of the Buddha to five different temples in Vietnam. This is no easy feat when you are dealing with a four-ton statue. "Without his (the Jade Buddha's) blessing, it's almost impossible for us to move such a valuable huge statue around to different sites as we have done," Mai Dung said.
The tour brought Mai Dung closer to Buddha, and she says she was "so moved and so relieved" every time she saw the Jade Buddha's face. "When I first saw him sitting there covered by a yellow robe, I felt deeply inside my heart a strong impression that's hard to describe as he looks so powerful, so admirable," she said.
After completing the tour of Vietnam, the Jade Buddha travelled to Australia, and on June 24, 2009, Brisbane's Lord Mayor Campbell Newman unveiled the statue at a ceremony attended by about 200 people. The Jade Buddha was a striking symbol of peace in Brisbane's city center, surrounded by bustling crowds of office workers and shoppers, and towering buildings of glass, steel and concrete.
The Jade Buddha is visiting all major Australian cities and the unveiling ceremonies are multi-faith events where religious leaders pray for world peace. Ian Green says it is important for the events to be non-denominational and he points out that this is in accordance with the purpose of the statue, which was named the Jade Buddha for Universal Peace by Lama Zopa Rinpoche.
"This means it is not only for Buddhists but for all faiths," Ian explained. "It is not even just for humans, it is for all beings."
Ian believes that the Jade Buddha will have a far-reaching effect on peace in the world. "I would love to see the Jade Buddha go to places of conflict in the world," he said. "Imagine the Jade Buddha travelling to Israel and the Gaza Strip!"
Ian first heard about the rare boulder of translucent jade, known as Polar Pride, when Cheyenne Sun-Hill, a jade jeweler from Santa Cruz, California, phoned him to discuss the possibility of carving a Buddha statue from the 18-ton boulder. He travelled to the US two months later and became very excited about the idea of transforming the unique gemstone-quality jade into a holy object.
"I told my guru Lama Zopa Rinpoche about the idea and following a divination he told me, 'You must turn this jade boulder into a Buddha as a holy object offering for the world.' Five years later, after many doubts, investigations, troubles and dead-ends, the Jade Buddha for Universal Peace has become a reality."
The current world tour is expected to last for several years, and eventually the Jade Buddha will go to its home at the Great Stupa of Universal Compassion in Bendigo, Australia, where it will be a symbol of peace for the world.
Lama Zopa Rinpoche has said the Jade Buddha will inspire all beings to follow a peaceful path.
"It will illuminate the world and bring inconceivable peace and happiness, and help prevent the destruction that is happening so much in the world, including war," Rinpoche said.