News/Media

*If a menu item has a submenu clicking once will expand the menu clicking twice will open the page.

Study & Practice

*If a menu item has a submenu clicking once will expand the menu clicking twice will open the page.

Projects

*If a menu item has a submenu clicking once will expand the menu clicking twice will open the page.

FPMT

I encourage people not to express their anger, not to let it out. Instead, I have people try to understand why they get angry, what causes it and how it arises. When you realize these things, instead of manifesting externally, your anger digests itself. In the West, some people believe that you get rid of your anger by expressing it, that you finish it by letting it out. Actually, in this case what happens is that you leave an imprint in your mind to get angry again.

Lama Thubten Yeshe

*If a menu item has a submenu clicking once will expand the menu clicking twice will open the page.

Shop

The Foundation Store is FPMT's online shop and features a vast selection of Buddhist study and practice materials written or recommended by our lineage gurus. These items include homestudy programs, prayers and practices in PDF or eBook format, materials for children, and other resources to support practitioners.

Items displayed in the shop are made available for Dharma practice and educational purposes, and never for the purpose of profiting from their sale. Please read FPMT Foundation Store Policy Regarding Dharma Items for more information.
by Ven. Thubten Chodron
Four years ago, American nuns from the Tibetan tradition mused about how wonderful it would be to have Western monastics from the various Buddhist traditions in the USA meet together. Thus was born a series of annual conferences. All were interesting, but for me the fourth, held October 17-20, at Shasta Abbey in California, was really special.
Shasta Abbey is a community of 30-35 monastics, established by Reverend Master Jiyu in the early '70s. A bhikshuni trained in Soto Zen, her disciples follow the Zen teachings and are celibate. All of us were amazed at what the community has created together. Many of the monastics have been there for over twenty years, a kind of stability seldom seen anywhere in America these days. Clearly, the monastic life and that community were working for them.
My overwhelming feeling at our first meal together was how wonderful it was to sit in a room filled with "altruistic closely shaven ones," as my friend calls us.
There were 20 participants, Westerners from the Theravada, Tibetan, Soto Zen, Chinese, Vietnamese, and Korean traditions. The collage of colors was beautiful. The theme of our time together was training, and at each session there was a brief presentation, which sparked a discussion.
There was an introduction on Friday evening, and on Saturday morning Reverend Eko, the abbot of Shasta Abbey since Reverend Jiyu's passing last year, talked about their training. A monastery is a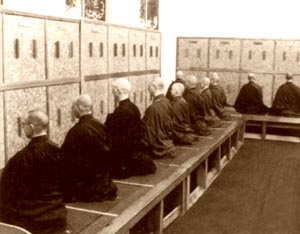 religious family. It's not a business, a school, or a group of individuals competing with each other. One is at a monastery to be a monastic, so learning, practice and meditation are foremost.
Another reason is to be part of a community, and that itself is our practice because living with others puts us right up in front of ourselves. We keep bumping into our own prejudices, judgements, attachments and opinions and have to own them and let them go, instead of blaming others. Novice training focuses on helping us be more flexible and give up clinging to our opinions and insisting that things be done the way we want. Too much formality in the training makes us stiff; too little and we lose the sense of gratitude and respect so important for progress. A third reason for going to a monastery is to offer service to others.
Ven. Tenzin Kacho, a bikshuni in the Tibetan tradition, talked about teacher training. For beginner teachers, learning teaching techniques was emphasized, but for those who have been teaching for some time, the issue was how to be a good spiritual guide.
As a teacher, we should be like a garbage pit: students will dump their rubbish on us, but if we accept it without hurt or blame, then it decomposes and the pit never fills up. Because sentient beings' minds are untamed, it is not unusual for them to misinterpret their teachers' actions and to project faults. When students have problems with their teacher, we can refer them to another teacher or member of the monastic community to help them at that time.
That evening I spoke about thought training, emphasizing "taking and giving" meditation and ways to transform adverse circumstances into the path. Taking and giving is a turnabout from our usual attitude, for here we develop compassion that wishes to take others' suffering onto ourselves and love wishing to give others all of our own happiness. Then we imagine doing just that.
Of course, the question arose, "What happens if I do that, get sick and then can't practice!" This led into a lively discussion about our multiple layers of self-centeredness and our rigid concept of self. Giving all the blame to the self-centered thought is a way to transform adverse circumstances into the path, because we experience adversity due to negative karma we created in the past under the influence of self-centeredness. Therefore, recognizing that this self-preoccupation is not the intrinsic nature of our mind but an adventitious attitude, it is only fitting to blame it, not other sentient beings, for our problems.
---
Sunday morning Ajahn Amaro from the Thai forest tradition spoke on Vinaya training (monastic discipline). "What is living in precepts all about? Why was our teacher, the Buddha, a monk?" he asked. When the mind is enlightened, living a life of non-harmfulness–that is, living; according to the precepts– automatically follows. It's the natural expression of an enlightened mind. The Vinaya is how we would behave if we were enlightened.
Initially when the Buddha first formed the sangha, there were no precepts. He set up the various precepts in response to one monastic or another acting in an unenlightened way. Although the precepts are many, they boil down to wisdom and mindfulness. The Vinaya helps us establish our relationship to the sense world and live simply. The precepts make us ask ourselves, "Do I really need this? Can I be happy without that?" and thus steer us towards independence. They also heighten our mindfulness, for when we transgress them, we ask ourselves, "What in me didn't notice or care about what I was doing!" The Vinaya makes all the monastics equal: everyone, regardless of his or her previous social status or current level of realization, dresses the same, eats the same, keeps the same precepts. On the other hand, there are times when one person or another is respected. For example, we heed the Dharma advice of our seniors (those ordained before us), no matter their level of learning or realization. Serving the elders is to benefit the juniors–so they can learn selfless behavior. In other situations, we follow whoever is in charge of a certain work, regardless of how long that person has been ordained.
When someone–a friend, student or even teacher–acts inappropriately, how do we deal with it? In a monastic community we have a responsibility to help each other. We point out others' mistakes not to make them change so that we will be happier, but to help them grow and reveal their Buddha nature. To admonish someone, the Vinaya gives us five guidelines: 1) ask for the other's permission, 2) wait for an appropriate time and place, 3) speak according to the facts, not hearsay, 4) be motivated by loving- kindness, and 5) be free of the same fault yourself.
---
Saturday afternoon was "robes around the world," a veritable Buddhist fashion show. Each tradition in turn showed their various robes, explained their symbolism, and demonstrated the intricacies of getting them on (and keeping them on!). Several people later told me that this was a highlight of the conference for them: it was the physical demonstration of the unity of the various traditions. At first glance, our robes look different: maroon, ochre, black, brown, gray, orange, various lengths and widths. But when we looked closer at the way the robes were sewn, we found that each tradition had the three essential robes and each robe was made of the same number of strips stitched together.
Patches of cloth stitched together is the symbol of a simple life, a life in which one is willing to give up the immediate pleasures of the external world in order to develop inner peace and ultimately in order to benefit others. This is the quality I noticed in the people present at the conference. No one was trying to be a big teacher, make a name for themselves, set up a big organization of which they were head. No o ne was complaining about their teachers or anyone else's teachers. No, these people were just doing their practice day after day. There was a quality of transparency about them: they could talk about their weaknesses and failures and not feel vulnerable. I could see that the Dharma worked. There were qualities about those who had been ordained for twenty years that aren't found in the average person, or even in the newly-ordained. These people had a unique level of acceptance of themselves and others, a certain long-range vision, constancy and commitment.
Sunday evening we discussed the student-teacher relationship and how it fits in our practice. At first there seemed to be big differences between us in the importance of the teacher-student relationship and how it is to be cultivated and used in the practice of each tradition. However, a unity emerged: our teachers recognize a far greater potential in us than we see in ourselves, and they challenge us to the core in order to help us bring this out.
Each evening, post-session discussions lasted into the night. There was a genuine thirst to learn more about each other's practices and experiences and to use that knowledge to enhance our own. As Monday morning came, everyone felt a deep sense of appreciation at the dependently-arising event we had shared in and strong faith and gratitude for the Buddha, our common teacher. After meditation and prayers, we met together and each monastic said a dedication from his or her heart, and then the winds of karma blew the leaves in different directions as we parted.