News/Media

*If a menu item has a submenu clicking once will expand the menu clicking twice will open the page.

Study & Practice

*If a menu item has a submenu clicking once will expand the menu clicking twice will open the page.

Projects

*If a menu item has a submenu clicking once will expand the menu clicking twice will open the page.

FPMT

If you are suffering, use it as the cause to bring happiness to others. This way, whatever kind of life experience you have, you use it on the path. There is no interruption to Dharma practice and one's life is most beneficial.

Lama Zopa Rinpoche

*If a menu item has a submenu clicking once will expand the menu clicking twice will open the page.

Shop

The Foundation Store is FPMT's online shop and features a vast selection of Buddhist study and practice materials written or recommended by our lineage gurus. These items include homestudy programs, prayers and practices in PDF or eBook format, materials for children, and other resources to support practitioners.

Items displayed in the shop are made available for Dharma practice and educational purposes, and never for the purpose of profiting from their sale. Please read FPMT Foundation Store Policy Regarding Dharma Items for more information.
FPMT News Around the World
WORLDVIEW

International
Be Kind Day 313
Loving Kindness Peaceful Youth (LKPY) reminds everyone to participate in Be Kind Day this March 31, 2010. Be Kind Day is a chance for everyone, whether Buddhist or not, to practice performing acts of kindness for themselves and for others. Their website lists several great ideas for how you can do something simple but extraordinary to promote kindness in your community.
Australia and New Zealand
Australia and New Zealand Blessed by the Presence of His Holiness the Dalai Lama
From December 1 to December 11, His Holiness the Dalai Lama once again brought his message of compassion, tolerance and responsibility to Australia and New Zealand. Twenty-five thousand people attended the teachings and public talks during this, his seventh visit to this part of the world.
His Holiness taught in Sydney and Auckland on Nagarjuna's Commentary on Bodhichitta, an explanation of conventional bodhichitta, the decision to attain enlightenment for the benefit of all beings, and ultimate bodhichitta, the absence, or emptiness, in all phenomena of any intrinsic characteristics.
Just before the December 1 Sydney teachings, five Australian and US Liberation Prison Project staff members and founder Ven. Robina Courtin had a short meeting with His Holiness. They offered gifts on behalf of all prison project students, volunteers, donors and staff, including a painting especially prepared by John McKechnie of Lithgow Correctional Centre and a two-foot statue of Guru Rinpoche, exquisitely carved by one of the main students of famed Nepalese artist Siddhi Raj.
"I really appreciate the work you do," His Holiness told them.
First published in Jan-March 2010 Liberation, the newsletter of Liberation Prison Project.
His Holiness consecrated the Jade Buddha for Universal Peace, a four ton, 8.85-foot (2.7-meter) high statue of the Buddha made of gemstone quality jade, the same day he met with LPP. Lama Zopa Rinpoche had advised that the Jade Buddha must be consecrated by His Holiness and the opportunity came when the organizers of HisHoliness's visit suggested the Jade Buddha be on stage at his teachings. His Holiness bowed to the Jade Buddha at the commencement of each teaching session.
Giving public talks in Sydney, Melbourne, Auckland and Hobart, His Holiness closed the week-long event n Melbourne, The Parliament of the World's Religions, and celebrated the 20th anniversary of his Nobel Peace Prize.
His Holiness spoke at Sydney's Mind & Its Potential conference, organized by local FPMT center, Vajrayana Institute. He was joined by renowned psychologist Dr. Martin Seligman, evolutionary biologist Marc Hauser and Buddhist teacher B. Alan Wallace in a two-and-a-half-hour forum Science of the Mind moderated by Natasha Mitchell, host of ABC Radio's All in the Mind. Their dynamic conversation on the parallels and distinctions between modern psychology, science and ancient Buddhist teachings was the highlight of the two-day conference.
His Holiness also helped celebrate the 10-year academic exchange program at the University of Tasmania between its School of Philosophy and the Central University of Tibetan Studies in Sarnath, India.
At a press conference during his visit, His Holiness discussed the value of all world religions and the need to respect each other's traditions; the responsibility that media have in terms of fostering and reinforcing a healthy society; and the effects global warming is having on the Tibetan Plateau and the possibility for this to negatively impact other nations. He also encouraged the Chinese government to abandon the use of force and suppression as a political tool. His Holiness concluded by stressing that education was the key for creating meaningful change in the world.
Germany
Ven. Fedor Stracke Leads Lama Tsongkhapa Guru Yoga Retreat

By Sabine Hueppelshaeuser
The Aryatara Institut in Munich, Germany organized a five-day Lama Tsongkhapa Guru Yoga practice at the end of 2009. Before, on a weekend in November, Khensur Jampa Tegchok had given commentary on this profound practice as preparation for this retreat.
The retreat was held between Christmas Day and New Year's Eve, and led by Ven. Fedor Stracke. Retreatants were amazed at his ability to lead us through this important practice. His ability to combine the existing text, which includes additional prayers and explanations by Lama Zopa Rinpoche, with meditations on the lam-rim was appreciated. Thus this unique retreat became very precious and effective – is there a better way to end an old and start a new year?
India
Rinpoche Supports Bodhgaya as Vegetarian Zone
Lama Zopa Rinpoche with Richard Gere and Tibetans for a Vegetarian Society marched in Bodhgaya, January 11, 2010, to support the establishment of Bodhgaya as a vegetarian zone.
Maitreya Project Meets with Government of Uttar Pradesh

By Linda Gatter
A meeting between the Maitreya Project, an FPMT initiative to build a 500-foot (152-meter) statue of Maitreya Buddha, and the Government of Uttar Pradesh's Culture Department was held in New Delhi on January 14, 2010 to discuss the delay in the land acquisition and to expedite the implementation of the project.
The meeting marks an increased urgency on the part of State Government of Uttar Pradesh to facilitate the implementation of Maitreya Project.
The State Government is independently moving forward to re-open Kasia Airport in a similar manner to which Gaya Airport was re-opened. This will greatly facilitate the flow of tourists and pilgrims to the sacred monuments and that part of the Buddhist pilgrimage circuit around Kushinagar, Uttar Pradesh.
Since 2000, the State Government has envisioned Maitreya Project as a key part of the development of this part of eastern Uttar Pradesh.
Richard Gere had been in Bodhgaya to attend His Holiness the Dalai Lama's teachings and, as always, offered his kind support to Maitreya Project by agreeing to attend the meeting with Culture Secretary, Awanish K. Awasthi, who is tasked with oversight of finalizing the details of Maitreya Project in Kushinagar, as well as the development of the new Kasia Airport.
Ling Rinpoche Visits Root Institute

By Ven. Trisha Labdron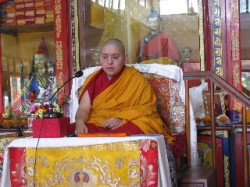 Ling Rinpoche recently gave his first teaching at Root Institute in Bodhgaya, India. Rinpoche taught The Foundation of All Good Qualities and finished on the third day with a White Tara jenang (empowerment). Simon Houlton came from Dharamsala to interpret the teachings.
There were only a handful of non-Tibetans, but over 300 Tibetans attended, the gompa was full of monks and nuns, and lay people filled the courtyard and the gardens. Many Tibetans had never visited Root Institute previously and expressed pleasure and surprise at what they found.
The weather was normal on the morning of Ling Rinpoche's arrival, but as Rinpoche drove into Bodhgaya a massive storm blew up. The storm died quite quickly after Rinpoche arrived at Namgyal Monastery, his residence.
The day of the first teaching, as we were sweeping and preparing for Rinpoche's arrival, a light wind started blowing and there was a sprinkling of rain, enough to settle the dust and freshen the air.
And during the White Tara jenang, the first white water-lily of the year opened in Root's lotus pond!
Japan
Maitreya Project Relic Tour Visits Hiroshima, Japan

By Andy Melnic, Relic Tour Manager
In February 2010, the Maitreya Project Heart Shrine relics were hosted by the abbot and monks from the Taiko-ji Temple in Hiroshima, Japan. This new temple complex, established on the grounds of a 600-year-old temple, is on the crown of a large hill overlooking the city. The temple faces the nearby bay, dotted with islands, the largest of which is the holy temple island of Myanjima. This was the location of the Tour's second venue in Japan for this year. The commanding, 360-degree view of the city reinforced the feeling that the positive energy of the relics was blessing everyone in Hiroshima, site of the devastating atomic bomb blast in 1945.
The rebuilt city is vast and sprawls over an almost flat valley basin. It is surrounded by mountains and hills which provided the only security for some of the outlying villages from total, instant annihilation from the atom bomb. From the temple it is possible to see most of the area which was absolutely flattened by the bomb, including the location of ground zero. After 65 years, the energy of place-history is very strong. For most people the thought of a nuclear explosion and its results are beyond imagination and there is a reluctance even to contemplate the thought. But in Hiroshima, people talk openly of the bomb and the events of that one day, and from Japan's holocaust comes a fierce determination to eliminate all nuclear weapons and weapons testing worldwide.
Prior to the first event, the relics were taken to the "Atom Bomb Museum" where the Tour staff was guided through a harrowing exhibition of photographs and artifacts. In the foyer is a large clock which shows the number of days since the nuclear bomb and also records the amount of time since the latest testing of a nuclear weapon. Sadly, this has never reached a thousand days. The relics and their staff then attended a prayer ceremony in front of the memorial statue and eternal flame in Peace Park, and a second ceremony in front of the graves of the unidentified victims.
During the event at the Taiko-ji Temple, some survivors from the bomb attended and received blessings, including an elderly lady who is quite famous in Hiroshima. She was 28 when the bomb hit and helped a lot of people by finding water. Ever since then she has made water offerings at the memorial site. She gives lectures and pioneers to end nuclear weapons.
At the opening ceremony music was offered to the relics on a piano which, famously, also survived the bomb.
The people of Hiroshima were told that nothing would grow for 75 years following the nuclear blast, but the very next spring red canna lilies bloomed in the valley. This brought hope that the city could be rebuilt, and it was in this spirit that the relics came to Hiroshima.
The Tour staff felt that the experience of being in Hiroshima very intensely. In our current world where there are still so many nuclear weapons existing, it is good to remember the events of both Hiroshima and Nagasaki. There is a world peace movement involving the mayors of, currently, over 3000 cities pledging their active support to realize the goal to eliminate nuclear weapons worldwide.
Malaysia
Ling Rinpoche's Visit to FPMT Centers in Malaysia
On his recent visit to Malaysia, Ling Rinpoche graciously accepted the invitations of the FPMT centers to teach there. At the Chokyi Gyaltsen Study Group in Penang, Rinpoche was requested to speak on an intriguing topic: how to enjoy samsara without feeling guilty. Daniel Yeoh, the group coordinator reported that Rinpoche clearly and precisely answered that samsara can't be enjoyed.
Daniel added that Gala Rinpoche (who was among the eleven Sangha in the entourage) praised the work of Lama Zopa Rinpoche and the devotion of the Malaysian students, and made the observation that "all the altars are set up in a way that as you enter the center, you will feel that it is a FPMT center or a Lama Tsongkhapa lineage center, and that he could not see any worldly gods on or near the altar."
Mongolia
Supporting Mongolian President's Call to End the Death Penalty
FPMT Mongolia was among those who sent their congratulations to the Mongolian President, Mr. Ts. Elbegdorj, for his compassionate decision to suspend the death penalty in the country. Ven. Gyalmo, director of FPMT's Dolma Ling Nunnery in Ulaanbaatar wrote the following in support:
To Mr. Ts. Elbegdorj, the President of Mongolia:
Our center is a Buddhist organization that was established in 1999 by Lama Zopa Rinpoche in response to requests from Mongolian devotees. This initiative has the blessings of His Holiness the 14th Dalai Lama and confirmation from the late Kushok Bakula Rinpoche.
Since our establishment, we have been actively spreading Buddhadharma through a variety of activities such as organizing Dharma teachings and meditations free of charge, publishing and distributing Dharma books, offering community service and, upon receiving invitations, visiting various universities and other organizations presenting Dharma talks and lectures.
As a result of these activities over the last ten years, hundreds of people have received Dharma education, thus supporting a valuable aspect of the heritage of Mongolian culture. Almost three thousand youths have attended and directly benefited from our English Department trainings and over two hundred thousand copies of Dharma books have been published and distributed free of charge.
One of our main Dharma and social service activities is the Liberation Prison Project which offers spiritual advice and teachings, as well as books and materials, to people in prison interested in exploring, studying and practicing Buddhism and meditation. Currently, our center's spiritual teacher, Ven. Thubten Gyalmo (Glenda Lee), travels to Tahir Soyot High Security Prison once every two weeks to offer Dharma support and teach meditation. She also attends the TB prison hospital which is in the same area. By observing their facial expressions while spending time with the inmates, giving them Dharma instructions, as well as providing them with the opportunity to talk about their feelings and concerns, it is very clear that this project is most worthwhile and beneficial.
Our former spiritual program coordinator and teacher, Ven Chantal, undertook research on countries that abolished the death penalty and we are pleased to advise that her findings were in accordance with Mr. President's speech at the Great Khural (Parliament) of Mongolia. In the past, when we shared the information on this issue with some of the officials, we were generally told that the "social psychology does not accept the abolishment of the death penalty at this time."
Some of the reasons why a Dharma center like ours is interested in raising this issue are:
Firstly, Mongolia is a Buddhist country that is independent and democratic. If our country abolishes the death penalty, our country's prestige will be raised at an international level. Also, as Mongolia is in the process of establishing a democratic society, the national identity of being a Buddhist country will be strengthened.
Secondly, according to Buddhist doctrines, taking a human rebirth is very rare and much more precious than a wish-fulfilling jewel. It is really much more precious than many hundreds of billions of dollars, because with a human rebirth, together with strong regret and the correct instruction, there is the great potential to purify any kind of heavy and negative misdeeds. Therefore, it is an incredible loss to a person, who has committed a heavy negative crime, to be denied this opportunity of purification and transformation of the mind.
According to our project work experience, in some ways, it looks like a more difficult punishment enduring a jail sentence due to Mr. President's amnesty than undergoing the death penalty. Our organization's spiritual director, Lama Zopa Rinpoche says: "If one uses this time and experience of being in prison to practice meditation, to practice Dharma, then being in prison, even though it is believed you are in prison by outside people, in reality it becomes a retreat for you."
Based on this reasoning, we encourage the inmates to think of their sentence as that of an isolated retreat and to utilize this time well for the study and practice of Dharma and meditation to make amends for their mistakes.
Thirdly, as Buddhists we try our best to abstain from negative deeds, to accumulate virtues and to purify our misdeeds, those that we can remember and those that we cannot, since the negative deeds are the cause of all suffering and the virtuous deeds, the cause of all happiness.
Therefore, it is exactly in accordance with Buddhadharma, as well as beneficial for their future life times, that people who have committed serious crimes should be spared the death penalty and instead, have the opportunity and supportive conditions to practice the Buddha's methods to purify their heavy negative deeds.
Fourthly, according to Buddhism, there is nothing that is outside of karma, the laws of cause and effect. If we analyze the death penalty based on these laws, this is not the proper or skillful means to stop heavy crimes, but instead will bring greater suffering to our people and country.
Based on these reasons, we, the administration and all staff of FPMT Mongolia, are very happy with Mr. President's call to end the death penalty and wholeheartedly support it.
We wish you every success and immeasurable progress in your State Service for the sake of the Mongolian people!
May all sentient beings, particularly Mongolian people, be devoid of the various sufferings and find perfect happiness due to this very virtuous act of Mr. President!
May Mongolian State be glorified forever!
Nepal
Stopping the Gadhimai Slaughter
On hearing that 500,000 animals were going to be sacrificed over two days at Gadhimai (November 23 to 24, 2009), Rinpoche made the observation that the efforts being made to stop it by animal rights activists and Ram Bahadur Bomjon, the "Boy Buddha of Bara," might not have effect.
Therefore Rinpoche requested, "please recite any number of the Golden Light Sutra and the Padmasambhava prayer for removing obstacles and for quick success."
Sent to the CPMT Google Group, that request drew strong response. Emails from America to Australia, Asia to Europe arrived at the International Office to report that so many of the sutra and prayer were recited. As it turned out, the main event proceeded as planned although at some smaller venues, the slaughter was halted amidst local protests and the international outcry. Ostensibly there was limited success – but we can trust that the effect of every good intention and prayer goes way, way further!
Record Number at Kopan November Course 2009 and News of Long Life Puja
By Ani Fran
Rinpoche arrived at Kopan on December 5, and was greeted by all the 700 or so monks and nuns as well as a record crowd of 240 people attending the November course. The place was buzzing.
Due to the large number of people, the November course was held in the main gompa, and the course students enjoyed having more room to spread out.
One of the highlights of the course was the trip to Boudha Stupa on Lama Tsongkhapa Day. Joined by others, the course participants wandered down the hill and spent several hours circumambulating the stupa, making extensive offerings according to Rinpoche's very detailed instructions, which culminated in each person offering of a butter lamp at the uppermost level of the stupa.
The course group also sponsored electric light offerings at the stupa, creating a magical sight. Everyone was profoundly moved by this experience. In the evening all joined in a Lama Chöpa puja and light procession.
When asked to describe what he learned at the various Kopan courses he has attended, Age J. Spanjer shared that he had learned three things: 1) the answers for most of the questions one has must be found within oneself, 2) nothing is what it looks like, especially at Kopan, and 3) there is always "collateral virtue" at these types of Dharma events, i.e., everything from eating dinner to doing the laundry is potentially a lesson.
The annual FPMT Long Life Puja for Rinpoche was offered on the November 18 – it was a wonderful day, with the puja followed by picnic lunch, and the traditional offering of cham (monastic dance) bythe monks from the tantric college. The day ended with an extensive book signing session in the main gompa, a great opportunity for many people to meet Rinpoche personally. Rinpoche chatted and told stories about his life and about Tibet, and gave some impromptu teachings till late into the night. Kopan was also blessed by the presence of Serkong Dorje Chang, the incarnation of one of Rinpoche's gurus.
During his stay, Rinpoche attended the geshe examination of four monks, all of whom had completed their studies and were giving their debate examination. One of them was Thubten Jinpa, now Geshe Jinpa, who had attended to Rinpoche on his visits to Asia. Another was Losang Sherab, the chant leader of Kopan. In March, during the Monlam celebration, these geshes will have to stand up to the challenges of the senior monks and geshes at Kopan.
Rinpoche also met with the teachers of the new Kopan school, and gave extensive blessings to one of Kopan's oldest monks, Geshe Kechok, who is now 92 years old and very frail.
Rinpoche's time was filled with appointments for course students as well as meeting politicians and benefactors, monks and nuns, and many more besides. Not a minute of time was wasted, keeping all of us in awe and rejoicing in Rinpoche's holy activities.
Tara Institute's Participation at The Parliament of World Religions
By Adele Hulse
The Parliament of World Religions was held in Melbourne in December 2009 – the fourth time in the modern era. The program of speakers was immense, and included His Holiness the Dalai Lama as the keynote speaker in the final plenary session. The Melbourne Convention Centre was a most colorful sight, with so many people dressed in the traditional robes of their various religions.
Tara Institute's Ven. Michael Losang Yeshe, Ross Moore and Adele Hulse were among the presenters, sharing a time slot with the Jewish Ecological Group from B'nai Brith.
As we were facing the audience, we were all stunned and very honored to observe Ven. Samdhong Rinpoche quietly enter the room and sit in the back row during our presentation, which was accompanied by David Zinn's spectacular video montage on the FPMT.
United States
Jade Buddha Has His Day
February 7, 2010 was declared Jade Buddha for Universal Peace Day throughout San Diego County, California, USA. The proclamation by the County of San Diego was announced soon after the Buddha statue arrived for its North American tour.
Kadampa Center's Ven. Lhundub Tendron
One January 21, 2010, North Carolina's Newsobserver published a short article on Kadampa Center's spiritual program coordinator, Ven. Lhundub Tendron. The article gives a glimpse into how she found Buddhism and what she has been able to accomplish for Kadampa Center.
Osel Hita Visits California
First published in Jan-March 2010 Liberation, the newsletter of Liberation Prison Project.
In October Osel Hita spent two days in Santa Cruz, California, catching up with friends, playing music and showing his films.
He stayed with Pam and Karuna Cayton, longtime students of Lama Yeshe and Lama Zopa Rinpoche. Pam and Karuna have known Osel since he was a little boy and have three children close in age: a 25-year-old son, 22-year-old daughter and 19-year-old son. They've hosted Osel many times during his visits to the States.
"It was really lovely to see him," Pam said. "He relates to everybody, heart to heart, human to human."
His first day in town, Osel met his friend Åge Delbanco, a Santa Cruz local who has studied West African drumming for more than 20 years. It was the night of the annual harvest moon, a bigger, brighter, more colorful full moon. They got together with a group of Åge's fellow West African music enthusiasts and local FPMT students on the cliffs above the beach in Santa Cruz, playing the drums, dancing and enjoying the evening.
Eighty-four-year-old Åge served as Lama Yeshe's attendant for three months before Lama passed away in 1984. He was among the first wave of western FPMT students who found their way to Kopan Hill, and thus Lama Yeshe and Lama Zopa Rinpoche, in the late 1960s and early 1970s.
"When I came to Kopan, just two or three of us were staying there, with some coming up for teachings. We ate with the lamas every day so it was totally informal and I could go and talk to Lama [Yeshe] anytime. It was more like a friendship."
"Osel is not especially interested in African drumming," Åge laughed. "He likes what he calls 'trance drumming.' It's a way to approach the drums: to play them so that you are not playing anything special, you're going totally with your feeling in the moment."
His second day in Santa Cruz 50 friends joined Osel at Lama Zopa Rinpoche's Aptos, CA residence, where he showed some of his short documentaries, made in collaboration with other filmmakers.
Rinpoche, who was traveling at the time, offered food for the party and people also brought dishes to share.
Osel translated the films into English as people watched and answered questions.
"What stood out for me was the humanity expressed in all of the films," Jon Landaw, early FPMT student, FPMT writer/editor and teacher said. "They showed the lives of people who, for the most part, were coping with adversity – political oppression, physical disabilities, and so forth – and the films treated these people with great understanding and sympathy.