News/Media

*If a menu item has a submenu clicking once will expand the menu clicking twice will open the page.

Study & Practice

*If a menu item has a submenu clicking once will expand the menu clicking twice will open the page.

Projects

*If a menu item has a submenu clicking once will expand the menu clicking twice will open the page.

FPMT

Realize that the nature of your mind is different from that of the flesh and bone of your physical body. Your mind is like a mirror, reflecting everything without discrimination. If you have understanding-wisdom, you can control the kind of reflection that you allow into the mirror of your mind.

Lama Thubten Yeshe

*If a menu item has a submenu clicking once will expand the menu clicking twice will open the page.

Shop

The Foundation Store is FPMT's online shop and features a vast selection of Buddhist study and practice materials written or recommended by our lineage gurus. These items include homestudy programs, prayers and practices in PDF or eBook format, materials for children, and other resources to support practitioners.

Items displayed in the shop are made available for Dharma practice and educational purposes, and never for the purpose of profiting from their sale. Please read FPMT Foundation Store Policy Regarding Dharma Items for more information.
Universal Compassion and Wisdom for Peace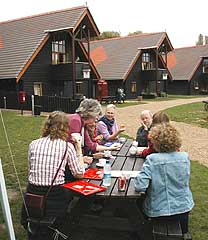 "An unforgettable human exchange around Lama Yeshe's wonderful vision …" This sums up the October 2005 conference of Universal Compassion and Wisdom for Peace (UCWP) in Cheshunt, England, attended by more than 100 people over five days of working together on Essential Education www.essential-education.org. Alison Murdoch reports.
UCWP is the international organization set up last year to support and promote Essential Education (EE). Representatives from Australia, Canada, France, Germany, India, Italy, Malaysia, the Netherlands, Russia, Singapore, Spain, Switzerland, the UK, and the USA gathered to re-start a process that, for some of them, had started some twenty-five or more years earlier: the development of Essential Education, formerly known as Universal Education.
What is Essential Education?
This was one of the main subjects of debate throughout the conference. Many questions were asked, such as: "Is EE Buddhist or universal – or Buddhist and universal?"
It was agreed that EE is a learning system that helps people to develop compassion and wisdom and that is rooted in the Buddhist understanding of the nature of phenomena and the mind. EE shares with both Buddhism and science the methods of logical reasoning and direct experience as validators of reality; it can be practiced by people of all ages and of any faith tradition or none. Peace and happiness come from developing a good heart, which in turn comes from developing wisdom and understanding.
Geshe Thubten Soepa proposed that EE should seek to base itself in the view of reality, rather than in the view of religion. He also spoke about the importance of having a pure motivation to help others rather than to promote any particular viewpoint: EE must allow people to make up their own minds …
What is UCWP, and what will it do?
It was agreed that UCWP will primarily be a training organisation, with its main function being to provide training and resources for EE practitioners. The Board of UCWP (Dick Jeffrey, John Gahan, Vicki Mackenzie, and Wendy Ridley) all took an active part in the conference.
Lama Yeshe's advice was: first, create materials; second, provide training; and third, set up projects.
Therefore, a collection of resources, materials, and texts needs to be collated that draws not only on Buddhist wisdom and texts but the other philosophical, psychological, scientific, and spiritual traditions of the world. This "knowledge base" will provide a foundation from which programs, courses, and publications will be produced…
This article is an excerpt of the full article printed in Mandala.