News/Media

*If a menu item has a submenu clicking once will expand the menu clicking twice will open the page.

Study & Practice

*If a menu item has a submenu clicking once will expand the menu clicking twice will open the page.

Projects

*If a menu item has a submenu clicking once will expand the menu clicking twice will open the page.

FPMT

Meditation is not on the level of the object, but on that of the subject. You are the business of your meditation.

Lama Thubten Yeshe

*If a menu item has a submenu clicking once will expand the menu clicking twice will open the page.

Shop

The Foundation Store is FPMT's online shop and features a vast selection of Buddhist study and practice materials written or recommended by our lineage gurus. These items include homestudy programs, prayers and practices in PDF or eBook format, materials for children, and other resources to support practitioners.

Items displayed in the shop are made available for Dharma practice and educational purposes, and never for the purpose of profiting from their sale. Please read FPMT Foundation Store Policy Regarding Dharma Items for more information.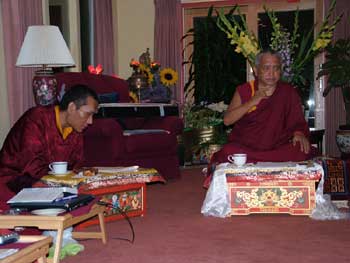 "We need to prepare people to get work once they graduate from any learning institution, whether they study Buddhism or something else. I would like the objective of this program to be to become a good human being, showing kindness toward others, having tolerance and forgiveness, and practicing rejoicing – this will be the final goal, even if they are not Buddhist. This is the source of happiness and world peace.
"Everyone who goes through Maitripa Institute, Buddhist or not, psychologist or not, should be able to help others, to earn a living – and to bring about world peace. If that happens, our goal will be achieved. If Maitripa Institute has this unique reputation, it will be great. I will look for that. Even if they don't come to learn Buddhism, we should try somehow to make them have a good heart. That is the foundation – to produce good human beings.
"My suggestion is that we should start the four-year program, which we will advertise all over the world. Then people will come, and we can start to educate them. At the same time, we need to develop the process to make it an accredited university…"
Aptos, October 2004
Inspired by the successful completion of the FPMT Masters Program [in Italy] it was inevitable that there would be a wish to keep the momentum going – this time in the United States but with a slightly different direction and emphasis.
Thus, plans for a Tibetan Buddhist 'college' with a difference are underway.
With the core of its Buddhist philosophy curriculum based around the Lam-rim and tailored in such a way that ultimately its graduates will be able to take what they have learned and incorporate it into their lives and professions, this grand endeavor, led by Yangsi Rinpoche, the reincarnation of a respected scholar and practitioner, Geshe Ngawang Gendun from Sera Je Monastery, will begin with the start of a four-year program of study of Buddhist philosophy in Portland, Oregon, in late 2005 or early 2006.
Mandala asked Yangsi Rinpoche what motivated the quest for a new learning environment.
Yangsi Rinpoche: Buddhadharma is establishing itself here in the West, but we need to connect it to the mainstream of society. Individual practitioners do their study and meditation, and there are courses in various centers around the world. But what we hope to provide in the long run with Maitripa Institute is the kind of Dharma training that can be the basis from which graduates can enter the world – as Dharma teachers and masters, in social service, and with their own professions as, say, counselors, teachers, and medical practitioners – enhanced and well grounded in Buddhist beliefs and practices. It will be a way of furthering the universal aspects of Buddhism in the so-called 'real' world, if you like.
The completion of the Masters Program in Italy showed that Dharma practitioners are prepared to devote time, energy, and strong effort to their studies and practice. I think that if we can move that kind of energy into the mainstream of society, then the Dharma will continue to flourish.
We will take the first steps toward the goal of having an accredited Dharma 'university' in the United States with the start of a four-year study program in Buddhist philosophy, which will cover all the major texts and commentaries that are taught in the monastic curriculum, as well as Tibetan language, meditation practice, and service. Once this program is underway, we will continue to refine and develop plans for other curricula that will eventually form the broader areas of study of the university.
The first phase will be more suited to people who are not just beginners in the Dharma. I will be looking for a small group of people who already have a profession, or an educational qualification. Stable, committed, experienced Dharma students will be the number one choice. These students will then also play an important role in the development of the university itself. Then, once the university proper is established and accredited, we envisage making this education available to adults of all ages, backgrounds, and faiths, from high school graduates on. …
This article can be read in its entirety in Mandala
For more information about Maitripa Institute go to www.maitripa.org